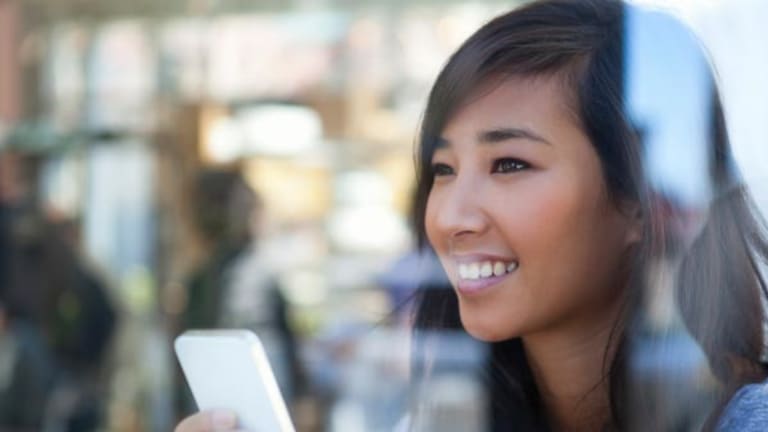 Taken by BlackBerry Storm
Research In Motion's first touch-screen phone is a dandy.
Research In Motion's
(RIMM)
BlackBerry Storm was worth waiting for. It is a terrific device.
No, it is not an
Apple
(AAPL) - Get Apple Inc. Report
iPhone. On the other hand, the iPhone is no Storm! I've been testing a Storm here and in Europe and can report that the phone is the most revolutionary BlackBerry ever.
Verizon's
(VZ) - Get Verizon Communications Inc. Report
Storm is the first touch-screen BlackBerry. After all these years of thumb wheels and roller balls, this is the first BlackBerry that needs you to physically touch the screen to navigate the features.
The Storm's official designation is the BlackBerry 9530. It measures 4.4 by 2.4 by 0.55 inches and weighs 5.4 ounces. It sports 128KB of flash memory, 1GB of internal memory and an 8GB micro-SD memory card. The 1400 mAh, removable battery is billed as lasting for 5.5 hours of talk time and 15 days of stand-by. That says nothing about how long the battery really lasts though -- 12 hours of heavy use, up to two days of light use.
var config = new Array(); config<BRACKET>"videoId"</BRACKET> = 2715403001; config<BRACKET>"playerTag"</BRACKET> = "TSCM Embedded Video Player"; config<BRACKET>"autoStart"</BRACKET> = false; config<BRACKET>"preloadBackColor"</BRACKET> = "#FFFFFF"; config<BRACKET>"useOverlayMenu"</BRACKET> = "false"; config<BRACKET>"width"</BRACKET> = 265; config<BRACKET>"height"</BRACKET> = 255; config<BRACKET>"playerId"</BRACKET> = 1243645856; createExperience(config, 8);
There's a 3.2 megapixel camera (stills and video), stereo Bluetooth, polyphonic ringtones and a music player that handles MP3, AAC and WMA files. There is also GPS: a stand-alone and assisted GPS system is pre-loaded into the Storm. On the other hand, there is no Wi-Fi inside. According to the Verizon Web site, there are no Verizon phones that come with Wi-Fi. They want you to use their 3G network instead.
The amazing-quality TFT touch screen measures 480 by 360 pixels. The screen also moves when you touch it. Unlike the iPhone or any other smartphone or tablet computer you've probably tried, the Storm's screen actually moves when you press it. The movement/sensation is pretty amazing when you first try it. After a short time, the idea of lightly tapping the screen to "move the cursor" to where you want it and then pressing in the screen to open the item becomes second nature.
The screen is visible in three dimensions: vertical, and two horizontal directions. Unlike the iPhone, the Storm can be viewed horizontally left or right. When typing in the vertical mode, you are greeted with an onscreen BlackBerry Pearl-style keyboard. That means most "keys" have two letters, and a built-in software program helps figure out what word you're trying to type.
In both horizontal directions, you get a standard QWERTY on-screen keyboard. Of the two typing choices, I found the Pearl-style keyboard more to my liking. I thought the horizontal keyboard was a bit more difficult to type on with my big fingers.
Like the iPhone, the Storm comes with a button for an "Application Center" to download new features and upgrade ones already on the phone. Unlike Apple's software store, there were only a few applications available to download at this early stage. On the other hand, system upgrades download directly to the Storm so you don't have to connect your BlackBerry to a computer to do it.
On the Verizon EV-DO network, the Storm is extremely fast. No one -- not even the staunchest iPhone fan -- could ever say that about the Apple product on
AT&T's
3G network. I was also able to test the Storm overseas. Like the iPhone, outside of the U.S. it operates on quad-band 3G GSM/GPRS/EDGE/HSPA networks.
On my recent trip, the phone was able to fly on 3G networks in big cities -- on EDGE networks in smaller cities -- and even worked (slowly) in very rural GSM towns and villages.
I turned the phone off when I got on the airplane coming home and was again greeted with 3G Verizon coverage as soon as I landed. If you intend to use the phone overseas, you need to contact Verizon before you leave the U.S. to make sure your phone is set up for GSM service.
As with any other BlackBerry device, the Storm excels as a portable email device. If your company uses the BlackBerry email system, the Storm will be the best device you've ever tried. The touch-screen interface is easy to master and lets you get through your email tasks quickly and easily.
In my testing, I found myself preferring to use the Storm to handle my email over my previous BlackBerry favorite,
T-Mobile's
(DT) - Get Dynatrace Inc. Report
Pearl Flip.
One other note about the email: If your company uses a BlackBerry Server system to deliver email, the Storm is the best device you could use. But my company also uses an Exchange email server system for
Microsoft
(MSFT) - Get Microsoft Corporation Report
Mobile-based device access. That makes it easy for me to use a
Palm
(PALM)
or iPhone to get my corporate mail.
But my company requires stringent security measures on Exchange-based mail. In simple terms, it means there is an additional password you must type in after five minutes of not using the handset.
That means you need a password every time you check your mail. Using a BlackBerry is a breeze for users in the same situation compared to what you might have to go through with your Palm or iPhone.
Verizon is the exclusive seller of the phone in the U.S.; it is selling the Storm for $199.99 after a $50 mail-in rebate along with signing up for a two-year domestic service contract. Monthly plan costs are very competitive with what AT&T charges for iPhone service. Verizon's parent company,
Vodafone
, has a GSM version of the phone (no 3G coverage in the U.S.) that it's giving away for free with a two-year service contract.
Overall, the Storm is the best, most innovative BlackBerry ever. The iPhone is months ahead when it comes to downloadable applets to add, but the Storm does let you run the new mobile version of
TheStreet.com's
new
.
If you're a BlackBerry addict, you have to try the Storm. You will fall in love with it at first touch. If you're not a BlackBerry fan, take heart. I'm sure that someone somewhere will try to mimic the Storm's incredible touch-screen in some lesser-designed handset. They might come close, but it still won't be the same as using a real BlackBerry.
Gary Krakow is TheStreet.com's senior technology correspondent.