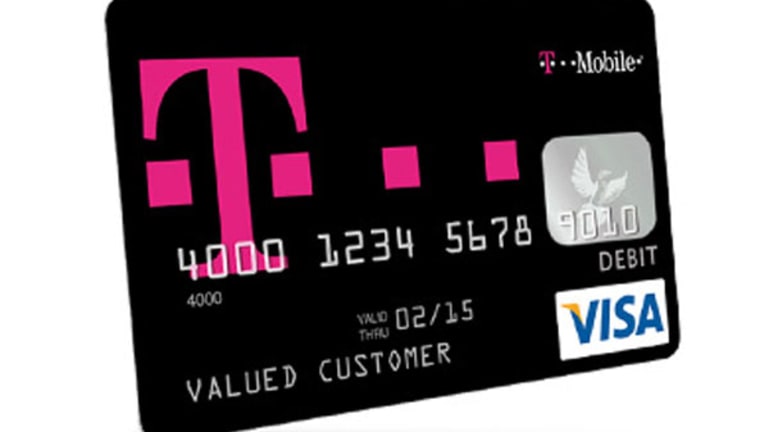 T-Mobile Wants To Be Your Banker Too
The nation;s number four mobile carrier is now offering customers a branded debit card and new smartphone banking app.
NEW YORK (TheStreet) -- T-Mobile USA (TMUS) is now challenging traditional bank checking services. The country's fourth largest cellular provider has announced another "UnCarrier" service called "Mobile Money" - a low-to-no fee debit card, and unveiled a checking account as well.
T-Mobile has released a new mobile app and a re-loadable Visa (V) debit card combination which offers no-cost (or reduced rate) fees for registered T-Mobile wireless customers T-Mobile describes the app as a new money management tool for your smartphone. The prepaid card promises no charge for activation, overdrafts, monthly maintenance, in-network ATM withdrawals, or for replacing lost or stolen cards.
The new card requires no minimum balances required, And, the application allows customers to directly deposit paychecks, deposit other checks by taking a snapshot of them with their smartphone cameras, pay bills, shop and withdraw cash from over 42,000 of in-network ATMs across the country.
T-Mobile shares were off 0.30% to $33.07 in early New York trading.
T-Mobile says the Mobile Money offer builds on its unique brand of financing phone purchases and will provide a less expensive alternative to increasing checking fees for "roughly 68 million U.S. adults who do not have traditional accounts and have to rely on alternative financial services ".
Mike Sievert, the company's Chief Marketing Officer believes "the typical household using a check casher to cash their paychecks could save about $1,500 per year, and customers tired of getting hit with overdraft fees can switch and save an average of $225 a year."
Roger Entner of Reconn Analytics says the new service is a good for the carrier. "Mobile Money is a great addition for T-Mobile's under-banked customer segment. By reducing cost and expanding capabilities, the users of T-Mobile's Mobile Money will be a lot less likely to churn or even lapse in payments. This is a sizable segment for T-Mobile as only 52% of their contract customers were prime credit customers last quarter. "
Interested parties are able to apply online beginning today. Participating T-Mobile retail stores will also offer the cards and they will be available at Safeway (SWY) stores beginning next month.
The new Mobile Money Visa cards are being issued by The Bancorp Bank, a subsidiary of The Bancorp (TBBK) .
Written by Gary Krakow in New York.
To submit a news tip, send an email to tips@thestreet.com.