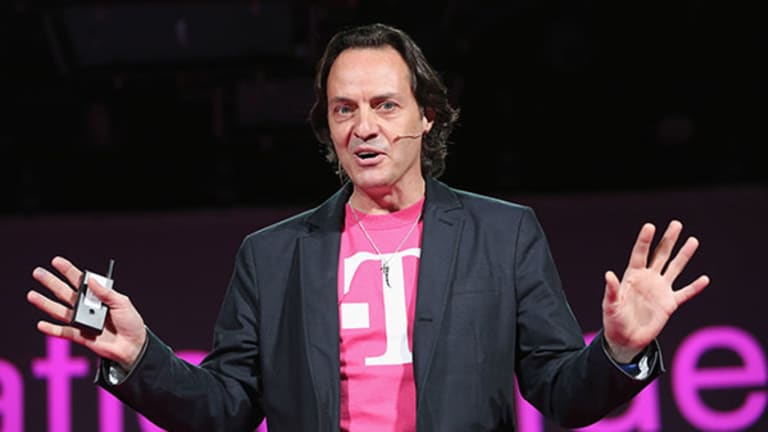 T-Mobile: Beware the CEO That Doesn't Talk About Profit
If I had any tip for the top brass at AT&T and Verizon, it is this: "Beware competitors that don't talk about profits."
NEW YORK (TheStreet) - If I had any tip for the top brass at AT&T (T) - Get AT&T Inc. Report and Verizon (VZ) - Get Verizon Communications Inc. Report, it is this: Beware competitors that don't talk about profits.
If AT&T and Verizon have built networks and premium-priced data plans that allowed them to report record profit and rising dividends in recent years, T-Mobile (TMUS) - Get T-Mobile US, Inc. Report and its brash CEO John Legere appear to have a strategy to eviscerate those shareholder-focused objectives in favor of lower prices for consumers across the U.S.
Sprint Preparing Financing for T-Mobile Bid
Legere's biggest coup yet will be to prove that winning customers' hearts will also win over shareholders for the long term. If wedding season has just begun, it may be the year where T-Mobile, its customers and its shareholders tie the knot for good.
The alternative could also be the disillusionment that often comes when someone promises too much. "The U.S. wireless industry is seeing just a glimpse of what competition looks like," Legere told analysts on Thursday. Consumers are jumping for joy, he said.
More on that later...
Record Growth, No Mention of Profits
Wireless consumers are in force behind Legere's strategy. T-Mobile said on Thursday it added 2.4 million subscribers in the first quarter, its first quarter of over 2 million subscriber additions and its fourth straight quarter of over 1 million net additions.
"A year ago I promised that we would bring change to what I called this arrogant US wireless industry. We are delivering on that promise and our results reflect the growing customer revolution that we've ignited," CEO Legere said in a press release. Legere, a Twitter addict, had other things to add on the micro-blogging site.
Don't, however, expect Legere or T-Mobile to discuss how their strategy will drive profits. Net income, the most basic measure of corporate profits, isn't mentioned in T-Mobile's first-quarter earnings press release.
A filing by T-Mobile with the Securities and Exchange Commission has the figure: the company reported a $151 million loss for the quarter and a $28 million operating loss.
Even T-Mobile's preferred non-GAAP measures of first-quarter earnings that were disclosed in its press release show the financial impact of its recently-launched Simple Choice plan, an investment in tablet activations, and reimbursements of early termination fees for those switching to the company's network.
Adjusted earnings before interest, taxes, depreciation and amortization (EBITDA) fell 12% in T-Mobile's best-ever quarter. Revenue, in contrast grew 47%, due to the recent acquisition of MetroPCS. When accounting for the impact of acquisitions, total revenue grew over 15% and service revenue grew 4.5% year over year.
So how can revenue grow and adjusted EBITDA drop? It's simple: promotions.
Average revenue per user of T-Mobile's postpaid plans fell 7.5% year over year, after falling 8.5% at this time last year. That is an about 8% compound annual drop in prices paid by consumers over the past 24 months.
Clearly, CEO Legere has focused T-Mobile's efforts on customers. To be fair, MetroPCS merger costs are also running through T-Mobile's financial statements, draining profits. Meanwhile, the company is attacking what it sees as the arrogantly priced family plans of its competitors and not necessarily cutting prices in its offerings.
A Wild Ride
Still, shareholders are along for what is likely to be a wild ride as Legere tries to continue winning AT&T, Verizon and Sprint subscribers. Prices, to the delight of those who may have puzzled over monthly wireless bills approaching the size of a car payment, appear on the verge of deflation.
"This is a short term trade worth making," Legere said on a conference call with investors. "We turned a declining business to a growing business," he said, by focusing on customers first.
This is great for T-Mobile. The company was already a discount wireless provider and it is simply torching what were pretty poor margins to begin with. For AT&T and Verizon, who reached record wireless margins at one point in 2013, T-Mobile's earnings are a profound problem.
If Verizon's wireless margins peaked at 50% just as it orchestrated a $130 billion takeover of Verizon Wireless, T-Mobile's adjusted EBITDA margin now sits at 20%, a 400-basis point decline from last year. Consumers should celebrate!
For 2014, T-Mobile now expects adjusted EBITDA to be in the range of $5.6 billion to $5.8 billion, and capital expenditure between $4.3 billion and $4.6 billion.
Not So Fast!
Before wireless consumers add Legere's image to Mt. Rushmore, it's worth asking what T-Mobile's end game is.
There's no doubt the C-suites of Verizon and AT&T are hoping T-Mobile's "un-carrier" plan proves financially unsustainable, even if they dip their toes into their own promotional strategies.
Eventually the bills have to be paid. T-Mobile and its majority owner, German conglomerate Deutsche Telekom, know this.
Deutsche Telekom, after all, tried to sell T-Mobile to AT&T in 2011. Legere's Twitter antics and his re-branding of T-Mobile as its tee-shirted and gold-chain wearing CEO aside, the company's current strategy is a bit of a Plan B.
Does that Plan B also include a merger with Sprint (S) - Get SENTINELONE, INC. Report? On Wednesday evening, Bloomberg reported that Sprint is in the process of raising debt financing for a merger bid that could be disclosed in June or July.
A merger effort, especially if it were backed by T-Mobile and its parent, Deutsche Telekom, might disappoint consumers who had believed the company truly would become the David in the wireless industry to beat Goliath's AT&T and Verizon. Remember, Legere told analysts and investors first-quarter results were a glimpse of competition in the wireless industry.
Could Legere make such statements and then back what would appear to be the most un-competitive merger effort in years? Yes!
"This is the start of competition," Legere said of first-quarter results right before adding, "we've always said we think ultimately it is a consolidation game." Legere then indicated T-Mobile would benefit from consolidating to achieve a scaling of fixed assets with a competitor.
T-Mobile is executing so strongly the good thing is a merger with Sprint might be seen by the company and its shareholders as a bad idea. Why merge with a struggling competitor if life is better as an independent?
"We're among the believers, and we see T-Mobile as simply too cheap with or without a Sprint deal. Our confidence is bolstered by the huge step up in free cash flow that will come as MetroPCS integration costs roll off and synergies roll on in two years," Craig Moffett, a principal with MoffettNathanson Research said on Thursday.
Shares in T-Mobile were gaining over 8% in Thursday trading, while AT&T and Verizon shares were falling. Sprint shares were rising over 3%.
T-Mobile's strong growth and lack of profit is obviously a concern for AT&T and Verizon and their dividend-loving investors and something for subscribers to celebrate.
However, if subscriber growth and merger-related synergies don't eventually translate to profitability, a CEO who has promised so much to customers and so little to investors may become a risk.
Bottom Line: T-Mobile has a lot to prove, especially as the company now has millions more new subscribers.
>>Read More: Sprint Prepares T-Mobile Merger Financing
>>Read More: T-Mobile Isn't Done Shaking Up the Industry
>>Read More: Verizon Raises Its Best Offer for Family Data Plans
-- Written by Antoine Gara in New York.