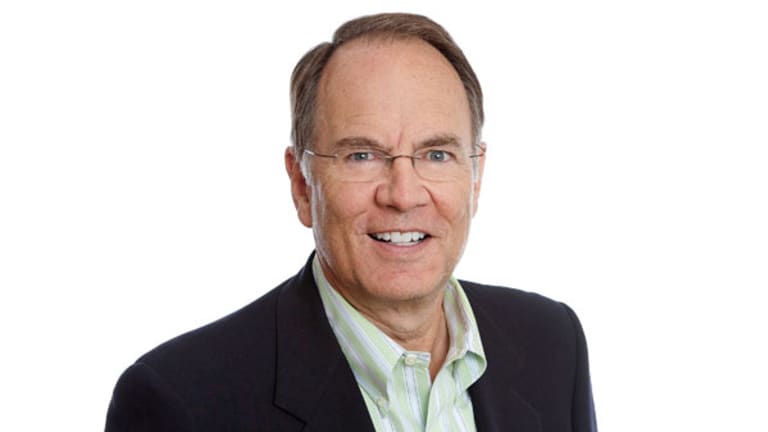 Symantec CEO: We Have Too Many Managers
Symantec CEO Steve Bennett vows to breathe new life into the software maker, long criticized for poor execution.
Symantec CEO Steve Bennett vows to breathe new life into the software maker, long criticized for poor execution.
NEW YORK (
) -- Software maker
Symantec
(SYMC) - Get Report
, long criticized for poor execution in its strategy, rolled out ambitious new plans this week, with CEO Steve Bennett vowing to breathe new life into the company.
"It's an organic growth-focused strategy," he told
TheStreet
in a phone interview. "Before, we had an acquisition-
focused strategy."
Bennett
from Enrique Salem as CEO last year, as the company
with declining license sales and a slumping share price.
Symantec's shares have climbed 66% since Bennett stepped into the company's hotseat. The former
Intuit
(INTU) - Get Report
CEO, who also spent 23 years at
GE
(GE) - Get Report
earlier in his career, has now rolled out his Symantec masterplan.
Bennett wants to streamline the company's operations, while delivering improved performance for customers and partners. As part of this effort, Symantec will focus on 10 core areas, which include information-security services, security gateways, data-center security and storage.
The CEO wants to offer customers a broader menu of products, while also letting them migrate to new integrated offerings, particularly in areas such as mobile and cloud. "We're going to continue to make our point solutions better," he added.
As part of this effort, Symantec will increase its research investment. R&D as a percentage of revenue was 14% during fiscal 2012, which is expected to rise to 16% in fiscal 2017. Sales and marketing expenses as a percentage of revenue are expected to decline from 41% to 27% over the same period.
Bennett also wants to improve the security and storage specialist's command structure.
"Over time, we have built a very bloated and inefficient management structure," he said. "We have too many managers."
To make the company more flexible and better equipped to meet customers' needs, Symantec will give front-line employees greater power. As a result, the company is cutting executive and middle-management positions, with the layoffs scheduled to be completed by the end of June.
Symantec has not said how many of the company's 20,225 employees will be affected, although
reports that 1,000 jobs could be cut.
Bennett declined to provide a figure during his interview with
TheStreet
but said the company will have fewer employees a year from now. "It will be material," he said.
As part of its restructuring, Symantec has also created a new office of the CEO, with a small team of executives including its CFO and COO, making decisions with Bennett on a daily basis. Sales-geography leaders will report direct to the CEO, as well as the chief officers in areas such as IT, marketing and communications.
The company split its CEO and chairman positions this week, with the board electing director Dan Schulman to the position of non-executive chairman. Previously, Bennett held both roles.
Stifel Nicolaus analyst Todd Weller described the strategic overhaul as good for the company, citing a positive growth impact. Weller, however, expects limited upside for the company's shares in the near term, pointing to the risks involved in major organizational changes.
As a result, Weller downgraded the company to "hold" from "buy" this week.
The analyst noted that Symantec kept its focus on the same markets. "Likely to be viewed as somewhat surprising, Symantec is not making any significant changes (at least for the moment) with respect to its key market/product focus areas," he wrote in a note.
"We feel very comfortable about the markets that we're in and the assets
we have," Bennett told
TheStreet
. "I like the markets."
Symantec rolled out a new capital-allocation strategy this week, which, over time, will return about half of free cash flow to shareholders through dividends and share repurchases. As part of this effort, the software maker announced its first ever-cash dividend, targeting a yield of about 2.5%. The initial dividend payment will be made in the June quarter.
The company comfortably beat Wall Street's estimates in its
on Wednesday, helped by strength in EMEA and the company's information management business.
Symantec shares rose 1.3% to $22 during Friday trading.
-- Written by James Rogers in New York.
>To submit a news tip, send an email to:
.