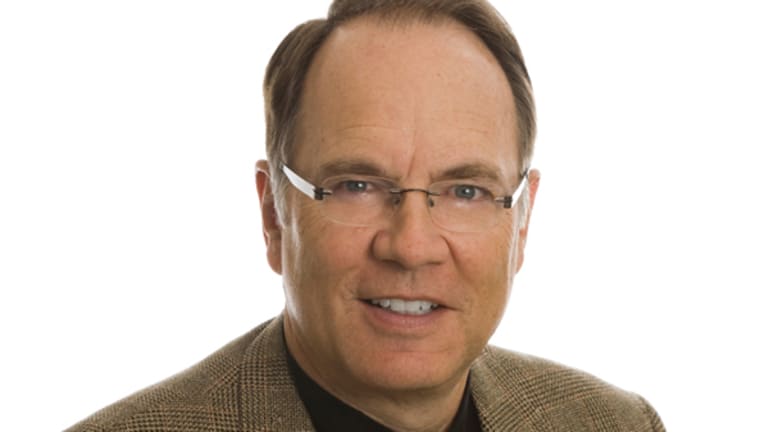 Symantec CEO: 2Q Pain Spells Long-Term Gain
Symantec CEO Steve Bennett says he underestimated the impact of the company's massive restructuring effort on its results this week, but remains confident in its turnaround.
NEW YORK (TheStreet) -- Symantec (SYMC) CEO Steve Bennett says he underestimated the effects of the company's massive restructuring effort, which impacted the company's outlook this week. However, the Symantec chief remains confident in his turnaround plan for the software maker.
"We dug ourselves a hole in terms of new license bookings that we're going to have to take a couple of quarters now to dig our way out of," he told TheStreet, during a phone interview following Symantec's second-quarter results on Wednesday. "We're disappointed that we underestimated the impact, but we're convinced that it's the right long-term move for our company."
Bennett characterized the second quarter as the "toughest quarter" in his turnaround plan for Symantec, which was unveiled in January. This involved a complete shift in the company's sales coverage model -- whereas previously, salespeople were generalists selling about 150 different point solutions, now they sell either Information Management or Information Security products.
"It takes a while in these large enterprise accounts to build a pipeline, go meet your new customers," he said. "We were in the first quarter of people with new territories, and getting trained and doing a bunch of stuff to build this pipeline that we are optimistic that will start to deliver benefits in Q3 and Q4."
Symantec also split its sales organization into renewals and new business teams during the quarter and Bennett pointed to management streamlining, which saw 35% of the firm's middle management positions eliminated.
"That obviously is a pretty significant move if you think about doing that and these territory changes, creating the renewals team," he said. "It's a lot of change at the same time, but I think it's way better than dribbling it and being in a transformation mode for two or three years."
On Tuesday Symantec reported revenue of $1.64 billion for the second quarter of its fiscal 2014, down 4% from the prior year's quarter, or 3% adjusted for currency. Analysts surveyed by Thomson Reuters had forecast sales of $1.685 billion.
Excluding items, the Mountain View, Calif.-based firm earned 50 cents a share, up from 45 cents in the same period last year. Wall Street was looking for earnings of 44 cents a share.
The company's outlook, however, troubled investors, sending Symantec shares plummeting following the results. Symantec's stock is off 11.05% to $21.90 in pre-market trading on Thursday.
For the third quarter, Symantec expects sales between $1.63 billion and $1.67 billion and earnings between 41 cents and 43 cents a share. Wall Street expects sales of $1.79 billion and earnings of 51 cents a share.
For fiscal 2014, Symantec expects revenue to decline 3% to 4% in constant currency.
Bennett took over from Enrique Salem as CEO last year, as the company wrestled with declining license sales and a slumping share price. Symantec shares have climbed more than 80% since the former Intuit (INTU) CEO and GE (GE) veteran stepped into the company's hot seat.
Nonetheless, the CEO acknowledges that Symantec's turnaround is still in its early stages. "Maybe it's the bottom of the second innings and we have got a long way to go -- in July, I said we had run 1 mile of a 26-mile marathon," Bennett told TheStreet. "As crazy as it sounds, I like where we are, even with this shortfall in the third quarter because we're doing the right things to produce long-term value. I have never been more confident."
When it announced its corporate overhaul in January, Symantec also revealed its plan to focus on 10 core product areas, which include information-security services, security gateways, data-center security and storage. Bennett expects to start seeing the benefits of this effort during the coming months.
"I think we'll stabilize, we'll have better tools -- we have a lot of new exciting product launches coming and we're equipping our sales people to tell a new story," he said. "We're very optimistic about all the stuff coming to bear in fiscal year 2015 and starting to get us back on the winning track."
Wall Street analysts, however, say that investors must now grapple with the reality of the company's turnaround.
"Up until this quarter, the Symantec turnaround has been successful, in our view, although it now appears that the sales force changes, product transitions, and overall cost-cutting initiatives are creating a choppier selling environment for Symantec than was previously thought by the Street," wrote Daniel Ives, an analyst at FBR Capital Markets, in a note released on Thursday.
Ives maintained his "market perform" rating on Symantec, but lowered his price target to $22 from $26.
"Although we believe the changes being made are good for the long term, we believe it is going to take some time for the various changes to potentially result in improved organic growth," wrote Todd Weller, an analyst at Stifel Nicolaus, in a note. "Given what we view as continued transition risk and a hazy near-term outlook, we believe the prudent tack is to remain on the sidelines."
Weller maintained his 'hold' rating on Symantec's shares.
--Written by James Rogers in New York.
>Contact by Email.