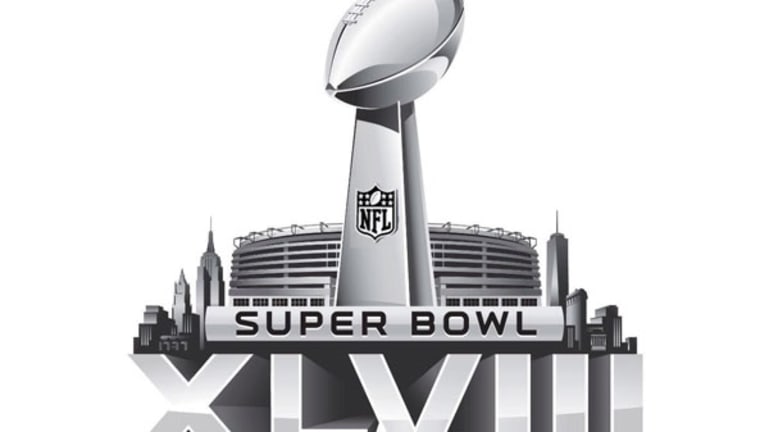 Super Bowl XLVIII: 5 Apps to Download
With Super Bowl XLVIII right around the corner, here are 5 apps to keep you informed and help you enjoy the game.
NEW YORK (TheStreet) The Super Bowl is finally coming home.
Super Bowl XLVIII is being played in the New York/New Jersey area for the first time ever, scheduled for play on Sunday at MetLife Stadium in East Rutherford, New Jersey. The metro area is going all out for it, with events planned in Hoboken (my home town!!), Times Square, and various other parts of New York City to kick off the big game.
Once you've gotten your friends and family over and you're all settled in for the game, the party is just beginning. Aside from the enormous amounts of food and um, beverages, you'll be consuming, technology can add to the excitement of the game. That is, of course, if you're willing to stop playing beer pong.
Here are five apps from Apple's (AAPL) - Get Apple Inc. Report iTunes Store that you can download to make your Super Bowl XLVIII experience more enjoyable, and let New York and technology make you feel like you'll be the one yelling "Omaha" this weekend if your plans audible, even if you're not a fan of the Seattle Seahawks or the Denver Broncos (besides, who really likes the Broncos anyway?).
(Full disclosure: The author is a die-hard Patriots fan and is still depressed about the team's playoff defeat by the Broncos, despite them being supremely outclassed.)

Domino's Pizza
Whether you're watching the Super Bowl at home or somewhere else, you're likely going to be stuffing your face. What better way to do so than with pizza, buffalo wings and some cheesy bread.
The free Domino's app for iPhone and iPad lets you order from almost any of the nearly 5,000 Domino's locations across the country and place your order right from your phone. Domino's app is also available on Google Play, Google's (GOOG) - Get Alphabet Inc. Class C Report competitor to iTunes.
The app allows to access all of Domino's menu items, find coupons to use, and remembers your most recent store, using your iPhones' location services. After ordering your food, the app has a Tracker feature which lets you see when your food's being made and, finally, when it's out for delivery.
Perhaps it's no coincidence that since the app was launched in the summer of 2011, shares of Domino's have surged. Shares are up 12% over the past six months.


Buffalo Wild Wings
While Domino's and many other places offer buffalo wings, there's only one restaurant dedicated to wings: Buffalo Wild Wings (BWLD) .
Known as "B-Dubs," Buffalo Wild Wings mobile app allows you to pledge your allegiance to different kinds of wings, beer or sports, and the app actually helps you find the nearest B-Dubs among their 7 locations in the New York, New Jersey area. 
Once you've found the locale and settled on your favorite kind of wings and beer, you can "Fan Up," submitting your selection to the Buffalo Wild Wings leaderboard for that particular location.
Shares of Buffalo Wild Wings have also soared recently, gaining 36% over the past six months.

Super Bowl Commercials
One of the best things about the Super Bowl is the commercials. There have been countless ads over the years from a variety of companies that stick in people's memories.
The Super Ads: Super Bowl Commercials app by APPBURST lets you view past and current commercials, all from the palm of your hand.
The app features over 200 commercials, with ads from 2006 all the way up to 2012. The app, which costs $1.99, allows you to share your favorite ads via social media, either with Twitter (TWTR) - Get Twitter, Inc. Report or Facebook (FB) - Get Meta Platforms Inc. Class A Report.
Some of the better ads (at least in my opinion) are from Apple, Budweiser, Doritos, McDonald's and Old Spice. With Jan. 24 being the 30th birthday of the Mac, there's been speculation that Apple may have another Super Bowl commercial this year, despite not having one since 1999.

FOX Sports Go
With the game being held at MetLife Stadium in East Rutherford, New Jersey, there's a chance that snow will appear at the Super Bowl for first time ever. If it's particularly windy and the snow is heavy, there's a shot your cable could go out. Accuweather is currently predicting a high of 36 on Super Sunday.
While no one wants that to happen, it's better to be prepared, with the FOX Sports Go app from Twenty First Century Fox (FOXA) - Get Fox Corporation Class A Report. Fox, which is broadcasting the game, is allowing users to watch the game on their iPhones or iPads, provided they have iOS 5.0 or later.
Though the app is free and it's free to stream the game to your iOS device, you still need a cable subscription to watch the game. Currently, Fox partners with AT&T U-verse, Cablevision Optimum, Comcast XFINITY, Midcontinent Communications, Suddenlink and WOW! to allow those customers to stream the NFL, as well as UFC, UEFA, NCAA and NASCAR.
This isn't the best way to watch the game, but if the weather takes a decided turn for the worse, it's better to be safe than sorry.

HopStop
If you're coming in to the New York/New Jersey area to watch the game, it's important to know your way around. Subways in New York are especially confusing for out-of-towners with letters and numbers running up and down. Getting to New Jersey is just a bit easier, with the availability of buses, trains, subways and taxi's. But it's still a lot to process.
That's where geolocation services, such as Hopstop, come in. Apple had gone on a bit of acquisition binge in mid-2013, acquiring Embark, Locationary and HopStop, to add to its own mapping application.
HopStop has always been iPhone and New York-centric, and actually has a New York City transit map in the app, making getting around that much easier. It has options such as more walking if you want to see more of New York City, or less walking, but with more transfers. With the app, you can get door-to-door transit directions, transit schedules, and even estimate the time and cost of a taxi. There's also an option to report real-time delays using HopStop Live.
--Written by Chris Ciaccia in New York
>Contact by Email.