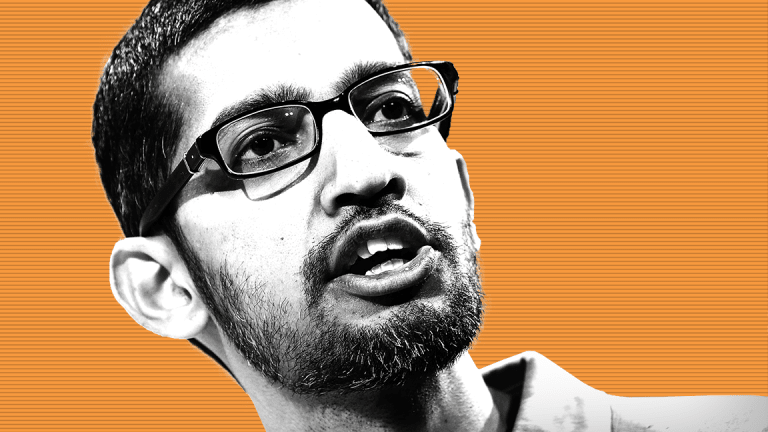 Google CEO Sundar Pichai: 'We're at an Inflection Point'
CEO Sundar Pichai has AI on the brain. On Tuesday, Pichai and a host of Google execs elaborated on how AI is transforming Alphabet's largest and most lucrative unit.
In case you haven't heard, Google's CEO Sundar Pichai is an AI-first kind of guy. 
In a surprise appearance, the Google boss took the stage at Google's Cloud Next conference in San Francisco to reiterate what he described as Google's "timeless mission." (And no, it's not 'don't be evil', if that's what you're thinking.)
As Alphabet's (GOOGL) largest and most lucrative unit, Google's official mission is to organize the world's information and make it useful. Increasingly, that can't be done by humans alone. 
"We're at an inflection point as an industry with AI," Pichai told the audience, echoing the 'AI-first' mantra he's repeated often since taking the reins at Google in 2015. "Just a few years in, we've seen some incredible use cases, especially in healthcare."
Pichai was referring to a Google-built algorithm that can detect heart attack or stroke risk through retina scans, one of the company's myriad projects using AI. Google's AI work has drawn criticism elsewhere, most recently when group of employees protested Google's collaboration with the Department of Defense to develop AI for drones. Google backed off the project in June, and Pichai subsequently published a blog post detailing Google's standards and principles in the use of the tech. To paraphrase: Google will focus on what it calls "socially beneficial" uses of the tech, not weapons. 
On Tuesday, Pichai further elaborated on what that means for Google. At the conference Tuesday, Google execs unveiled a slew of new AI-infused technologies across Google Cloud and G Suite, along with developer tools to help companies build AI capabilities, such as instant language translation, into their work.
Google's chief AI scientist, Fei-Fei Li, showed off a voice bot that can be deployed at a call center, as part of a new system called Google Contact Center AI. A similar robot assistant shown off by Pichai at a May conference, which booked a salon appointment in an eerily lifelike voice, sparked a mixed reaction for its potential to deceive humans.
Li sought to quell any such uneasiness, telling the audience: "We're creating technology that's not just powerful, but that's also trustworthy."
For the everyday G Suite user, some of the AI-powered tools you're likely to see soon are more extensive smart replies, an automatic grammar checker, voice commands for Hangouts, Google's chat tool, and beefed-up security features to automatically assess Google doc permissions, find users who have been compromised in an attack, and delete malicious emails before they're even seen.
"We're using it to rethink and reimagine our own products from Google to Maps to Search -- we're calling it an AI-first approach," Pichai explained. "We are deeply investing for the long run and the best is yet to some."
Although it's difficult to put a number to the company's investments in AI, it's long shown a willingness to spend big in weaving the tech into its sprawling businesses. Of the large tech giants, Alphabet is the top buyer of AI companies according to CB Insights, acquiring 14 AI companies since 2010.
Alphabet's advertising segment still makes up the lion's share of its total revenue -- but its cloud and other services make up a growing share of the pie. Its Google Other segment, which includes its cloud services, G Suite and Google Play store and other non-advertising business, saw revenue rise 37% to $4.43 billion.
It's clear that Pichai doesn't see AI as a niche, however. On Alphabet's Monday earnings call, Pichai also stressed the potential of AI to boost its stalwart ad business. "There's a lot of complexity you need to deal with as an advertiser," Pichai said on the call. "And increasingly we are using machine learning to do all the hard work and get them to focus on the business problem they are trying to solve."
Alphabet is a holding in Jim Cramer's Action Alerts PLUS member club. Want to be alerted before Jim Cramer buys or sells this stock? Learn more now.