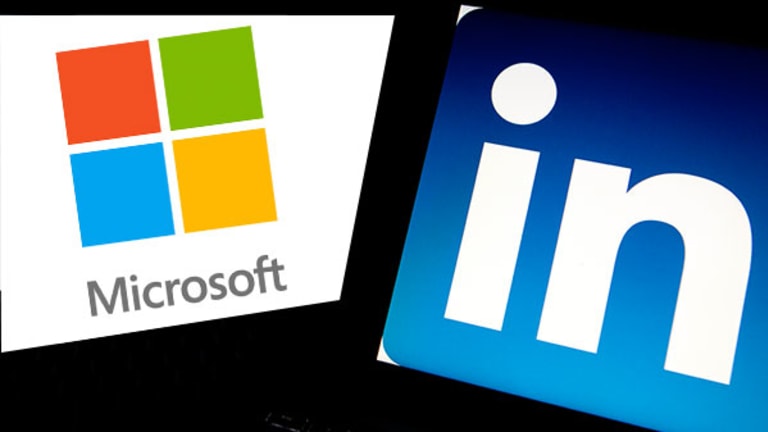 Summer Is Over for Software Bankers and Lawyers
Legacy software groups, private equity firms and activists have stirred up what Marc Benioff called the most "intense" software deal cycle he has seen.
After a brief lull, enterprise software M&A is back from summer vacation.
OpenText (OTEX) - Get Open Text Corporation Report said Monday that it would buy Dell Technologies's corporate information management software business for $1.62 billion for the division.
Last week, Intel (INTC) - Get Intel Corporation (INTC) Report  and TPG said they would establish a new $4.8 billion cybersecurity group based on the chipmaker's McAfee unit. Separately, Hewlett Packard Enterprise (HPE) - Get Hewlett Packard Enterprise Co. (HPE) Report  said it would break off its software business and sell it to acquisitive London group Micro Focus (MCRO) - Get IQ Hedge Macro Tracker ETF Report  for $8.8 billion.
This year's wave of deals is taking LinkedIn (LNKD) , NetSuite (N) , and Demandware from the market, while private companies such as Blue Coat and Vertafore have changed hands.
"It's been an incredibly active year to date, with a combination of private equity and strategic buyers driving the momentum," said Ron Eliasek, managing director and head of software investment banking at Bank of America Merrill Lynch.
Salesforce.com (CRM) - Get salesforce.com, inc. Report  CEO Marc Benioff called this M&A cycle the "most intense" he has seen. Legacy companies like Oracle (ORCL) - Get Oracle Corporation Report  and Symantech (SYMC) - Get Symantec Corporation Report  are buying emerging companies with new models. PE firms such as Thoma Bravo and Vista Equity have bid more aggressively. Given trends in previous deal cycles, the activity could pick up. Evercore ISI notes that software M&A picks up about six to nine months after a trough in the S&P 500. During the fallow period, potential buyers can hire advisers and evaluate the target and their ability to carry out a deal. Separately, the board of a public company would be loathe to sell too near a 52-week low and a recovering stock price could give it more leverage in deal talks. Given that the index hit its bottom in mid-February, the window opens right about now.
The transactions have provided a boon for enterprise tech-savvy banks such as Bank of America, Qatalyst, Morgan Stanley, Jefferies, Credit Suisse, and law firms including Kirkland & Ellis, Wachtell, Wilson Sonsini, Goodwin Procter, WilmerHale, Skadden and Fenwick & West.
Frank Quattrone's Qatalyst, which has run some of the more prominent sales, suggests that the factors motivating software companies and private equity firms to make acquisitions remain in place.
"There have been several significant strategic transactions in the enterprise software sector this year, and we expect the trend to continue," Qatalyst said in a statement.
"The disruption to the incumbents' core businesses caused by the cloud, and the growth opportunity the cloud presents, create strong incentives to pursue strategic acquisitions," the boutique added. "For financial investors, the recurring nature and stability of the revenue and cash flow streams of enterprise software businesses, as well as the availability of financing on attractive terms, make these companies attractive targets."
Talks picked up early this year, as the S&P 500 neared its mid-February trough and large software groups like Oracle, Microsoft and Salesforce went to work.
Larry Ellison met with Netsuite CEO Evan Goldberg about a sale to Oracle in late January. Goldberg worked at Oracle for eight years, and founded Netsuite with Ellison, who held a major stake. As valuations bottomed, other talks germinated. LinkedIn CEO Jeff Weiner met with Satya Nadella, who runs Microsoft, on Feb. 16, and about a month later Salesforce boss Benioff called Demandware CEO Thomas Ebling about a deal.
NetSuite brought in Wilson Sonsoni and Qatalyst in late January to negotiate what to many had seemed a destined transaction. Larry Ellison held nearly 40% of Netsuite's stock, and had backed the company at its 2007 IPO. As Oracle pursued Netsuite, its board retained Moelis, Skadden, GTC Law Group, Weil Gotshal and Latham & Watkins provided counsel.
Meanwhile, LinkedIn also turned to Qatalyst and Wilson Sonsoni in March after Microsoft and other suitors expressed interest in a deal. A month later, LinkedIn brought on Allen & Co., which advised the social media company on its 2015 acquisition of Lynda.com for $1.5 billion.
Demandware brought in Goldman, one of the lead banks on its 2012 IPO, and WilmerHale in late 2015, months before Benioff came calling. Unnamed suitors expressed interest in acquiring Demandware at $63 per share in mid-December, below the $75 per share that Salesforce would agree to pay in late Spring.
The auctions intersected, as Benioff pursued LinkedIn. In a display of ambition that would later spook Salesforce investors, Salesforce on May 20 placed a bid of $23.1 billion, net of cash, for LinkedIn, and offered Demandware $2.3 billion. Salesforce would eventually agree to pay $2.8 billion for Demandware, while Microsoft prevailed with a $26.2 billion bid for LinkedIn.
Netsuite sold to Oracle for $9.3 billion in July. Qatalyst also sold Opower to Larry Ellison's software group for $532 million, and joined with Goldman to merge Cirtix System's GoTo unit with LogMeIn (LOGM) - Get LogMeIn, Inc. Report in a $1.8 billion deal.
Along with the aggressive tactics of large software groups, private equity and activism have become significant forces in the software industry.
EDITORS' NOTE: This article was originally published by The Deal, a sister publication of TheStreet that offers sophisticated insight and analysis on all types of deals, from inception to integration. Click here for a free trial.
"Client needs are becoming increasingly complex, including issues related to capital structure and activism," said Ryan Limaye, global head of enterprise technology investment banking at Goldman. "We are a multi-faceted firm with deep expertise in financing, investing and M&A."
The sale of data visualization software maker Qlik Technologies, in which Goldman advised buyer Thoma Bravo, illustrates the nexus of activism and private equity. Elliott Management launched a campaign at the software maker in March, reporting a roughly 9% stake and asserting that there are strategic opportunities for Qlik and that is significantly undervalued. Elliott urged management to explore a sale, according to proxy filings.
The Qlik board subsequently engaged Morgan Stanley, which the company had met earlier in the year to discuss industry and activism trends. Thoma Bravo, which initially offered $29 per share as its final bid, executed an agreement on June 2 to pay $30.50 per share, or $3 billion, for Qlik. 
Private equity increasingly challenges other software buyers.
In addition to agreeing to take Qlik private, Thoma Bravo also closed its previously announced acquisition of SolarWinds Inc. for $4.5 billion in February. Vista Equity, which is largely viewed as Thoma Bravo's rival within software-focused sponsor community in terms of assets the two typically go after, has also been an active participant of M&A.
Vista Equity teamed up with Bain Capital to buy Vertafore for $2.7 billion aside from its Marketo and Cvent acquisitions. Vista was founded by two former Goldman bankers and offloaded TransFirst to Total System Services (TSS) - Get Total System Services, Inc. Report for $2.35 billion after holding it for just one year.
Jason Greenberg, global co-head of technology M&A at Jefferies, explained that revenue growth from acquired companies can make up for a full entry price and provide a sufficient cash return to sponsors, adding that sponsors are outbidding strategics even in sectors where the PE buyers don't have a portfolio company.
"Between traditional strategic buyers, non-traditional tech buyers from other industry verticals and a growing number of well-funded PE buyers, there's a bigger buyer universe in general than ever before," Greenberg said.
EDITORS' NOTE: This article was originally published by The Deal, a sister publication of TheStreet that offers sophisticated insight and analysis on all types of deals, from inception to integration. Click here for a free trial.