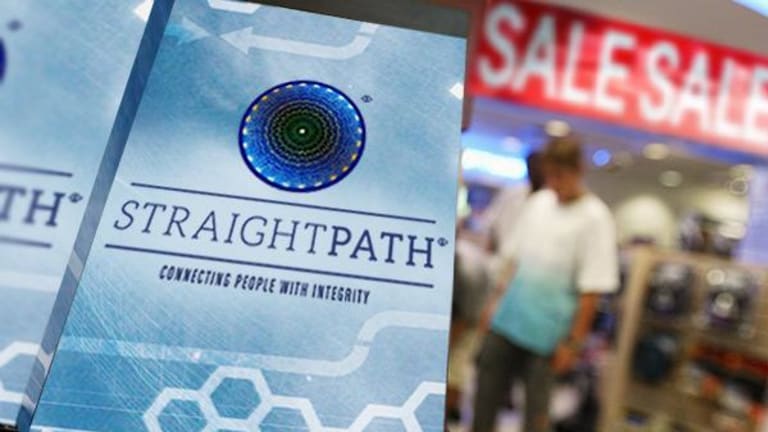 Straight Path Shares Jump as It Announces Unsolicited Offer 'Superior' to AT&T's
Shares of fellow niche spectrum owner Globalstar also gain, as Verizon declines to say whether it submitted the $1.8 billion bid.
Updated from 7:29 a.m. EDT
Spectrum holding company Straight Path (STRP) said Tuesday that an unsolicited $1.8 billion offer from an unnamed multinational telecom is a "superior offer" to a $1.6 billion sale agreement with AT&T (T) - Get AT&T Inc. Report , sending its shares soaring. Stock in fellow niche spectrum owner Globalstar (GSAT) - Get Globalstar, Inc. Report also gained.
The new bid would pay $104.64 a share in stock, easily exceeding the $95.63 that AT&T would pay in stock.
In early trading Tuesday, Straight Path shares jumped about 12.7% to $125 from a $110.89 closing price Monday that already was above the new offer price; the trading suggests investors expect increased bidding.
AT&T shares were flat at $40.02; the telecommunications giant reports its earnings after the close Tuesday. 
Meanwhile, Globalstar, a satellite communications provider with niche holdings, was up 4.3% to $1.95 on Tuesday morning.  
Verizon (VZ) - Get Verizon Communications Inc. Report reportedly was interested in Straight Path's spectrum, but it declined to comment on whether it is the mystery suitor.
Straight Path owns millimeter wave band spectrum licenses, which can carry hefty data loads for short distances compared with more traditional spectrum. Telecoms have touted the role of such high-band spectrum in 5G services, which, if they live up to the hype, will have high capacity and will connected everything from street lamps and cars to medical equipment, elements of the power grid and other machines.
"Clearly, ultra-high-band spectrum is a critical part of both T and VZ's 5G plans," Wells Fargo analyst Jennifer Fritzsche wrote Tuesday. "We view this high spectrum as more valuable to those players who own a wired network, as it is our understanding that in order for this spectrum to work effectively, it has to be attached to a densely fiber-fed base station."
AT&T has five days to consider whether to raise its bid. If it does not, the spurned buyer would be due a $38 million breakup fee, which the undisclosed telecom has agreed to pay.
As part of a settlement Straight Path reached with the Federal Communications Commission earlier this year, a part of the purchase price would go to the government. The FCC accused Straight Path of spectrum squatting, or failing to adequately build out a network to provide service on wireless licenses it had acquired.
Straight Path hired investment bank Evercore to advise on a sale after the FCC fine.
Globalstar received FCC approval in December to use its spectrum in conventional terrestrial networks. The company has said its spectrum is useful for deploying small cells, diminutive clusters of transmitters that improve a carriers' network in high-traffic areas where cell tower coverage may be limited.