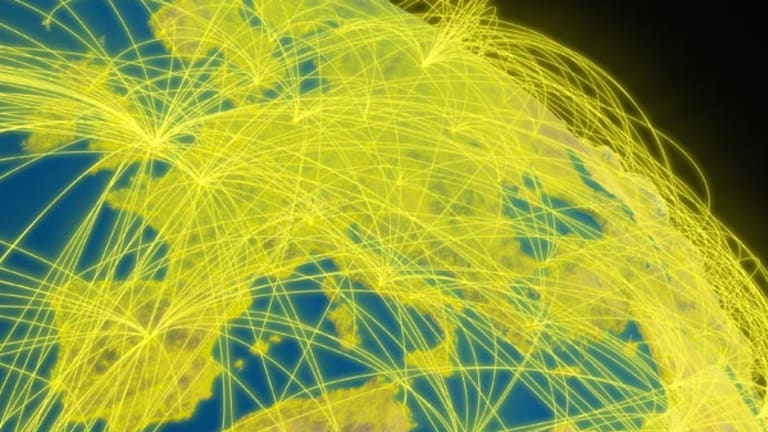 Steve Jobs Tops Risks for Apple in 2011
Steve Jobs' health is the top concern for Apple worriers who have a few issues to consider in 2011.
NEW YORK (
) - Steve Jobs is ill.
It's a sickeningly familiar news alert. The
Apple
(AAPL) - Get Apple Inc. Report
chief announced Monday that he is taking another medical leave, this time with no specified return date.
Say hurry back to health Steve Jobs, and say good bye to Apple's lofty stock price.
Apple is expected to announce after the bell today that blockbuster holiday sales helped the company shatter another quarter of record sales and profits, blowing Wall Street's financial targets completely out of the water.
All of this had been priced in to the stock, with Apple shares reaching new all-time highs nearly every day this past month. At least until today.
Apple bulls would argue that the company was just hitting its stride and opening up its lead against a field of inferior tech players.
But unfortunately, even the best runners trip from time to time. Steve Jobs' health is among a few obstacles that could stumble Apple on its ridiculously successful path.
No. 5: Phone prices
With or without Steve Jobs, the phone game has gotten more difficult. Now that
Verizon
(VZ) - Get Verizon Communications Inc. Report
has the iPhone, Apple's exclusivity deal with
AT&T
is over. And with it goes Apple's leverage, or more specifically, AT&T's motivation to pay an estimated $600 per iPhone to Apple for the privilege of offering something that its rival Verizon, now has.
Apple is expected to introduce the iPhone 5 this summer. The phone will likely be outfitted with chips that allow it to work on all U.S. and European networks, a so-called world phone that any carrier can sell.
So if
T-Mobile
has the same iPhone as AT&T, or as
Vodafone
(VOD) - Get Vodafone Group Plc Report
or as
Orange
, there's no reason to pay the premium price that Apple demanded when the iPhone had exclusive sales partners. To keep the price tag at $199, Apple may have to cut the price of the iPhone to keep carriers happy.
Any price cut to the iPhone will take a slice out of the estimated 50% gross margins that product commands at Apple. Maybe greater sales volumes could offset the lower margins, but it's hard to imagine the iPhone selling any faster than its current breakneck pace.
No. 4: Competition
After a peek at the glitzy Consumer Electronics Show, it seems clear that Apple's iPhone has some formidable superphone challengers coming early this year. How formidable? The iPhone 4 will be lucky if it can stay on the top five list of hot phones.
In the coming months, we will see dual-core processors, superfast 4G LTE connections, 4.3-inch/higher HD screens and 8-megapixel cameras from
Google
(GOOG) - Get Alphabet Inc. Class C Report
,
Motorola
(MOT)
,
HTC
,
LG
and
Samsung
.
By comparison, the iPhone 4 has a single-core processor, 3G wireless connections, a 3.5-inch screen and a 5-megapixel camera.
In the battle of the spec sheets, Apple is a loser on paper.
No.3: iPad fad
The iPad was a big hit in 2010, no question.
Analysts estimate Apple sold more than 10 million iPads last year. As expected, the device was popular among Apple fans who buy the latest gadget out of Cupertino. And users have been very pleased with the iPad's performance, mostly as a media player.
Tablets make for great e-readers, video viewers and game players, and the market for these devices is big and still growing. But without a keyboard or a substantial operating system, tablets are not qualified to play in the much larger computer market. The upshot: it's a niche device, not the next iPhone.
Perhaps Apple's MacBook Air provides the best example of where iPads fall short. The MacBook Air is the size of a tablet, but works like a computer. It's far better than the conventional
Intel
(INTC) - Get Intel Corporation Report
Atom-powered netbook that tarnished the mini-laptop segment, though it is four times the price.
The iPad is an entertainment device, a toy. Some have called it a pet rock, but maybe a
View-Master
3-D viewer is a more apt comparison. Either way, the iPad won't likely take on the significance of the Mac or the iPhone.
No. 2: Margins
Apple's domination plan for the tablet market -- getting in early at a
-- caused it to sell the iPad at a lower markup than it usually commands for other products. UBS analyst Maynard Um estimated that iPad margins were 25%, and put a significant drag on the company's overall gross margins, which were in the range of 37%.
Um now estimates that subsequent component and production costs have come down for the iPad, making sales of the iPad less corrosive to margins. But just as those improvements are set to take hold, Apple faces another margin challenge with the iPad 2 and its new cameras, which is expected to be introduced this spring.
Bottom line, investors love Apple's luxuriously fat margins and hate to see anything that would threaten to slim the gross profits.
No.1: Steve Jobs
He beat cancer once. He dodged a stock options backdating scandal. And he has guided the development of every major Apple product in the past 10 years.
Jobs is said to have total control over product design and function and he also possesses a mesmerizing talent for marketing. If Jobs were to announce that new MacBooks would be carved from birch or ash, overnight wooden notebooks would be the coolest gadgets in the land.
Jobs has shown that he is durable, and with luck he'll return. But he's not permanent. Apple's success rides on Jobs and there is no one else that could fill that role, should he leave.
That's not to say Apple doesn't have a succession plan. Its No. 2 executive, Apple COO Tim Cook, takes over for Jobs again on his medical leave and he's clearly the chief in the wings should he be called upon. But, for all his operational brilliance and his day-to-day management skill, Cook has not often been described as a visionary or charismatic.
The No.1 problem with Steve Jobs: There's only one Steve Jobs.
--Written by Scott Moritz in New York.>To contact this writer, click here: Scott Moritz, or email: scott.moritz@thestreet.com.To follow Scott on Twitter, go to http://twitter.com/MoritzDispatch.>To send a tip, email: tips@thestreet.com.