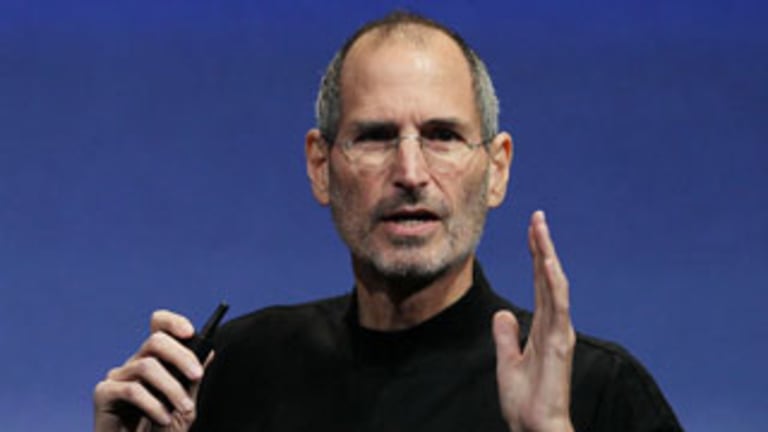 Steve Jobs Slams Adobe's Flash
Apple CEO Steve Jobs rips Adobe's Flash technology, ramping up the war of words between the two companies.
CUPERTINO, Calif. (
) --
Apple
(AAPL) - Get Apple Inc. Report
CEO Steve Jobs has slammed
Adobe's
(ADBE) - Get Adobe Inc. Report
popular Flash technology, ramping up the war of words between the two companies.
"The mobile era is about low power devices, touch interfaces and open Web standards -- all areas where Flash falls short," said Jobs, in an open letter, explaining Apple's decision
not to offer Flash on its iPhones, iPods and iPads
Apple's move, however, has
attracted plenty of attention
,
thrusting Adobe into the spotlight.
Tensions are now rising between the two companies, with Adobe recently accusing Apple of
turning the iPhone OS into a "closed, locked-down platform"
.
Enter Jobs. Clearly irked by Adobe's comments, the Apple CEO came out swinging in a note entitled "Thoughts on Flash" that has appeared on his company's Web site.
"Adobe has characterized our decision as being primarily business-driven," he wrote. "They say we want to protect our App Store, but in reality it is based on technology issues."
Warming to his theme, the turtle-necked tech guru went on to challenge Flash's credentials as an "open" technology. "Adobe's Flash products are 100% proprietary," he explained. "They are controlled entirely by Adobe and available only from Adode -- by almost any definition, Flash is a closed system."
While acknowledging that the iPhone OS is proprietary, Jobs nonetheless argued that all standards pertaining to the Web should be open.
"Rather than use Flash, Apple has adopted HTML5, CSS and JavaScript -- all open standards," he added. "Perhaps Adobe should focus more on creating great HTML5 tools for the future, and less on criticizing Apple for leaving the past behind."
Jobs, regarded as a hero by the company's many zealots, went on to slam Flash's security, reliability, and performance.
"
Symantec
(SYMC) - Get Symantec Corporation Report
recently highlighted Flash for having one of the worst security records in 2009," railed the Apple chief. "In addition, Flash has not performed well on mobile devices."
Last week Adobe confirmed that
it was ending its efforts to bring Flash-based apps to the iPhone
, underlining the schism between the two companies. In a blog posting, Adobe product manager Mike Chambers said that he is shifting all of his mobile focus from Apple's iPhone to devices based on
Google's
(GOOG) - Get Alphabet Inc. Class C Report
Android operating system.
Adobe, which recently launched its
Creative Suite (CS) 5
technology, has not yet responded to
TheStreet's
request for comment on this article.
Adobe CEO Shantanu Narayen nonetheless fired back at his Apple counterpart in an interview with the
on Thursday. "For every one of these accusations made there is proprietary lock-in" that prevents Adobe from innovating, he said, according to the Journal.
Last year technology research firm ComScore reported that Flash is installed on over 98% of Internet-enabled desktops and said that around 75% of online videos are viewed using the technology.
-- Reported by James Rogers in New York
Follow James Rogers on
and become a fan of
TheStreet.com
on