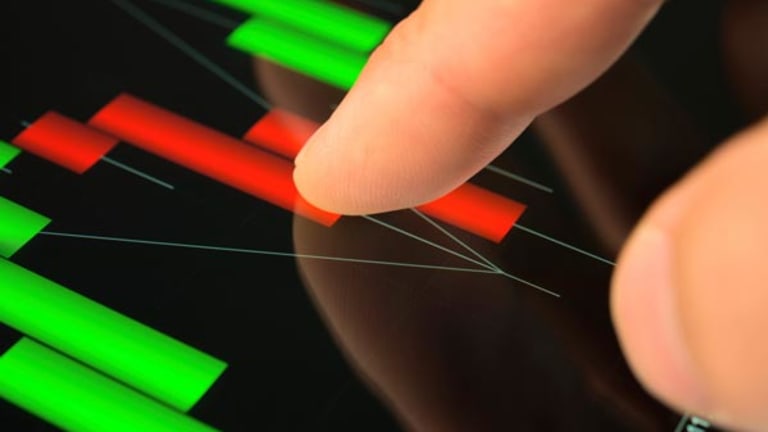 Publish date:
Steve Jobs: His Exponential Value for iPhone 4
Apple has become the undisputed market leader and investors need a sophisticated understanding of the stock action if they want to outperform.
Apple has become the undisputed market leader and investors need a sophisticated understanding of the stock action if they want to outperform.
NEW YORK (TheStreet) -- In honor of the successful release of Pixar's Toy Story 3 as well as the announcement of 3 million iPads sold, I think it's appropriate to write a few words about Apple's (AAPL) - Get Apple Inc. (AAPL) Report Steve Jobs in this week's column.
Steve Jobs sees things that nobody else does. Any one of us would have assumed the great George Lucas to be the man to determine the future of film but he sold his computer animation studio to Steve Jobs for $10 million back in 1986. Twenty years later Steve Jobs sold Pixar to
Disney
(DIS) - Get Walt Disney Company Report
for $7.4 billion. Not a bad investment!
The idea that Jobs could one up the great George Lucas on such a scale is unimaginable. Sometimes truth is stranger than fiction. In an era where film studios prefer to produce quantity rather than quality, Pixar has taken the opposite approach.
Toy Story 3
is Pixar's 11th feature film and its 11th number one hit at the box office. The reason why other studios can't emulate such success is simple; they don't know which movies will stick. It's the same as a phone company that doesn't know which phone will stick so they come out with multiple models. Why? Because they lack vision. They're blind to what happens next.
More on Apple Cramer: The Future of Apple
There is no greater gift. Athleticism? No way. Intelligence? Sorry. The greatest God-given gift is the ability to see life as it really is and to know of things yet to come. Steve Jobs is a committee of one. Compare his results to the hundreds and thousands of focus groups at
Palm
(PALM)
or
Microsoft
(MSFT) - Get Microsoft Corporation (MSFT) Report
. The difference between seeing and not seeing is exponential. I'll bet Steve Jobs rarely works up a sweat. We know very little about his personal life but we do know he has time to go out for coffee with Eric Schmidt, he has time to rehearse keynote speeches, he has time to email customers, and he has time to negotiate with the media industry. He has time to do these things because his forecasting decisions are so sure. One Steve Jobs is worth a million tech executives. He releases a single iPhone in black or white. He releases one iPad. His gift is extraordinarily sure.
>>iPhone 4: Instant Analysis
The one man who has revolutionized the tech industry recently made a statement about iPhone 4 and the FaceTime capability built into the iOS. At the WWDC he introduced it by saying "Back in 2007 when we launched the iPhone, it was my privilege to make the first phone call on it to Jony Ive...and I'd like to do the same on this occasion...I grew up with 'The Jetsons' and 'Star Trek' dreaming about stuff like this, and here it is...This is the biggest leap forward since the original iPhone. We're bringing video chat to the world and it's going to change the way we communicate forever."
Keep this in mind as you watch lines form around the globe over the next few months. This generation has never seen anything like this. What other product launch causes grown men and women to stand in line for hours in hopes of securing one on the first day?
AT&T
had more than 13 million hits on its website during the first day of pre orders here in the United States. What's going to happen when iPhone 4 is available in 88 countries this fall? Anybody know Apple's global cellphone market share? It's still under 2%.
Now let me tell you what I see. I see decade 2010 turning into a Steve Jobs revolution of market share euphoria. Apple has hit a tipping point. The acceleration of tech evolution has entered its mobile Internet phase that will witness at least 10 billion devices sold. At
www.economictiming.com we've come up with a winning strategy that balances the short term volatility of Apple with its long term potential to create a powerfully diversified portfolio with Apple LEAPS as the foundation.
Apple has become the undisputed market leader and investors need a sophisticated understanding of the stock action if they want to outperform. You can't allow the irrational pessimism of this market to blind you to the fact that Apple will surpass even the highest expectations on the iPad as well as the iPhone.
Without a holiday shopping season, Apple would beat estimates and sell 10 million iPads this year. With a holiday shopping season, they'll sell 20 million in 2010 alone. The growth is relentless thanks to the gift of Steve Jobs. The Apple story is essential for all investors to comprehend.
At the time of publication, Jason Schwarz was long AAPL.
Jason Schwarz is an option strategist for Lone Peak Asset Management in Westlake Village, Calif. He is also the founder of the popular investment newsletter available at www.economictiming.com. Over the past few years, Schwarz has gained acclaim for his market calls on the price of oil, Bank of America, Apple, E*Trade, and his precision investing in S&P 500 option LEAPS. His book, The Alpha Hunter, is set to be released by McGraw Hill in December 2009.