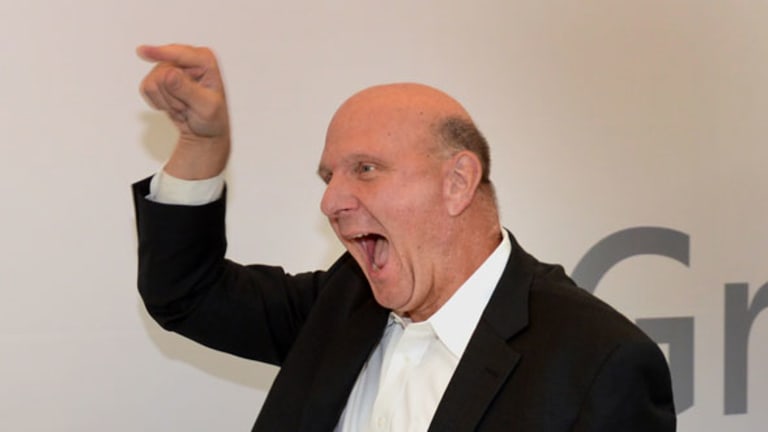 Steve Ballmer Streaming the Clippers Could Be a Watershed Moment For TV
Some say Steve Ballmer is crazy to pass up $60 million a year from Fox to broadcast Clippers' games - maybe crazy like a fox.
NEW YORK (TheStreet) -- The most intriguing news I've seen this week is the possibility LA Clippers' owner Steve Ballmer will turn down a $60 million-a year-offer from Fox's (FOXA) - Get Fox Corporation Class A Report regional network to broadcast and sell games over the Internet. If Ballmer truly goes through with this idea, it will be a watershed moment in America.
First reported by Claire Atkinson in the New York Post, Ballmer wants to go over-the-top (OTT), which would mean the Clippers and Ballmer, the former Microsoft (MSFT) - Get Microsoft Corporation (MSFT) Report CEO, will start their own network and sell it direct-to-consumer.
August 2015 may go down in history as the month of the big media massacre. So far, we've seen Disney (DIS) - Get Walt Disney Company Report, Viacom (VIA) - Get Viacom Inc. Class A Report and other big media stocks get taken to the woodshed on concerns that consumers were cancelling their cable subscriptions in favor of skinnier bundles and embracing OTT offerings, such as Netflix (NFLX) - Get Netflix, Inc. (NFLX) Report.
Fox's reported $60 million a year deal would be an increase of more than 200%, up from the $25 million the Clippers received last year.
The big media execs insist that the cable bundle, the industry's bread and butter, is not in danger and it will take years for it to die off. They also say they can go direct to consumer whenever they want. Yet, those suggestions are a bit disingenuous.
To go direct, they'd have to turn their backs on lucrative affiliate revenue paid to them from cable and satellite systems. It's very difficult for any executive anywhere - let alone one in a public company - to turn down bird-in-the-hand revenue.
Today, the Fox regional sports channel is hooked up to about 5 million households in LA. The offer on the table from Fox to Ballmer is $60 million a year. The decision Ballmer has to make is "can I get 500,000 households out of that 5 million to sign up for my OTT service. If I can, I'm making the same $60 million a year (at $10 a month). If I can do better than 500k subs, it's gravy."
Up to now, even though I've heard some like Farhad Manjoo of the New York Times argue that OTT services are already mature and well-established, but I'd say the OTT offerings are still pretty skimpy. Aside from Netflix, there is Hulu (which is still small), Amazon (AMZN) - Get Amazon.com, Inc. Report Prime Instant Video (which may be even smaller), CBS (CBS) - Get CBS Corporation Class B Report Unlimited, Time Warner's (TWX) HBO Now, Showtime, and Glenn Beck, plus whatever clips are on the "free" channels on Apple (AAPL) - Get Apple Inc. (AAPL) Report TV.
Sports is essentially what's keeping the bundle together at this stage, but if Ballmer gives you the Clippers direct, alongside getting NBA League Pass direct, it's one less reason to have the big bundle if you're in LA.
Though selling the Clippers direct won't directly cause the breakdown of the bundle, it may give the next content owner pause before re-upping with the bundle and instead going direct themselves.
This article is commentary by an independent contributor. At the time of publication, the author held no positions in the stocks mentioned.