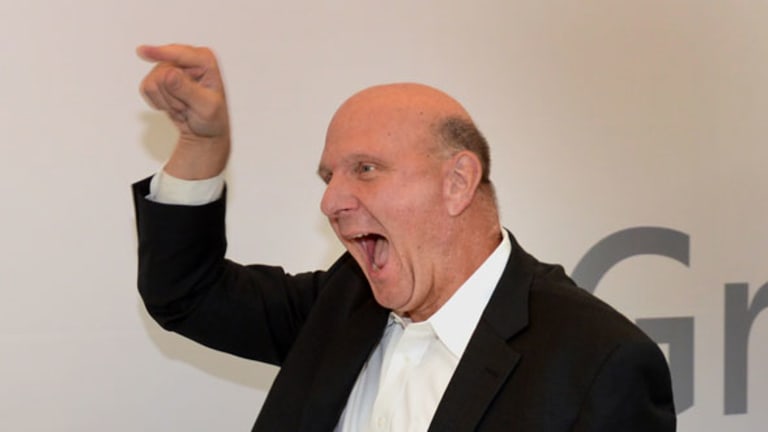 Steve Ballmer Buys Twitter Stake, Stock Pops -- Tech Roundup
Microsoft's former CEO said he's acquired 4% of the company.
Here's a look at the major stories and big stock movements in tech Friday. The technology-heavy Nasdaq Composite closed at 4,886.69, a gain of less than 1%.
Steve Ballmer, Microsoft's (MSFT) - Get Microsoft Corporation Report former CEO, said he has purchased 4% of Twitter (TWTR) - Get Twitter, Inc. Report , worth about $800 million. Shares of the micro-blogging site jumped by 4.9% Friday, closing at $31.15.
"Ballmer joins a small cadre of outside owners of a large number of Twitter shares, including Rizvi Traverse Management, which owns less than 5%, as well as Morgan Stanley, which owns 4.54% of the company," the New York Times reported. "Kingdom Holdings, the investment arm of the Saudi Arabian prince, Alwaleed Bin Talal, recently increased its stake in Twitter to more than 5%."
Ballmer disclosed his stake in a tweet Thursday night, adding praise for the "leaner, more focused" direction of the company under CEO Jack Dorsey, who announced layoffs earlier this week. He also praised Moments, a new Twitter product recently rolled out by Dorsey.
"Good job @twitter, @twittermoments innovation, @jack Ceo, leaner, more focused," Ballmer said in the tweet. "Glad I bought 4% past few months."
Ballmer, who has an estimated net worth of $21.4 billion and owns the Los Angeles Clippers basketball team, could be a candidate for a seat on Twitter's board, Bloomberg Newsreported.
"Such an appointment would give Twitter connections and experience in professional sports," analyst James Cakmak of Monness Grespi Hardt & Co. told Bloomberg. That's "an important business for the social media company as it works to be a valued source of information about major events," Cakmak said.
One analyst said he wasn't all that impressed.
Ballmer is "a brilliant man, he's clearly a very smart guy, but he is the guy who thought the iPhone was a joke. He is the guy who bought Nokia," said Michael Pachter, an analyst with Wedbush Securities, according to Bloomberg. "It doesn't make me like Twitter any more or less."
Ballmer left Microsoft in early 2014. 
Three months ago, Microsoft CEO Satya Nadella announced the company would be cutting 7,800 jobs and writing off about $7.8 billion related to its 2014 purchase of Nokia's (NOK) - Get Nokia Oyj Report phone business. Microsoft shares closed up Friday by 2.1%, finishing the day at $44.18.
Read TheStreet's report on Ballmer's investment in Twitter.
Separately, Twitter said "it would pay new Executive Chairman Omid Kordestani an annual base salary of $50,000 and a one-time grant of options to buy 800,000 shares of the micro-blogging site," Reutersreported. Kordestani joined Twitter on Wednesday.
A U.S. appeals court ruled Friday that the digital library being built by Alphabet's (GOOGL) - Get Alphabet Inc. Class A Report (GOOG) - Get Alphabet Inc. Class C Report Google unit doesn't infringe on authors' copyrights. The ruling upholds an earlier decision from a lower court. Read Re/code's report.
Alphabet's two classes of stock closed at $695.32 (GOOGL) and $662.20 (GOOG), both up by less than 1%. 
IBM (IBM) - Get International Business Machines Corporation Report has shared some software code with the Chinese government, Bloomberg Newsreported. By doing so, IBM is "seeking to demonstrate the security of its products as the company tries to expand its business in the country," the news service said.
"Beijing won't receive client data or "back doors" into the technology," IBM said in a statement.
Microsoft established a program with China in 2003, giving the government access to some Windows source code," Bloomberg noted.
IBM shares closed at $150.35, up less than 1%.
Venture capital spending surged in the San Francisco Bay Area in the third quarter, rising by 70% compared with the same period of 2014. Read the report on SiliconBeat.
Among major market movers on Friday, Box (BOX) - Get Box, Inc. Class A Report rose by 8%, closing at $13.62. NQ Mobile (NQ) dropped by 10.1%, closing at $3.67.
This article is commentary by an independent contributor. At the time of publication, the author held no positions in the stocks mentioned.