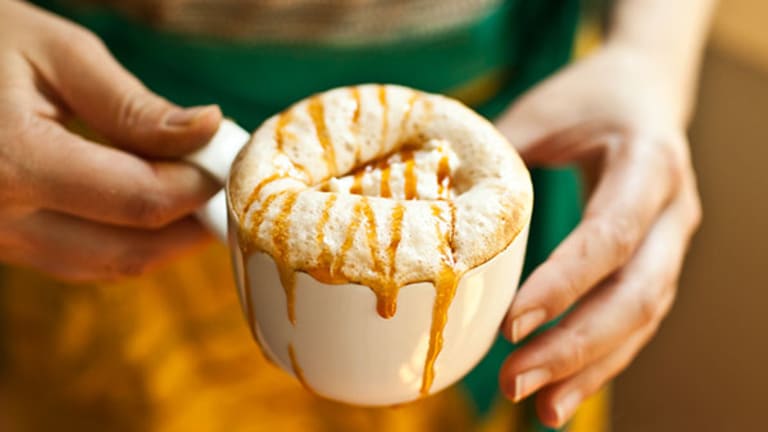 NEW YORK (TheStreet) -- Your Starbucks (SBUX) - Get Starbucks Corporation Report latte could soon come by way of courier if you happen to find yourself in New York City or Seattle, where the coffeemaker plans to test its "green apron" delivery service during the second half of 2015.   
Seattle, Wash.-based Starbucks on Wednesday said it would initiate the food and beverage delivery service in high-volume production areas inside high-traffic buildings such as the Empire State Building in New York. Starbucks will also deliver to customers in Seattle through a partnership with Postmates, a courier start-up that specializes in delivering orders placed through a mobile phone app.
Delivery customers will place their orders through the Starbucks mobile application, which includes full menus and also supports an order-ahead-for-pickup feature Starbucks calls "mobile order and pay" at 650 locations in Washington, Idaho, Oregon and Alaska. 
The delivery news was featured during Starbucks' annual meeting of shareholders, which is being held at its Seattle headquarters. CEO Howard Schultz also announced the company's sixth two-for-one stock split. Shareholders of record as of March 30 will receive an additional share for each share held, and new shares will be doled out April 8. The company will begin trading on a split-adjusted basis April 9.
Starbucks shares were gaining 1.4% to $95.68 Wednesday following the news.
Starbucks said the point of delivery is to meet the needs of the "on demand" customer. Company executives have said previously that its newest mobile initiatives are designed to boost revenue. Starbucks grew revenue 13% to $4.8 billion in the first quarter of fiscal 2015.
In catering to its time-crunched patrons, Starbucks expects the mobile order-ahead system, which will be available to all customers in the U.S. before the end of the year, to increase the frequency of customer visits and give the brand a way to up-sell mobile customers on food items. The added convenience of delivery is also meant to turn customers into more frequent buyers.