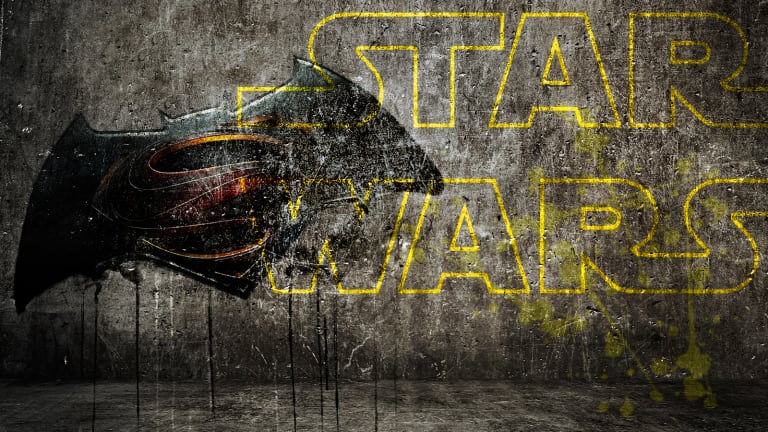 Star Wars Vs. Batman and Superman -- Which Movie Has You More Excited?
It's Walt Disney's LucasFilm vs. Time Warner's DC Comics is an epic battle that only one company can win.
NEW YORK (TheStreet) --It's Walt Disney's (DIS) - Get Free Report LucasFilm vs. Time Warner's (TWX) DC Comics in an epic battle, and only one can win.
The global popularity of Star Wars is virtually unmatched. From characters such as Luke Skywalker and Darth Vader to Yoda, Han Solo, Chewbacca and more, there are so many beloved parts of Star Wars movies, a franchise that has grossed more $4.3 billion since the first Star Wars film appeared in 1977.
Walt Disney purchased LucasFilm for $4 billion in 2012, and the hype surrounding the next movie, Star Wars: The Force Awakens, has gone into ultra-drive with the release of a new trailer yesterday at the Star Wars Celebration festival, going on from April 16-19.
While Star Wars seems to have won social media for the time being, don't count out Time Warner's DC Comics.
The new teaser trailer for Batman v. Superman: Dawn of Justicewas leaked last night and the reaction has already been incredibly intense.
Time Warner and its movie studio, Warner Bros., are obviously putting a lot of energy behind this movie (and money!), since it kicks the DC Comic Universe into high gear. The movie pits the two biggest comic book heroes of all time, Batman and Superman, on screen against each other for the first time ever.
Which film's trailer whets your appetite more? Star Wars or Batman v. Superman? Let us know and we'll publish the results on Monday.
Batman v. Superman and Star Wars are arguably the two biggest movies coming out over the next year. Take our poll to tell us which one you want to see more.