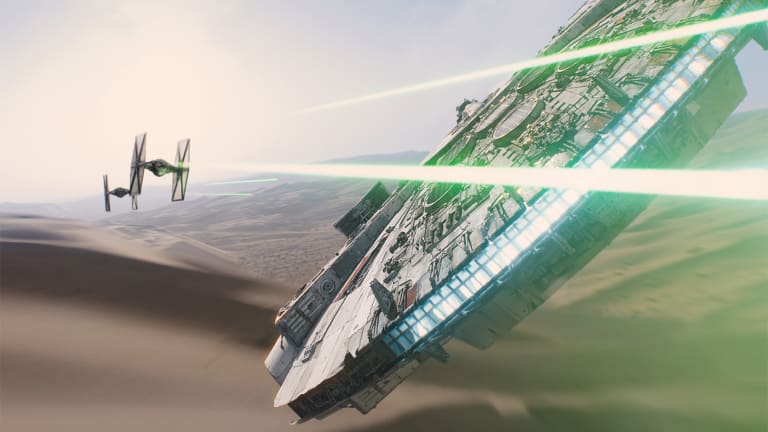 'Star Wars' Is so Big Even Google Wants the Force to Be With You
Google is giving users a comprehensive Star Wars-themed overlay that will show up across the range of Google's services.
May "the Search" be with you.
In preparation for the upcoming Star Wars reboot, which has already broken records with $50 million in advance ticket sales, Alphabet's (GOOGL) - Get Alphabet Inc. Class A Report (GOOG) - Get Alphabet Inc. Class C Report Google is offering users a comprehensive Star Wars-themed overlay that will show up throughout Google's apps and services. 
Google Calendar will populate with key dates from the movie franchise, loading bars will take the shape of light sabers and Gmail backgrounds will feature picturesque galactic settings from the Star Wars universe, among many other changes and additions. Google has also promised several hidden Easter eggs. Go to google.com/starwars to try it for yourself.
To access all the skins and mods, users first have to choose a side -- the dark side or the light side -- to align themselves with either the Resistance (a.k.a. the Rebel Alliance) or the First Order (a.k.a. the Empire). The hashtag for the promotion on social media is #ChooseYourSide, and an indicator bar on the homepage shows which side of the Force the world is embracing.
The box office expectations for Star Wars: The Force Awakens, which opens Dec. 18, are already through the roof, with some analysts predicting it to cross the $2 billion mark worldwide. James Cameron's Avatar holds the current global box office record with $2.78 billion in ticket sales, according to Box Office Mojo.
Disney (DIS) - Get Walt Disney Company Report CEO Bob Iger sought to manage all that enthusiasm during his third-quarter conference call with investors in August.
"As enthusiastic as we are for what we know of the film, we have not seen a Star Wars film -- an original one -- since 2005. And there are markets around the world that are less familiar with Star Wars than, say, the United States, for instance. So, while the enthusiasm is, I think, rather apparent, we just want to be careful that the world doesn't get ahead of us too much in terms of the estimates," Iger said.
The film has already sold more than $50 million worth of tickets, despite not coming out for almost a month, according to movie ticket site Fandango.
The Google overlay is only going to add to the frenzy.
All this is "just the beginning," Clay Bavor, one of Google's vice presidents, said. "We've got more coming between now and opening night -- the Millennium Falcon in all its (virtual reality) glory included, so stay tuned."