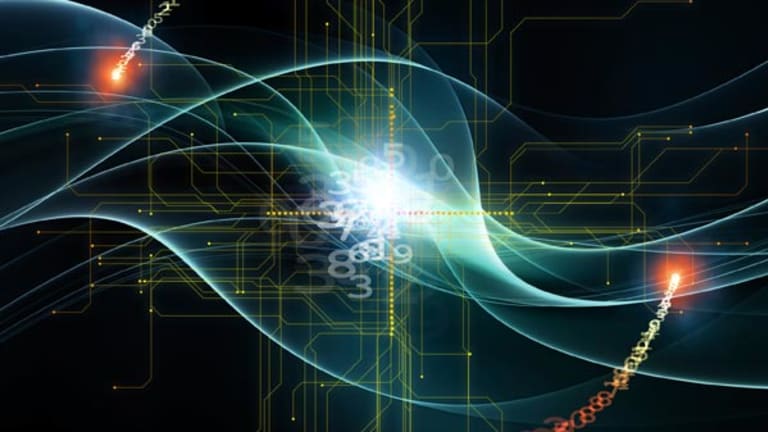 Sprint's iPhone 5 Risks Don't Include Bankruptcy (Update 1)
Telecom sector bear Craig Moffett says bankruptcy is off the table for Sprint, but Apple iPhone 5 risks remain.
Updated to reflect MetroPCS M&A speculation and additional analyst comments
NEW YORK (
) -- Bankruptcy is off the table for
Sprint
(S) - Get SentinelOne, Inc. Class A Report
. As it struggles to compete for
Apple
(AAPL) - Get Apple Inc. Report
iPhone 5 profits with larger telecoms
AT&T
and
Verizon
(VZ) - Get Verizon Communications Inc. Report
, at least Sprint doesn't have to worry about the most vocal telecom bear on Wall Street raising the prospect of doom for the company.
After assigning a 50% likelihood in March that Sprint would end up in bankruptcy as it raced to build a national wireless network to handle smartphones like the iPhone 5 and compete with stronger carriers -- and citing bond trading prices -- telecom sector bear Craig Moffett of Bernstein Research now says that readily available financing takes that prospect remote. However, amid a 100%-plus stock rise for Sprint in 2012, Moffett says that even if bankruptcy is not a near-term risk for Sprint shareholders, significant risks remain.
Overland Park, Kan.-based Sprint's fortunes will rise or fall depending on how it handles Apple's newest smartphone, the iPhone 5, argues Moffett in a Sept. 27 research note.
In a best case scenario, the company's unlimited data plans may appeal to data hungry iPhone users and the continued rollout of its upgraded national LTE network will ably handle surging network loads.
He maintains a bearish view on the company, though, questioning whether Sprint's network can handle iPhone 5 data loads or whether profit margins can be maintained.
"Sprint's recently ready access to credit has greatly diminished its near-to-medium term bankruptcy risk," writes Moffett. "From here, Sprint will have to show that it really can pull off a turnaround in fundamentals -- that is, can it sustainably gain share and grow?" asks Moffett. He isn't optimistic.
Citing a continued network disadvantage to competitors AT&T and Verizon and the prospect that profit margins drop sharply in coming quarters, Moffett holds an underperform rating and a $3 price target on Sprint shares. With the launch of the iPhone 5, those issues may come to a head for Sprint, as financing fears recede.
"Even after Network Vision is completed, we believe its LTE network will be badly disadvantaged, likely to be highlighted by the iPhone 5. Sprint's high ARPU growth appears poised for rapid deceleration," writes Moffett.
In March, Moffett wrote in a research note that bond investors were pricing in a 50/50 probability of a bankruptcy filing by Sprint over the next five years as the nation's third leading wireless carrier struggles to build a next generation wireless. At that time, Moffett ascribed a $2.50 price target for Sprint -- less than half of current share prices after a 130%-plus year-to-date rally.
Moffett highlighted two scenarios in March for Sprint playing out with investors split evenly on the company's prospects, as it spends billions to build a nationwide 4G network.
"In the first, the company successfully navigates its complicated Network Vision upgrade, stabilizes Clearwire's financial position, and delivers a compelling 4G product," he wrote. "In the second, some combination of its gargantuan take-or-pay contract with Apple, a hobbled 4G offering, and a stupendous debt burden bring the company to its knees," noted Moffett.
Last October, Sprint announced a $15.5 billion four year deal to carry Apple's iPhone and keep pace with its larger competitors who already had subscribed millions of users. That deal, a commitment to improving smartphone services through a program called "Network Vision" and a multi-billion dollar 4G build with Clearwire are Sprint's focus for 2012 and 2013, after it walked away from a $7.3 billion acquisition of
MetroPCS
(PCS)
in February.
On Thursday, MetroPCS shares surged nearly 10% after
dealReporter
said the company has recently held talks with Sprint,
DISH Network
(DISH) - Get DISH Network Corporation Class A Report
and
T-Mobile USA
, citing unnamed sources. In February, analysts said that a proposed share merger with MetroPCS made sense as a way for Sprint to boost its presence in pre-paid cellular, while boosting overall cash. However, Sprint's sub-$3 share price at the time was seen by analysts as making a deal
prohibitively expensive
for shareholders.
In early September, Nomura Securities analyst Mick MCcormack noted that industry consolidation could be "catalyst" to Sprint's shares, noting that a strategic merger is "likely in the near term." Also in September, Goldman Sachs analyst Jason Armstrong wrote in a research note that it would make sense for Sprint to combine with MetroPCS or pre-paid cellular competitor
Leap Wireless
(LEAP)
.
While Moffett hedged his predictions in March and is now withdrawing from bankruptcy talk, his maintenance of an underperform rating on Sprint reflects wider industry concerns -- mainly whether the launch of the iPhone 5 will disrupt what has been a banner year for telecom profits and margins.
A cycle of upgrades to the iPhone 5 -- subsidized by carriers like Sprint, Verizon and AT&T -- may cut at industry margins. Meanwhile, an expected surge in data loads may differentiate strong networks from the weak, undercutting the attractiveness of unlimited data plans.
For more on Sprint and wireless carrier shares, see why
investors should be wary of record iPhone 5 sales
. Also see why the iPhone 5 may
, for more on Moffett's bearish outlook.
For more on the wireless industry, see why AT&T is still
and how a tower deal
twists industry consolidation
.
-- Written by Antoine Gara in New York