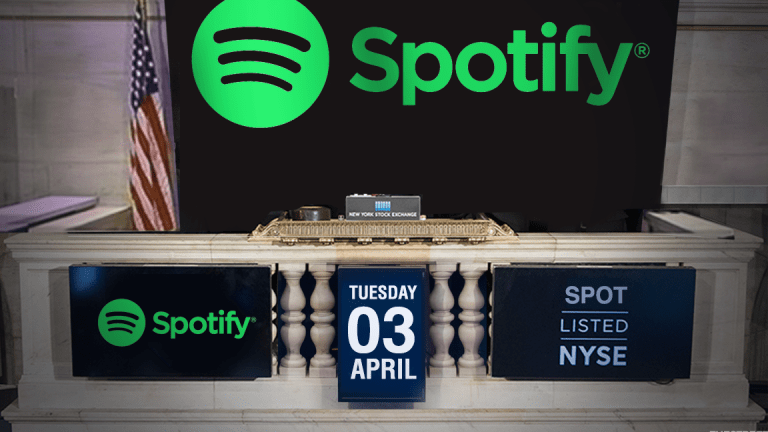 Spotify's Recent App Overhaul Has Sparked a Backlash
The music giant's June app redesign makes podcasts easier to access, but there have been quite a few complaints about changes made to its music-listening features.
Spotify's (SPOT) latest app redesign might help the company grow a podcast advertising business that has become a major strategic priority. However, quite a few users seem displeased with how the changes have affected their music-listening experiences.
Spotify's redesigned app was rolled out in mid-June to a fair amount of press coverage. As noted by much of this coverage, the redesign include a major overhaul of the app's "Your Library" tab, putting podcasts on equal footing with music within the tab for the first time. Sections titled "Music" and "Podcasts" are both accessible via large text links. Clicking on the Music tab lets one browse library songs by artist, album or playlist; clicking on the Podcasts tab lets one browse followed podcasts, as well as recent episodes and downloaded episodes from those podcasts.
At first glance, the redesign might not seem that bad for someone who spends most or all of his or her time within the Spotify app listening to music rather than podcasts. After all, one's music library is far from buried in the new version of the app. But in several ways, the new version of the app has yielded major changes (arguably for the worse) in how users are able to browse and listen to music within their collections. Perhaps the biggest of these:
Users can no longer by default browse the artists in one's collection in alphabetical order. Rather, one has to "follow" an artist for its name to appear in an alphabetical list. For a user with dozens or hundreds of artists in his or her library, manually choosing to follow all of them can be a tedious and time-consuming process.
The "Albums" section only lets users browse in alphabetical orders those albums for which every song has been added to a collection. Along similar lines, if a user chooses to "like" an album to access it via the Albums section, every song in that album is automatically added to a user's collection, and will appear when browsing music by artist or song.
An alphabetical sidebar that could let users access content much more quickly than would otherwise be possible has been removed from the Artists and Albums sections, and also doesn't appear on a "Liked Songs" page (found within the Playlists section) that has replaced Spotify's old Songs section. As a result, if a user on the Liked Songs page wants to play a song starting the letter T, he or she now has to scroll past every song starting with the letters A through S to pull it up, rather than simply tap the T on the sidebar.
Complaints about these issues, as well as several other changes related to the Spotify app's design and/or feature set, have been easy to find within the Community forums on Spotify's own website. They're also not hard to find on Twitter, and within recent user reviews of the app on the iOS App Store and Google Play.
Whereas Spotify's app has a historical rating of 4.6 out of 5 stars on Google Play, an analysis of 50 recent Google Play reviews turned up an average score of just 3.7, with 10 reviewers giving Spotify a 1-star rating. Nearly all of the 1-star ratings, it's worth adding, mentioned the app update.
On the App Store, the change has been even more dramatic. Whereas Spotify has a historical App Store rating of 4.8 out of 5 stars, an analysis of 50 recent reviews turned up an average score of just 3.2, with 14 reviewers giving 1-star ratings. A request placed with Spotify for comment on the user feedback it has seen for its app redesign wasn't returned.
Subjectively, talking as someone who has been a Spotify subscriber for close to a year and was mostly pleased with the user experience it delivered, the app redesign represents a clear downgrade. Though Spotify still certainly has its strong points -- among other things, its music discovery tools arguably remain best-in-class -- it feels as if the company pushed through a major app overhaul not with the goal of creating the best possible user experience for customers, but with the goal of furthering a strategic business objective -- namely, growing podcast listening, and with it, podcast ad sales.
It isn't hard to understand why Spotify, which earlier this year spent $340 million to buy podcast startups Gimlet Media and Anchor, is betting heavily on podcasts. Whereas Spotify's core music subscription business is one for which margins could long remain pressured by competition from tech giants and the tremendous leverage that top music labels and other major rights holders wield when negotiating licensing deals, podcast advertising is a fast-growing and fragmented field where Spotify could use its scale and user data to help create a high-margin business.
But it goes without saying that Spotify, which had 100 million music subscribers at the end of Q1, can't afford to upset a meaningful portion of its music subscriber base in the name of pursuing its podcast ambitions -- particularly given the traction that Apple (AAPL) and Amazon.com  (AMZN) have been seeing for their music services. Apple is just two weeks removed from disclosing that Apple Music has topped 60 million subs, after having said in January that the service had over 50 million subs. And this week, the Financial Times reported that the number of subscribers claimed by Amazon's Music Unlimited service has risen by about 70% over the last year, and that Amazon had over 32 million total music subscribers as of April.
With tech giants continuing to see strong growth for rival services, and with Spotify having long contended with fairly high rates of subscriber churn, the company has plenty of incentive to address the complaints of users disgruntled about its recent app update.
Save 45% with our Prime Time Sale. Join Jim Cramer's Investment Club, Action Alerts PLUS, to become a smarter investor! Click here to sign up!
Apple and Amazon.com are holdings in Jim Cramer's Action Alerts PLUS member club. Want to be alerted before Jim Cramer buys or sells AAPL or AMZN? Learn more now.