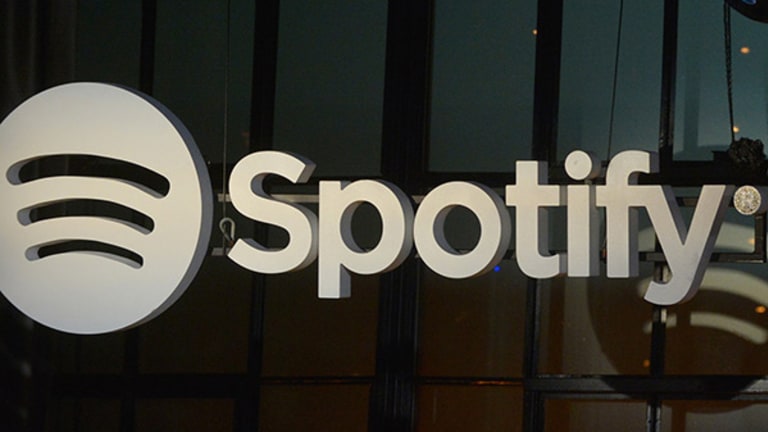 With the Snap (SNAP) - Get Snap, Inc. Class A Report IPO considered a success by most -- the stock jumped 44% in its market debut on Thursday and another 10% on Friday -- it's got many investors wondering when the next tech unicorn IPO will materialize.
Of course, discussion of unicorn IPOs often drifts to Uber and Airbnb. But another stock worthy of consideration is Spotify.
While there aren't many details available regarding the company's financial situation, we did get an update on Friday regarding Spotify's subscriber numbers. Here's the short version: growth sure isn't slowing.
The longer version? In just 12 months, Spotify grew its number of paying subscribers 66%, from 30 million to 50 million. Subscribers pay anywhere from $5 to $15 a month. The company now boasts more than 100 million paying and free subscribers.
Those number crush the competition, with Apple (AAPL) - Get Apple Inc. (AAPL) Report Music boasting just 20 million paying subscribers and Pandora (P) sporting only 4.3 million.
The accomplishment is impressive, especially in the face of rising competition. It's also got some investors hoping for an eventual IPO, given Spotify's continued growth.
In July, the company raised $1 billion at an $8 billion valuation.
Shares of Pandora (P) closed at $12.75 Friday, up 2.5%.
Earlier this week, we highlighted Twitter's (TWTR) - Get Twitter, Inc. Report continued push to improve its platform. By reducing harassment and making for a more enjoyable consumer experience, management is hoping to boost user growth, engagement and eventually earnings.
But the company has also put an emphasis on improving features. One category a number of companies -- like Facebook (FB) - Get Facebook, Inc. Class A Report and Alphabet's  (GOOGL) - Get Alphabet Inc. Class A Report  YouTube -- have been focused on is live video.
Twitter's been working on this front too, with live political coverage, as well as live coverage of sporting events, most notably Thursday Night NFL football. However, the company is adding more coverage to a different category of sports: eSports.
For those who don't know, eSports is essentially competitive leagues for video gamers. And while it may sound like a foolish topic, it's set to rake in plenty of cash, with some expecting it to be a billion-dollar business this year.
Twitter is looking to get a hold in the market as well, inking partnerships with ESL and DreamHack to bring over 15 big events and 1,500 hours of viewing. That's a notable increase for the industry and should it catch on, could make Twitter a hot destination.

Of course, it may have to compete with other services, including YouTube and Amazon's (AMZN) - Get Amazon.com, Inc. Report Twitch.
Shares of twitter closed at $15.75 Friday, down less than 1%.
Uber has been under a lot of scrutiny. The ride-sharing company is dealing with serious sexual harassment issues. Its CEO has come under fire for his position on Trump's economic council and had to apologize for yelling at one of Uber's drivers. The company's also been sued by Google's Waymo.
And that's just in the past month.
A few months ago though, when Uber was a touting a tougher ego, the company refused to apply for a permit for its driverless cars in California. Instead, the company defiantly went about its way, self-driving vehicles all around San Francisco.
Finally, the DMV and attorney general had had enough, and put their foot down. Uber relocated its cars to Arizona and the matter has quietly dissipated from the press.
Until now. Apparently the company is ready to legally play ball with the state of California. It wants its self-driving cars back in the state and is willing to play by the rules in order to do it.
Uber originally argued that its vehicles need human oversight (and thus had a driver present) and therefore didn't need to get the permit. Of course, the state didn't feel the same way and didn't budge on the matter.
Personally, I don't see why Uber bothered with moving its fleet in the first place, rather than just paying and applying for the permit and moving on. But it appears that's what the company will finally do.
This article is commentary by an independent contributor. At the time of publication, the author held no positions in the stocks mentioned.