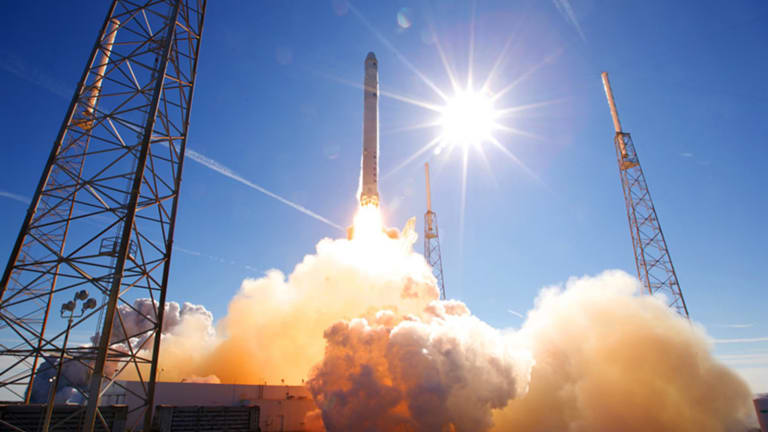 Here's How SpaceX Made History Thursday Night -- Tech Roundup
SpaceX made history Thursday evening when it successfully launched a recycled Falcon 9 rocket into space.
We're still not sure how Tesla (TSLA) CEO Elon Musk finds the time. After his company acquired Solar City (SCTY) , he now overseas the company's entire operation, plus manages SpaceX.
But on Thursday evening we knew exactly where Musk was -- watching SpaceX make history. The company successfully launched a Falcon 9 rocket from the Kennedy Space Center around 6:30 pm ET.
Of course, that's not history in the making. However, using a recycled orbital class rocket is. The Falcon 9 rocket SpaceX used on this particular launch was first used in April of last year. If the company is able to reuse rockets for multiple trips rather than building new ones from scratch, it should significantly reduce operating costs.
"It's the difference between having airplanes that you threw away after every flight, verses reusing them multiple times," said Musk on SpaceX's live video feed right after the successful launch, Recodereported.
"It's been fifteen years to get to this point," Musk continued, according to Recode. "I'm sort of at a loss for words."
In light of Musk's recent launch of Neuralink Corp., some are wondering if he's got too may ideas to focus on. Is that the biggest risk to the stock? It might be.
Shares of Tesla closed at $277.92 Thursday, up 0.2%.
The news for Lyft just keeps coming. Be it with its RoundUp donations feature or its tipping function on the app, the company has found itself in the press for good reasons, rather than bad.
While it plans to significantly expand across the U.S. this year, it's also looking at different tactics too. Such as, Lyft Shuttle. It works sort of like a bus would. It's got pre-determined stops and flat fares.
So it's up to customers to decide if giving up a little convenience -- drop-off and pick-ups are not customer-specific -- to save a little money. It should also be noted that this feature is only being tested in San Francisco and Chicago at the moment. The service is available during commuting hours, from 6:30-10 am and 4-8 pm. It's unclear how customer will react to this and if it will be profitable enough for the company to further pursue.
Elsewhere in the ride-hailing world, Uber has made some changes too. The company will now allow users to change their pick-up location. They can now use an edit function that will allow them to notify the driver of their current location, should they accidentally provide them with the wrong one the first time.
Alphabet's (GOOGL) YouTube ran into a bit of bumpy road earlier this week when it was uncovered that some of its customers weren't that happy. A whole throng of companies -- from Coca-Cola (KO) to Walmart (WMT) , JPMorgan (JPM) , Johnson & Johnson (JNJ) and others -- have pulled or suspended their video ads.
Why the backlash? These companies found that their ads were running alongside offensive or controversial videos.
The reaction is easy to understand. But it's also reasonable to expect most if not all of these companies to be back on YouTube's advertising network relatively soon. The reason why is simple: It's just too big.
YouTube is the second most popular website in the world, trailing only its parent, Google, for the top spot. These companies can't afford to not advertise on YouTube.
Luckily, YouTube was quick to react.
The company runs a preferred advertising program, according to ReCode. In this group, customers get perks like higher-quality video ads or ad placements on channels with a large amount of followers.
GroupM, a name many investors are likely unfamiliar with, is actually the largest media buying firm in the world. GroupM has reportedly received a complete list of the YouTube channels that are enrolled in the preferred ad program.
Now they will know the channels where the ads will run and what kind of ads could come before or after their ads. Previously, a company only saw what ads ran near their ads after the fact.
Hopefully this and other measures will be taken by YouTube, to ensure that ad placement is more accurate and in-line with what its clients are looking for. In the end, this incident is only likely to be a small bump in the road for YouTube and Alphabet.
Shares of Alphabet closed at $849.48 Thursday, down 0.1%.
This article is commentary by an independent contributor. At the time of publication, the author held no positions in the stocks mentioned.