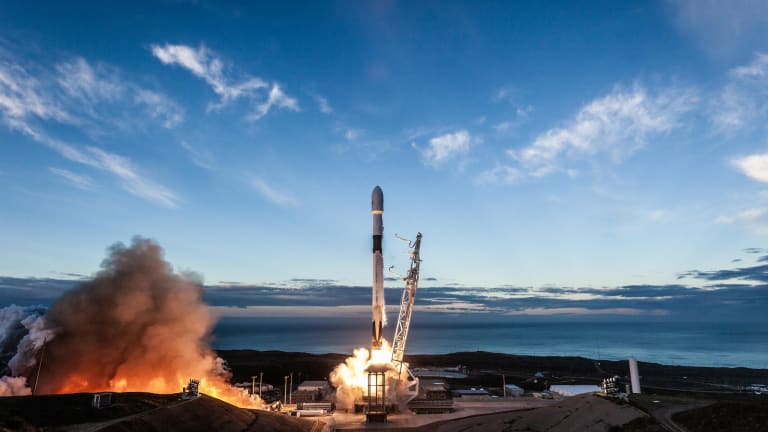 SpaceX Craft Docks on Space Station
In a collaboration with NASA, craft produced by Elon Musk's SpaceX docked on the International Space Station Sunday.
Tesla boss Elon Musk managed to rocket into another phase of tech stardom this weekend with the successful launch of SpaceX craft and the successful docking of the craft to the International Space Station earlier Sunday. 
SpaceX, which has been collaborating with NASA, saw the launch of the craft early Saturday and then the docking later in the weekend. The unmanned mission is set to gather information for a later flight that will potentially carry astronauts. NASA posted video of the trip as well as updates on its Twitter account. 
The historic launch marks a turnaround from Friday, when shares of Tesla (TSLA) - Get Tesla Inc. Report  fell sharply, ending a good news-bad news week for Musk's electric car company.
SpaceX's 2:49 a.m. ET launch from Kennedy Space Center in Florida included the Falcon 9 rocket and Crew Dragon spacecraft.
The takeoff marked SpaceX's first flight with NASA's Commercial Crew Program, and it marked the first flight test of space craft made for people but built and run by a commercial company, said NASA. The Falcon 9 is the two-stage rocket that carries into orbit the Dragon, which is made to carry up to seven passengers into space.
"A new generation of space flight starts now with the arrival of @SpaceX's Crew Dragon to the @Space_Station. Congratulations to all for this historic achievement getting us closer to flying American Astronauts on American rockets," wrote NASA administrator Jim Bridenstine over Twitter on Sunday.
The Dragon is carrying a human-like device called Ripley that will collect data about what astronauts aboard the spacecraft would experience throughout the mission, said NASA.
NASA and SpaceX will use the information that Ripley gathers to prepare for a test flight with people on it slated for July.The craft is expected to return to Earth on March 8.
The news follows Tesla's 7.84% fall on Friday to close at $294.79. The drop came after worries about near-term profits for the carmaker after it said it would begin rolling out its long-awaited $35,000 Model 3 electric sedan.