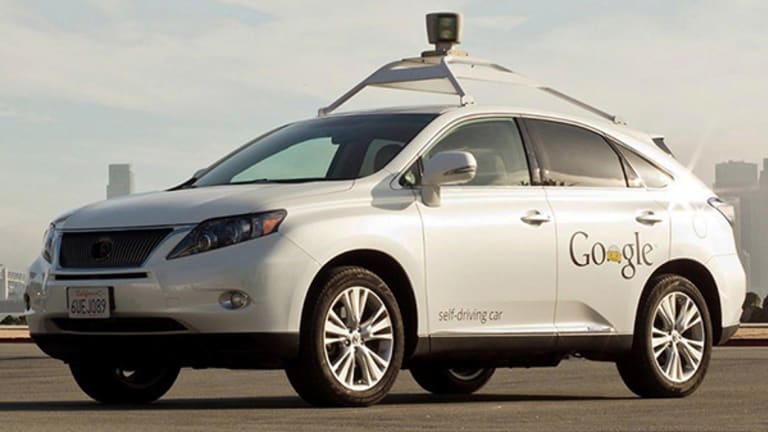 Sorry Waymo, Almost Half of Consumers Say They'll Never Buy a Self-Driving Car
MIT survey finds only 13% would feel comfortable in an automated vehicle.
Ford (F) - Get Ford Motor Company Report  , Alphabet (GOOG) - Get Alphabet Inc. Report , (GOOGL) - Get Alphabet Inc. Report and other companies are spending big bucks to develop self-driving cars, but a new MIT survey finds that nearly half of all drivers never plan to buy one.
"If we continue to spend billions of dollars developing vehicles that drive themselves but consumers aren't ready for that technology, this will just be another illustration of a failed overlap between technology, policy and consumer interest," said Bryan Reimer of the Massachusetts Institute of Technology, which released the study Thursday at a symposium co-sponsored by the university and the New England Motor Press Association.
MIT recently polled some 3,000 consumers and found that:
48% say they'll never purchase a self-driving car.
Only 13% would feel comfortable with a fully automated vehicle.
Top reasons cited by those who vowed to never to buy self-driving cars included "loss of control" (37%), "I don't trust it" (29%), "it will never work perfectly" (25%) and "it's unsafe" (21%).
Interest in self-driving cars is surprisingly small among younger people, who are presumably more open to new technologies. For instance, only 14% of 16- to 24-year-olds polled would feel comfortable with a self-driving car.
Comfort levels have actually dropped rather than risen across all age groups since MIT conducted a similar survey a year ago.
Reimer attributes the falling interest in part to a fatal accident involving a Tesla (TSLA) - Get Tesla Inc. Report that had been running on auto-pilot, as well as to the recent crash of a self-driving car that Uber had been testing.
"First impressions really do matter in human psyche, [whether] our first view of a person or of a technology," he said. "Trust takes a long time to build--and declines rapidly."
The researcher added that consumers' everyday experiences with frozen computer screens or malfunctioning smartphones only add to the problem.
"If I pick up my smartphone or computer and it doesn't work perfectly up to my expectations, how am I going to trust my life to a self-driving car?" he said.
Overall, Reimer said the study shows that automakers should slow down development of self-driving cars and instead focus for a few years on partial automation that would gradually get consumers comfortable with the idea.
For instance, he said existing technologies like Traffic Jam Assist--a system from Audi (AUDVF) that can automatically steer a car in stop-and-go situations--can help pave the way for eventual consumer acceptance of self-driving vehicles.
"More limited function like [Traffic Jam Assist] would get people used to these technologies, moving the automation pipeline slowly [as] we build trust," he said.
(Disclosure: The author is a New England Motor Press Association member.)
Employees of TheStreet are restricted from trading individual securities.
Action Alerts PLUS, which Cramer manages as a charitable trust, is long GOOGL.