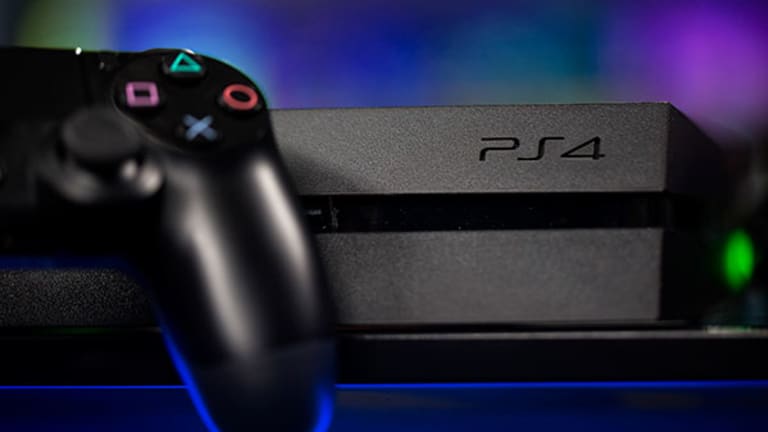 Sony Updates PlayStation 4 Game Console
Sony's first big software update for its PS4 device comes Wednesday, while Microsoft has some new plans for its Xbox One console.
NEW YORK (TheStreet) -- The high-stakes battle for world game console supremacy is heating-up again Wednesday with a number of big changes coming to Sony'sundefined PlayStation 4. Sony'sflagship gaming device will receive its first major upgrade since its public release late last fall.
The new software, version 1.70, adds a number of new features including better game downloading, video editing and an application Sony said it's very excited about.
The "SHAREfactory" app will allow users to customize game videos with special effects, video commentary with picture-in-picture capability through PlayStation Camera, customize soundtracks and share videos on Facebook FB or external USB storage device
Sony shares were down more than two percent to $17.56 in trading early in New York.
Sony said the new software will also allow users to live broadcast and archive their game play in 720p high-definition as well as improvements for DualShock 4 controller, PlayStation camera, easier sharing of Music Unlimited tunes and new additional for PlayStation Store payments.
The PS4 was announced in February 2013 and was officially released for sale last November. It runs on an advanced, eight-core, 64-bit Advanced Micro Devices (AMD) - Get Free Report processor, sports a second processor for background tasks and carries a suggested retail price of $399. Sony earlier this month announced that it has sold more than 7 million of its game consoles and 20 million PS4 games in the console's first five months.
That's better than its main competitor, the Microsoft (MSFT) - Get Free Report Xbox One. According to its latest released numbers (also from mid-April), Microsoft has sold a total of 5 million units. That's better than Microsoft's Xbox 360 did in the same time frame. But Microsoft reported that it sold only 1.4 million games for the Xbox One to date.
All of that could be about to change. Microsoft will begin to sell the Xbox One in China beginning in September. China is a virtually untapped market for game consoles.
Microsoft has been releasing monthly software updates for the Xbox One. The company also announced that it's currently in the process of developing a number of original TV shows for the Xbox as well as for other Microsoft hardware platforms.
-- Written by Gary Krakow in New York.
To submit a news tip, send an email to tips@thestreet.com.
Gary Krakow is TheStreet's Senior Technology Correspondent.