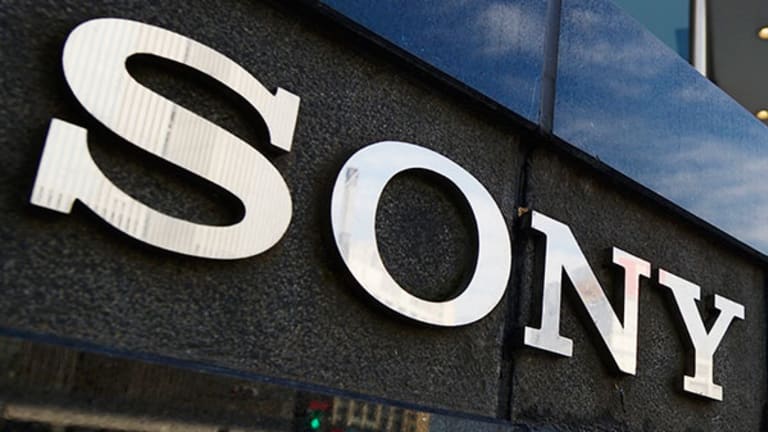 Sony Is Smacked, Hacked and Cracked, and Hoping, Praying for a Better 2015
December wasn't such a good month for Sony, but the worst may finally be behind the makers of 'The Interview.'
NEW YORK (TheStreet) -- December hasn't been a great month for Sony (SNE) - Get Sony Corp. Report .
First came word that Microsoft's (MSFT) - Get Microsoft Corporation Report Xbox One sales may have pulled ahead of Sony's PlayStation 4, then the massive cyberattack and related threats concerning The Interview, which was supposed to be a harmless satire, and finally the hacking of the PlayStation network knocking it offline on Christmas Day. The Japan-based company is hoping 2015 will be a lot better.
Sony's most recent woes began when Microsoft dropped the price of its Xbox One game unit. It started the year at $499. The price was cut to $399 by removing the Kinect controller from the package, and then another $50 came off the price for the holiday shopping season. Final sales figures have yet to be tallied, but Sony's long-term sales lead may have been severely challenged by Microsoft's moves.
Sony shares were gaining nearly one percent to $20.77 in premarket trading in New York.
Then there's the hacking problems. First, the battle with North Korea over the plot of what was supposed to be Sony's Christmas blockbuster The Interview. Accusations came from all sides, but in the end Sony managed a limited release of the movie in a small number of theaters and also through online viewing vendors like Google (GOOG) - Get Alphabet Inc. Report Play, YouTube, Xbox Video and this week, Apple's (AAPL) - Get Apple Inc. Report iTunes store.
The movie wound up being seen more than 2 million times in the first few days of release and earned Sony more than $15 million. That makes it the company's most successful online movie ever.
On the other hand, there are reports that the threats over the release of the movie didn't come from North Korea or any other country but, instead, was an inside job. The hacking might have originated with a disgruntled employee who had been fired earlier in 2014. Federal authorities are investigating those reports.
During the attack, all of Sony Pictures' hacked computers were offline and the company was reportedly forced to resort to digging-up old BlackBerryundefined devices to communicate with each other and the outside world via device-to-device messaging. Ironically, Sony is one of the leading proponents of mobile products running Google's Android operating system.
As for the game system hack, Sony's PlayStation network is finally back online a few days after being attacked by a group calling itself the Lizard Squad. Microsoft's Xbox network also fell victim to the same attack but made it back online over the weekend.
The FBI is busy tracking down exactly who is responsible for the game networks hacks while the Lizard Squad is making even bolder moves. The group is now offering its denial of service hacking secrets for sale on its Web site. Prices start at $6 per month to take down a Web site for 100 seconds all the way up to $130 a month to attack a site for eight days. There are also more expensive "lifetime" options available which could cripple Web sites for up to five years.
-- Written by Gary Krakow in New York.
To submit a news tip, send an email to tips@thestreet.com.
Gary Krakow is TheStreet's Senior Technology Corresponden
t
This article is commentary by an independent contributor. At the time of publication, the author held no positions in the stocks mentioned.