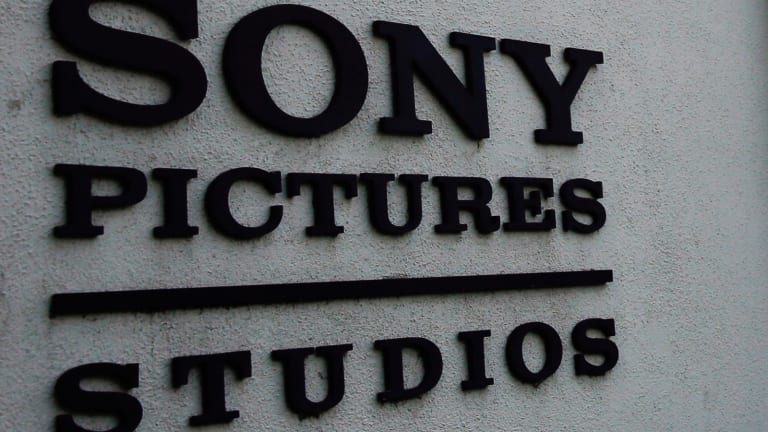 Sony Pictures Struggles to Counter Disney, Universal String of Hits
Without a cupboard filled with franchises, Sony's film and TV unit appears to be taking a conservative route to getting out of Hollywood's cellar, relying on decades-old reboots, analysts said.
LOS ANGELES ( TheStreet) -- Three years removed from topping all Hollywood studios at the domestic box office, Sony (SNE) - Get Sony Corp. Report Pictures Entertainment is bringing up the rear.
There have been flops, ranging from 2013's sci-fi adventure After Earth to this summer's rom-com Aloha, to get to this point. But there has also been a lack of sure-fire franchises in the studio's cupboard, proving it difficult for analysts to say when and how Sony's film and TV unit could be ready to race back toward the top.
"It's a bit of a show-me at this point," Marla Backer, managing director of Research Associates, said in a phone interview about Sony Pictures' future slate of films.
If any studio needed a hit badly, it's Sony Pictures, which is still reeling from a massive and embarrassing corporate cyberattack and hasn't had a bona fide blockbuster since last June's comedy 22 Jump Street. What makes it all the more difficult is the studio's struggles have come amid a string of hits from Comcast's (CMCSA) - Get Comcast Corporation Class A Report Universal and Disney (DIS) - Get Walt Disney Company Report that have torn up the box office this summer. Universal and Disney have captured nearly half of the year's entire domestic gross sales, according to Boxofficemojo.com.
Sony Pictures, which as grossed a mere $285.1 million in domestic ticket sales, said it will lean on rebooting franchises Bad Boys, Underworld and Resident Evil as well as placing bets on possible new franchises that include Stephen King thriller The Dark Tower, Sony video game adaptation Uncharted and horror film Patient Zero.
Sony Pictures and its new boss Tom Rothman are trying to get the studio back in line with its rivals by following a typical model heavy on franchises as a way to mitigate the inherent risk and volatility of the film business.
It has none other than Universal to look to for inspiration. The studio has ridden franchises like Fast & Furious, Jurassic Park and the cost-effective Despicable Me animated films to the top of the box office.
But Sony Pictures' big problem is that outside of the James Bond series and Marvel's Spider-Man, the pickings start getting slim.
"There's no brand here that we know is a proven mega brand," said Backer.
To make matters worse, Sony Pictures' deal with MGM for the Bond series ends after November's Spectre, and it is widely believed Agent 007 will likely decamp to another distributor. Also, the next Spider-Man film won't hit theaters until 2017.
To fill that gap, Rothman and Sony Pictures appear to be taking a conservative route that won't necessarily deliver eye-popping box office hauls but could deliver a tidy profit. Rothman, a known cost-cutter, had earned praise for turning in some of Hollywood's best profit margins while at 21st Century Fox's (FOXA) - Get Fox Corporation Class A Report film studio.
"They're playing it cautiously as they have to do," said Jeff Bock, a box office analyst at Exhibitor Relations. "They can't afford another huge misstep. They have a pretty wide basis of demographics with this release schedule."
Series like Bad Boys and Resident Evil have built-in audiences that help overall with publicity costs and budgeting.
But the studio is putting its faith in several reboots. By the time Bad Boys 3 rolls around in 2017, it will have been 14 years between installments of the Will Smith-Martin Lawrence buddy cop film, and Smith's name no longer guarantees hundreds of millions in domestic ticket sales.
The studio also has its fingers crossed that 2016's female-driven Ghostbusters reboot can also go big as well as the reprisal of 1995 kids' fantasy Jumanji and The Magnificent Seven, a remake of the 1960 Western classic.
But while there is a built-in audience for reboots, there's also measure of risk. Remaking a wildly popular film from decades ago can be met with mild public interest despite conventional wisdom saying it should be a hit. In the past two weeks, comedy remake Vacation from Time Warner's (TWX) Warner Bros. and Marvel superhero filmFantastic Four distributed by Fox both stumbled at the box office.
Still, what Sony Pictures may fall back on is Rothman's shaving costs and delivering high margins, no matter the budget. Case in point is January's Kevin Hart comedy The Wedding Ringer. Although the film's production largely predates Rothman's arrival at the studio, it grossed $64.5 million on a reported $23 million production budget during the challenging winter season.
While The Wedding Ringer did well, it does not have the size or scale Sony Pictures needs to compete in Hollywood.
"A lot of what Sony used to do were modestly budgeted films," Bock said. "They're not trying to hit it out the park. They're trying to hit singles and doubles. In today's climate, that has to change if you're one of the big fish. You're going to have to have some grand slams. They're building to that."
This article is commentary by and independent contributor. At the time of publication the author held no positions in the stocks mentioned.