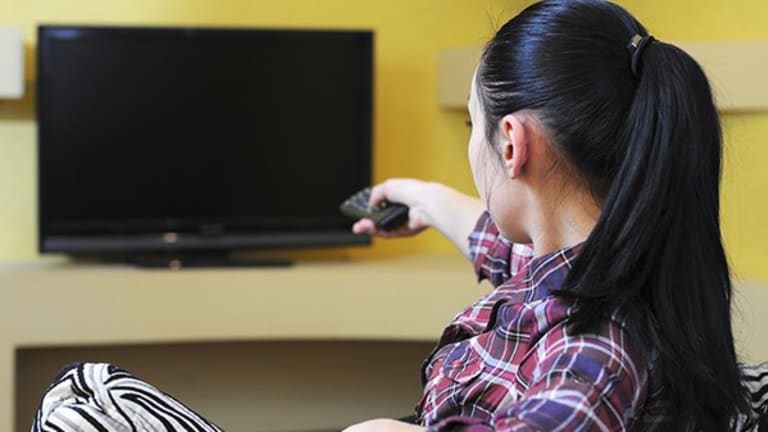 Some Surprising Players Try Their Hand at Original Streaming Content
Growing interest from e-commerce giants in the original content and online streaming space suggests an upcoming battle for consumers' eyes.
NEW YORK (TheStreet) -- It's no secret that TV consumption is shifting online, be it via laptops, tablets, or phones, but a recent change in the game has introduced some surprising players to the space.
E-commerce giants Amazon (AMZN) - Get Free Report , Alibaba (BABA) - Get Free Report , and Overstock.com (OSTK) - Get Free Report , are all taking a stab at producing original content and streaming shows and movies online.
Amazon's already been in the game for several years, and recently hit a high point with two Golden Globe awards for its show "Transparent." Meanwhile, Alibaba announced its first original film titled "Bai Du Ren," or "Ferrymen," earlier this month, and has also acquired rights to a popular TV series and movie. And last week, Overstock announced it plans to launch a digital content platform to sell and rent digital media and offer a video subscription service for "Club O" members (similar to Amazon Prime, the Club O loyalty membership provides free shipping and reward dollars on purchases for a fee of $19.95 per year).
In each of these moves, there seems to be an underlying understanding that there is strong demand for all of this online content and that it makes sense for an e-commerce company to bet on streaming media.
"All three of these e-commerce icons clearly have expertise in online marketing; the bold decision to create original content is a vast departure from their proven track records and core equities," said Vincent Moy, director and industry analyst for NPD. "They've got strong business acumen, so success in making movies will hinge on their ability to attract filmmakers who are already well-established."
While Alibaba, Amazon, and Overstock may not have expertise in entertainment, they can leverage their other skills and tools and apply them to the new space.

"We hope to leverage our e-commerce platform and 'big data' assets and integrate those with content development in order to provide more innovative services to our users," an Alibaba spokesperson told The Street.
At the end of the day, it's about drawing in loyal customers and bolstering their brand for these companies.
"Your content is your best ad," blogger and professor Jeff Jarvis explained to The Street. "They have the opportunity to have unique content that will draw people to them, just the same as HBO or Showtime do. People subscribe to Netflix because they heard 'House of Cards' is great."
Specifically for Amazon, serving up original content is likely intended to boost the benefits of Prime and spur more membership signups. The e-commerce giant has found that its Prime members spend significantly more than other customers because of the free shipping. For Overstock, they may trying to do the same for their Club O membership.
"Introducing this service allows us to engage with our customers on a deeper level and show our appreciation to Club O members for being loyal to us over the years," Overstock's CEO Patrick M. Byrne said in a press release.
Jarvis noted that Amazon may be best positioned out of the three companies to succeed in the new area since it inherently is more of a distributor than a retailer. The only difference is that is will distribute content in addition to physical products.
Amazon and Overstock declined to speak to TheStreet for this story.

Producing a movie may not be the obvious move for Alibaba or Amazon, but the opportunity in online entertainment right now is huge.
According to Forrester Research, 34% of millennials watch TV online for four or more hours weekly, and 40% of millennials stream from a paid online video service. Those numbers are slightly lower for older generations, but the trend is growing nonetheless.
"For media companies two years ago, online video was an ancillary strategy; now the conversation is about tapping unrealized revenue streams and converging traditional with digital workflows," Forrester analyst Philipp Karcher wrote in a report. "Zenith Optimedia forecasts that in the next three years TV's share will start to fall marginally, as desktop and mobile ad spend grow much faster. As consumers looking for convenience shift their video consumption habits, over-the-top video is more prevalent: Netflix now pulls in more subscriber revenue than HBO."
Jefferies analysts have noticed the growing space of online entertainment as well, pointing to culprits such as Netflix as causes for the decline in TV ad revenue.
Netflix subscribers have more than doubled from the end of 2011 to 47.4 million in their most recent earnings report, and Hulu Plus subscribers have increased from 1.4 million as of the end of 2011 to an estimated 8 million today.
Alibaba, Amazon, and Overstock seem to be betting that they can one-up Netflix and Hulu, or at least share the table with them.
"We live our lives online -- at work, socially and in leisure," Moy said. "Interacting with online businesses is in our DNA; the next step of being entertained by e-commerce companies seems only natural. Entertainment is a tough business but if an e-commerce company hires the right people, greenlights the right projects and gets the marketing right, anything is possible."
--Written by Rebecca Borison in New York
>Contact by Email.