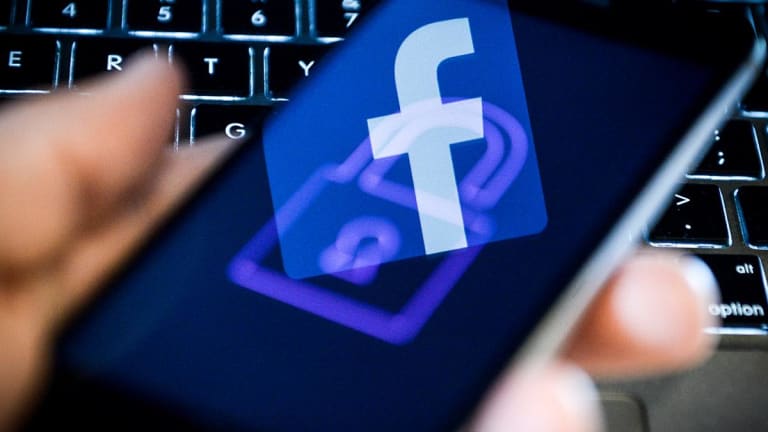 Facebook Will Be Supplanted by Technology, but That's Not All Bad News
Facebook will end up a middleman, just another party jockeying for revenue from that identity database, albeit a very experienced and potentially very valuable middle-man.
What do you call a social network that no longer garners much trust? Facebook (FB) - Get Facebook, Inc. Class A Report , of course, given all that's happened. 
But the future of the internet and databases may bring a big reprieve for Facebook, by relieving the company of the role of being the guardian of everyone's data. More than any vow of responsibility by the company, technology will solve Facebook's trust gap.
Facebook's problem stems from the fact that people who sign up for it are automatically placed in a database, from which everything they do can be tracked and then exploited, in ways that have proven scandalous in the past couple of years. The issue is that no one but Facebook has authority over that database of users, including the people whose identities it exploits.
A variety of technologies, including the blockchain distributed ledger can take over the role of storing the personal identities of individuals. That would relieve Facebook of that responsibility, while still allowing it a very lucrative revenue stream from advertising. 
As the social network turned fifteen on Monday, founder and CEO Mark Zuckerberg reflected on the course from dorm room to 2.7 billion connected users in an essay on his Facebook page:
But some of the more telling comments came almost a decade ago, in an interview Zuckerberg gave to Thomson Reuters, when his business had just 200 million people using it. 
In that May, 2009 interview, Zuckerberg made this astonishing equivalence between users and the advertisers who seek to exploit them:
"One of the reasons why I think advertising is actually really natural in these environments," said Zuckerberg, referring to social networks, including Facebook, "is it is exactly what all the 200 million users are doing on the site. They are building a profile and they are building an identity and they are distributing certain signals that they want to share with the people around them out."
"That is really what advertisers want, as well," said Zuckerberg, "to be able to build an identity in the system, distribute their signals out more broadly. And one of the ways to think about the product is they are really paying for additional distribution."
Thus Facebook is an asymmetric relationship between advertisers and users -- with advertisers paying to exploit users, who have tacitly agreed to be exploited. That arrangement has generated astounding growth for Facebook from ad dollars. The company has seen nearly five-fold growth in revenue over the course of the past five years, to $55.8 billion in 2018, as it announced last week.
There's no reason Facebook can't hold onto its role as the network that "distributes" those "signals" of both users and advertisers. But it has to be with a new underlying technology of consent: a decentralized database owned by no one and controlled by individuals themselves. What will happen is that the underlying database that identifies a person and stores their real identity as a person, will leave Facebook.
The database of people's identities will in coming years move to another platform, most likely in the form of the distributed blockchain ledger, where no single authority controls access, and where individuals can manage their own identities, including to whom they grant rights to use and even exploit that information.
In an interview last year, an Internet pioneer, Leonard Kleinrock, discussed just such a system he's working on, built on Blockchain. Similar initiatives will come in the course of time.
Facebook's scale itself suggests the market for identities has grown too large for the company. With 2.7 billion people in some way interested in being connected online, at some point that collection of identities can become what U.S. anti-trust regulators sometimes call a "critical facility," a resource to which many market participants need fair access. It's only a matter of time before Facebook's ownership of the database of identities becomes a potential anti-trust liability. 
A decentralized database via Blockchain, where people participate by controlling their identities and explicitly granting or denying access by others, opens up the identity marketplace to lots of participants, including Facebook, to generate revenue in a variety of ways.
What will Facebook be then? It can still be a broker, of sorts, between individuals and those advertisers who want to "distribute their signals," as Zuckerberg put it. Only now, it will be on the basis of a more explicit agreement between both parties: People who opt to grant access to their identities to Facebook can then negotiate to have their "signals" tracked by the company and relayed to advertisers.
This is exactly what technology and the marketplace in tandem can achieve that regulation doesn't. The U.S.'s landmark anti-trust suit hobbled Microsoft (MSFT) - Get Microsoft Corporation (MSFT) Report for a decade, but it was ultimately the rise of open-source software that shifted control of computing away from the company.
Facebook will end up a middleman, just another party jockeying for revenue from that identity database, albeit a very experienced and potentially very valuable middleman, and also one now freed of the trust issue. It'll be good for Facebook, good for their investors and very good for society and individuals.    
Facebook and Microsoft are holdings in Jim Cramer'sAction Alerts PLUS Charitable Trust Portfolio. Want to be alerted before Cramer buys or sells FB or MSFT? Learn more now.
Tiernan Ray neither owns nor trades any shares of stock in any companies discussed in this article.