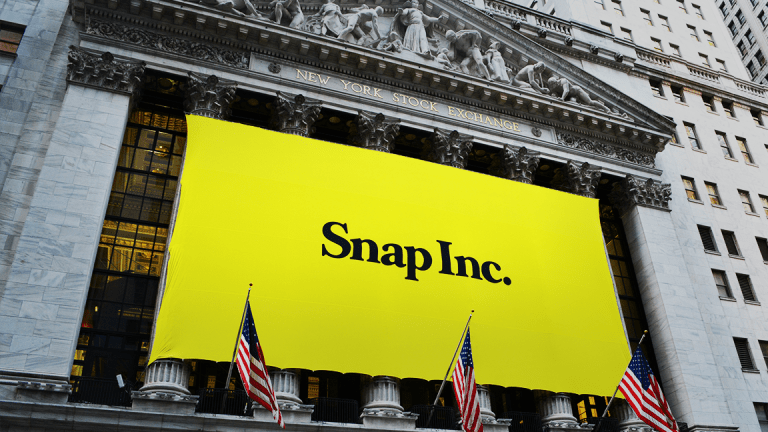 Snap Surges in Premarket After Tencent Holdings Reveals 10% Stake
Tencent Holdings, the Chinese internet giant which owns WeChat, rides to Snap's rescue with a 10% stake that has lifted shares from premarket lows.
China's Tencent Holdings Ltd.  (TCEHY)  has built a 10% stake in Snap Inc. (SNAP) - Get Snap, Inc. Class A Report , the company said Wednesday, just hours after it revealed weaker-than-expected third quarter earnings and vowed to re-design its flagship messaging app.
Tencent, which owns China's biggest social media app WeChat, told Snap that it purchased around 145.78 million non-voting Snap shares on the open market, taking its overall stake to the 10% threshold that requires formal notification.
"We have long been inspired by the creativity and entrepreneurial spirit of Tencent and we are grateful to continue our longstanding and productive relationship that began over four years ago," Snap said. "For its part, Martin Lau, Tencent's president, informed us that Tencent is excited to deepen its shareholding with us and that it looks forward to sharing ideas and experiences."
Snap shares were poised to shed more than $3 billion in value at the start of trading Wednesday after CEO Evan Spiegel said the group may need to completely re-think its messaging app design after a disastrous third quarter earnings report that has investors questioning its much-hyped decision to go public earlier this year.
However, the Tencent purchase has added lifted shares more than 21% in premarket trading to indicate an opening price of $15.25 each after falling to as low as $12 after last night's after-hours earnings. The stock is currently expected to open 7.8% lower than Tuesday's close at $14 a share. 
Snap posted a loss of 14 cents a share in the three months ending in September while revenues, the bulk of which come from selling ads, did rise 61% to $208 million, but even that figure trailed analysts' estimates of $237 million. Revenues per user, a key metric for the group, increased to $1.17 but again fell shy of the Street consensus of $1.30.
The dispiriting numbers -- not to mention the stock's 48% decline since its post-IPO peak -- were not lost on the company's founders, including Spiegel, who essentially pledged a hard re-set of the hard-to-use app which is slowly losing the hold it once had on the imagination of users and investors alike.
"The one thing that we have heard over the years is that Snapchat is difficult to understand or hard to use, and our team has been working on responding to this feedback," Spiegel told investors on a conference call late Tuesday. "As a result, we are currently redesigning our application to make it easier to use."
"There is a strong likelihood that the redesign of our application will be disruptive to our business in the short term, and we don't yet know how the behavior of our community will change when they begin to use our updated application," he added. "We're willing to take that risk for what we believe are substantial long-term benefits to our business."
More of What's Trending on TheStreet: