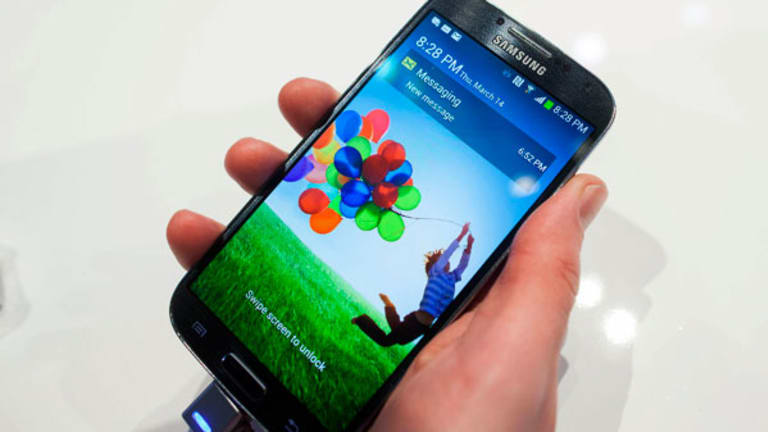 Smartphone Supply Chain Disruptions Poised to Be 'New Norm'
Investors may have to get used to headlines about smartphone product delays.
NEW YORK (
) -- Investors may have to start getting used to smartphone supply disruptions as demand surges and smartphone makers strain to accelerate output while integrating increasingly sophisticated components.
In less than a year, smartphone leaders
Samsung Electronics
and
Apple
(AAPL)
as well as various Chinese competitors have been hard hit with inventory challenges.
In China, manufacturers have had to scramble to appease consumers' voracious demand for cutting-edge smartphone devices, particularly features such as five-inch 1080p high-definition screens. Samsung's blockbuster Galaxy Note 2 carries these screens, prompting suppliers to ramp up their production lines. Of course, they've often fallen short meeting difficult targets.
Other components in short supply have included the 12-megapixel cameras, 16GB internal storage chips and DRAM chips. In this environment, Coolpad Chinese handset vendor Yulong and rising stars OPPO and Xiaomi in China, made clear in March that their suppliers were having a hard time keeping up.
The most popular components for Android smartphone manufacturers are the five-inch 1080p hi-definition screens, 12-megapixel cameras, 16GB internal storage chips and DRAM chips, according to David Yang, an industry analyst at Santa Monica, Calif.-based market research firm IBISWorld.
David Walker, a technology analyst at Boston-based Trillium Asset Management LLC, which manages about $1.3 billion, including Apple shares, said of the production of smartphones that "I hope it's
the supply crunches not the new norm, but these are very complex machines. It hurts your brand. It has hurt Apple. There is a cost to multiple when people think you can't execute."
Last month, Taiwan's Android-based
HTC
One delayed the full rollout of the product because its cutting-edge Ultrapixel camera sensor couldn't be manufactured quickly enough. The HTC Butterfly device that beat iPhone sales in Japan during its first week on the market last December also had problems filling orders due to component shortages.
Last September, Apple shares slumped even though it managed to sell more than 5 million iPhone 5s in three days as the company ran into supply shortages complicated by rioting at a factory of 2,000 workers at
Foxconn's
Taiyuan plant. Just last week,
Sprint
(S)
fell in New York as the mobile-phone operator and peer
T-Mobile
said they had to delay the introduction of Samsung's Galaxy S4 due to inventory challenges at the Korean electronics manufacturer.
Walker said that Samsung is trying to bring 4G baseband processor technologies in-house as part of its efforts to bolster its control over the supply chain, but remains a generation behind
Qualcomm
(QCOM)
in mastering this key, but extremely complicated smartphone capability. At the same time, Qualcomm lacks its own factories and must outsource the manufacture of its chipsets to contract chip manufacturers such has
Taiwan Semiconductor Manufacturing
(TSMC), who may not be able to achieve optimal yields on such complex devices especially on short notice.
"Qualcomm is really at a competitive advantage
compared to other chip companies because they can spend so much more money on R&D making sure they have the technology right, but even if their chipset design works they still have to hand off to a contract manufacturer," said Walker. "For semiconductors, when the processes change, the yields are not always optimal. So with products like Apple, and with products like the
Samsung Galaxy that have such strong consumer demand, particularly with the semiconductor manufacturing, if the yields are off, that is the mitigating factor within the supply chain."
"With the Apple mini and iPhone 5 there were definitely issues. With the iPhone 5, the chip that they were using -- the baseband and applications processor -- was a smaller line-width and Taiwan Semiconductor Manufacturing had an issue with the yield. To add the increased speed, to add the increased complexity, you're having to shrink the line width. And when you change the geometries from one line width to another... sometimes you do have hiccups."
"The overarching issue is that product innovation from the handset makers, whether it's Samsung or Apple, has not kept pace with the slower rates of suppliers -- the supply chain to adapt changes into their manufacturing processes," said Brian Sozzi, CEO and chief equities strategist of Belus Capital Advisors in New York. "News like this is somewhat becoming a new norm in the industry as companies duke it out for market share and market street cred."
"The problem that stems from this race to the top is that some quarterly sales and earnings may be missed as product is unable to be brought to market to meet demand. Also, remember, where there are materials shortages, that puts suppliers in a more advantageous position to raise prices, in turn weighing on the margins of Apple and
other smartphone companies.," Sozzi added. "An investor therefore has to view sales/earnings guidance with greater skepticism than the norm."
In the race to take control of its supply chain and fortify relationships with its suppliers in the case of Apple, and further strengthen vertical integration, in the case of Samsung, both companies expect to keep capital expenditures about as high as last year's.
The iPhone and iPad maker anticipates using about $10 billion in capital expenditures in 2013, including roughly $9.15 billion for product tooling and manufacturing process equipment, and corporate facilities and infrastructure. In 2011, the company's capital expenditures were $4.6 billion, including about $4 billion for other capital expenditures such as product tooling and manufacturing process equipment, and other corporate facilities and infrastructure.
Samsung expects overall spending this year to be similar to the prior year's as well, at about 22.8 trillion won ($20.6 billion). The company expects its proportion of spending on CAPEX, compared with that of last year, to be larger in the second half of 2013.
Samsung's first quarter CAPEX totaled about 3.9 trillion won, with the semiconductor and Display Panel segments each accountable for 1.5 trillion won. Samsung said it's poised to increase CAPEX investment beginning from the second half of the fiscal year to preempt rising demand for various products and to continue to sharpen its competitiveness in the high-tech industry. In 2011, Samsung consumed a total of 23 trillion won in CAPEX investments, including 13 trillion won for the Semiconductor Business and 6.4 trillion won for the Display Panel segment. CAPEX for the fourth quarter was around 5.9 trillion won.
Given the enormity of the global smartphone manufacturing industry and the increasing challenging designs of the components within the phone, which observers have said "stretches the laws of physics," "the sky's the limit for spending on complex items like the smartphone," said Brian Frank, portfolio manager at New York-based Frank Capital, which oversees about $50 million in assets.
IBISWorld's Yang said that as supply constraints rise, firms will likely also have to invest in marketing that better manages consumer expectations through appropriate device announcements and release dates. Public relations will also play a more important role if supply shortages do occur.
Frank said he wouldn't be surprised to see increase volatility in smartphone stocks as uncertainties about their sales and earnings outlook rise amid increased headlines about smartphone supply bottlenecks.
"People watch these numbers so closely. Even if the phone is hot but they're not able to deliver -- people may not want to wait for the phone and they'll buy something else -- you can see stocks bouncing back and forth on that," said Frank. In the short-term, he would keep an eye on deliveries and revenue.
In the long-term, he will continue to keep his focus on CAPEX to calculate free cash flow production by subtracting CAPEX from operating cash flow.
"In the long-term, cash is king," he pointed out. "As an investor, you don't want CAPEX to get too high because that's money out of your pocket. Overtime, dividends, special dividends, stock buybacks ... they can only be done with cash."
Yang said he's not expecting much changes to how the smartphone companies go about their revenue forecasting amid the supply constraints. However, he said, it will be important to analyze the production capacity of component suppliers, component input costs for plastics, metals and silicon for instance, and other factors such as transportation management, energy costs and consumer demand.
Frank Capital's Frank said that ultimately, Apple and Samsung will be the ones to persevere with the greatest success amid all the supply chain stress, by using their sheer size to nail down supply.
Meanwhile, he said, there will be less room for niche players to play in the smartphone oligopoly. Smaller competitors to the giant include
Motorola
,
Nokia
(NOK)
,
Microsoft
(MSFT)
,
BlackBerry
undefined
,
HTC
and
Kyocera
(KYO)
.
Yang said that Apple, who has an established working relationship with suppliers can minimize supply volatility while highly integrated companies like Samsung can also benefit from a more stable supply chain.
Between Apple and Samsung, Frank as a value investor prefers Apple.
"A big portion of that is the cash that they have and that they continue to generate cash even though their capital expenditures are increasing. They also have a high market share."
His fund just took a position in Apple because it got hurt so much from assumptions that margins will go down either through supply constraints, about the risks attached to launching a lower-end cellphone and concerns about a loss of market share to Samsung. But Frank said Apple's advantage over Samsung is that it owns an entire "ecosystem" as the only manufacturer for the iOS phone, whereas the Android operating system for wireless devices used in Samsung's smartphone is pervasive across the manufacturers and owned by
Google
(GOOG)
.
Based on recent data from Strategy Analytics and Gartner, Samsung remains the market share leader in the global smartphone market.
Written by Andrea Tse in New York
>To contact the writer of this article, click here:
Andrea Tse
.