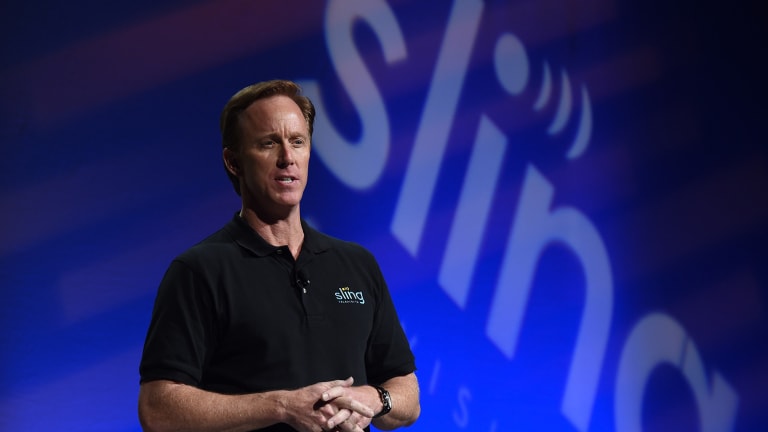 Sling TV Cracks Down On Millennials With New Ad Campaign
Dish-backed Sling TV narrows in on millennials with new ad campaign designed to convince them to finally cut the cord.
NEW YORK (TheStreet) - Sling TV, the over-the-top service that delivers pay TV via the web, launched a new ad campaign designed to get young people to cut the cord with traditional cable.
"Millennials have polarizing feelings about TV; they love the content, but hate the pay-TV model," Glenn Eisen, chief marketing officer of Sling TV, said in a statement. "The #TakeBackTV campaign introduces Sling TV as a new model and solution for the millennial audience." Sling launched earlier this year and is the brainchild of DISH (DISH) - Get DISH Network Corporation Class A Report CEO Charlie Ergen. 
Sling's core package costs just $20 per month for more than 20 channels, including a first-of-its-kind deal with Walt Disney's (DIS) - Get Walt Disney Company Report highly popular ESPN. The streaming service also offers add-on packages for an additional cost. Users who want its HBO package pay an additional $15 per month.
Additional costs aside, Sling's fees are still less than traditional basic cable, which the Federal Communications Commissionsaid costs an average of $64 per month.
The streaming service's launch has met a few hiccups along the way, however. In April, Sling's servers stopped working after too many users tried to view the NCAA Four Final games, causing consumer outrage and prompting Sling to issue a quick apology. Consumers were once again upset in April, after they were unable to launch the Roku app to watch HBO's season five premiere of Game of Thrones.
Sling is just one of the cable network-backed streaming services popping up recently, all of which play off the web-streaming model pioneered by Netflix (NFLX) - Get Netflix, Inc. Report.
After Dish announced Sling in January, Time Warner (TWX) launched its own HBO online service in April that was first announced in October 2014 at its investor day. Other rivals Viacom (VIAB) - Get Viacom Inc. Class B Report, CBS (CBS) - Get CBS Corporation Class B Report and Comcast's NBCUniversal (CMCSA) - Get Comcast Corporation Class A Report have either launched their own services or are exploring plans to do so.
Sling has never publicly said how many paying subscribers it has, but it is estimated to have around 250,000, according to Re/code.