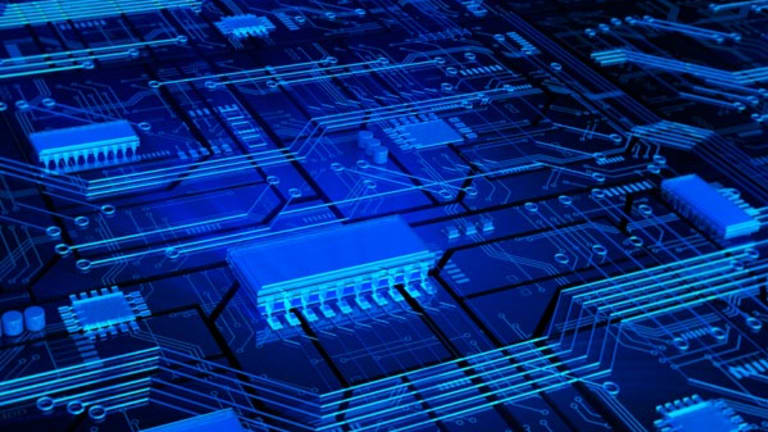 Publish date:
Six Top Tech Trends for 2010
From cloud computing initiatives to the debut of hotly anticipated tablets, 2010 will be a busy year for tech. Here are the trends investors need to watch for.
From cloud computing initiatives to the debut of hotly anticipated tablets, 2010 will be a busy year for tech. Here are the trends investors need to watch for.
ARMONK, N.Y. (TheStreet) -- From secure cloud computing to tablets and green IT, 2010 will be a busy year for the tech sector. Here are the trends investors need to look out for:

Cloud Computing Changes Shape
Cloud computing has been one of the tech sector's biggest catchphrases of the last couple of years, with companies like
IBM
(IBM) - Get International Business Machines (IBM) Report
,
Cisco
(CSCO) - Get Cisco Systems, Inc. Report
,
EMC
(EMC)
and
VMware
(VMW) - Get VMware, Inc. Class A Report
to boost their cloud initiatives.
Cloud services offer computer power or data storage via the Internet. IBM claims to be breaking
in this space with the launch of its Smart Analytics Cloud, a set of technologies for firms that want to compile information across their organization. And the sector has been
with companies like
Microsoft
(MSFT) - Get Microsoft Corporation (MSFT) Report
and
Savvis
(SVVS)
, which are all
the technology as a way for firms to avoid the upfront costs of hardware and software.
See Cramer's Mobile Internet Tsunami stocks>>>
There are, however,
hanging over the cloud concept. Security and loss of data control have been cited as the biggest issues with the technology.
"There's skepticism among IT practitioners," said Kevin Bocek, director of product marketing at systems specialist
Thales
. "It's an opportunity, but it's also a challenge."
In an effort to help make the technology more secure, internet giant
Amazon
(AMZN) - Get Amazon.com, Inc. Report
has started
virtual private network (VPN)-based access to its services. Companies like
AT&T
and
VMware
(VMW) - Get VMware, Inc. Class A Report
are
pushing
security as a major selling point of cloud technology, having recently
a major cloud computing partnership.
Service provider Savvis is also driving home the security story, having recently
expanded
its alliance with
Cisco
(CSCO) - Get Cisco Systems, Inc. Report
to deliver what it describes as the "first enterprise-class Virtual Private Data Center (VPDC)."
This message may be getting through.
The Economist
recently ran an online debate, "This house believes that the cloud can't be entirely trusted." More than half of respondents to the poll disagreed with the motion, spelling good news for cloud vendors in 2010.
China
Hewlett-Packard's
(HPQ) - Get HP Inc. (HPQ) Report
shock
acquisition
of
3Com
(COMS)
may have been a bolt out of the blue, but the deal highlights the growing
of the Chinese technology market.
3Com is a
major player
in China through its
and many firms are looking east in search of new revenue streams.
Tech research firm
IDC
estimates that the Chinese IT services market grew from $7.7 billion in 2007 to $9.5 billion last year, and is expected to experience a compound annual growth rate of almost 14% between 2008 and 2013.
Further evidence of China's value surfaced last week when Claymore Securities launched the Claymore China Technology ETF. Touted as the first ETF to focus on the Chinese technology sector, Claymore is clearly eyeing a major growth opportunity.
Economic Observer News
estimates that around $53 billion of China's $585 billion economic stimulus package will be spent on technology projects, something that has certainly grabbed attention on the other side of the Pacific.
With companies like
Apple
(AAPL) - Get Apple Inc. (AAPL) Report
now attempting to tap this eastern market, H-P is bolstering its ability to support China's service providers and enterprises, as well as Beijing's myriad infrastructure projects. The Silicon Valley heavyweight is already the technology lead for the ChinaGrid, a vast communications infrastructure for more than 290 million Chinese students.
Last month
Cisco
(CSCO) - Get Cisco Systems, Inc. Report
CEO John Chambers
that Chinese firms will revolutionize the tech sector within the next decade. The networking giant plans to increase its company's foothold in the world's fastest-growing major economy, he added.
In 2007 Cisco announced a $16 billion multiyear investment in China, which included a stake in Chinese giant
Alibaba.com
. The CEO says he has no intention of taking his eyes off the new frontier.
"The Chinese are going to be a very good market for us," he said, during Cisco's recent shareholder meeting. "We can't ignore markets, we must play there, compete there."
Green IT
Green technology will be big business in 2010, hitting everything from
smartphones
to
servers
to
devices.
"I think what we will see emerging is the 'clean green' space," said Eric Openshaw, vice chairman and U.S. technology leader of
Deloitte
. "There's a lot of interest in green enterprise solutions from enterprises."
The New York Stock Exchange, for example, is in the
of a massive data center consolidation, which aims to shave tens of millions of dollars a year off its operating expenses. Eco-friendly features in two of the Exchange's new data centers include automated light controls, carbon monitoring and the use of outside air for cooling.
All of tech's big names have been scrambling to assert their green credentials in recent years, as seen with IBM and its
'Smarter Planet'
strategy and
Samsung's
phone, which is made from corn-based plastic.
Green tech is clearly a high-growth area. "There's a lot of V.C. money going into the space for solutions that help you monitor and report your carbon footprint," explained Openshaw.
Increasingly, companies will face regulatory pressure to watch their carbon output across their supply chain, he added.
"If you're building a PDA, for example, it's interesting what happens in your factory, but it's even more interesting if you know what's happening with all the raw materials and how they are sourced," Openshaw told
TheStreet
. "Global companies that have an extended understanding of what their carbon footprint looks like will be at a huge advantage."
The Great Tablet Mystery
After
of
and speculation, we should finally see
Apple's
(AAPL) - Get Apple Inc. (AAPL) Report
eagerly-anticipated
Tablet device in the coming months. Oppenheimer analyst Yair Reiner recently said that an Apple 10-inch touchscreen e-book could arrive as early as March, citing information from suppliers.
The Tablet, known as the iPad, could
with
Amazon's
(AMZN) - Get Amazon.com, Inc. Report
popular
, said Reiner, noting that Apple will produce one million units a month.
It is not just Apple, though, that could make waves next year.
Dell
(DELL) - Get Dell Technologies Inc Class C Report
is
to be planning its entry into the
Tablet
market and will unveil an Android-based device at next month's CES show.
Hewlett-Packard and
Toshiba
have already tried and failed with their own Tablets -- so there is great interest In Apple's
on the technology.
"If you just look generically at the Tablet market, it doesn't feel like it's the most important piece of technology that can be introduced in the marketplace," said Deloitte's Openshaw. "There are niche uses for that like healthcare but I wonder whether it's an iterative before voice works as it really should."
Openshaw explained that Tablets would be a real game-changer if they offered some form of advanced voice recognition and transcription. "I believe that the Tablet technology that is being discussed now is a stepping stone," he added.
Healthcare IT
The debate about U.S.
healthcare
reform has been one of the biggest political issues of 2009, and the health IT sector's role is
Technology will play a
big part
in delivering Obama's ambitious healthcare strategy. More than
$20 billion
will be spent on electronic medical records over the coming years, and the president has vowed to drag U.S. healthcare systems into the 21st century.
Highlighting the
revenue opportunities
available in health IT, next month's CES show in Las Vegas will feature a 'Digital Health Summit,' showcasing consumer-based devices, applications and services.
Although it will take years to overhaul U.S. healthcare systems, some of tech's biggest names are already vying for a seat at the top table. IBM CEO Sam Palmisano, for example, appeared at a White House press conference with Obama earlier this year, where he described the health I.T. agenda as "essential."
In addition to IBM, with its vast services business, a slew of other companies are also eyeing Obamacare dollars.
GE
(GE) - Get General Electric Company (GE) Report
CEO Jeff Imelt recently announced a $250 million fund to invest in healthcare technology companies.
GE is a
major player
in health IT and recently signed a
pact
with
Intel
(INTC) - Get Intel Corporation (INTC) Report
to build home health care devices.
This could be a shrewd move. With health care firms attempting to reduce expensive hospital stays, analyst firm DataMonitor estimates that the home health monitoring market will grow from $3 billion this year to $7.7 billion by 2012.
Other companies that could play a key role in Obamacare include
Cerner
(CERN) - Get Cerner Corporation Report
,
McKesson
(MCK) - Get McKesson Corporation (MCK) Report
and
Emdeon
(EM)
.
Even software giant Microsoft is ramping up its efforts in this space, recently buying healthcare software specialist
Sentillion
for an undisclosed fee.
Virtualization
Virtualization is expected to become even more widely deployed in 2010, driven by an
economy. Virtualization, which allows users to divide physical hardware into multiple 'virtual' chunks, is seen as an effective way for companies to juggle myriad of operating systems and applications. The likes of VMware, Microsoft and
Citrix
(CTXS) - Get Citrix Systems, Inc. Report
are all pushing the technology as a way for firms to reduce the amount of server and storage hardware within their data centers.
Deutsche Bank recently
upgraded
CA
, citing strength in its virtualization initiative, and analyst firm IDC says that the technology will make its presence felt during the coming months.
Despite the fact that this sector took a
during the recession, IDC has identified signs of its recovery. "The market is poised for the beginning of a significant infrastructure refresh cycle in the months ahead," wrote Matt Eastwood, the research firm's group vice president of enterprise platforms, in a recent statement. "Virtualization will be a cornerstone technology as medium and large enterprise organizations around the globe accelerate the need for more dynamic and converged infrastructure."
VMware, one of
TheStreet's
top tech
picks
for 2010, is the most obvious beneficiary of this trend. The Palo Alto, Calif.-based firm
Wall Street's estimates in its recent
results, and is seen as offering plenty of
upside
to investors.
It is not just servers, though, that are going virtual. Desktop virtualization is expected to be an up-and-coming feature, too. With IT spending creeping back, many firms will be looking to overhaul their PC infrastructure. That presents a massive window of opportunity for the likes of VMware.
Also, the push towards
is a shot in the arm for the virtualization market, as service providers build out their IT infrastructure.
Despite years of hype, though, many organizations have yet to deploy virtualization, which leaves plenty of room for growth. Analyst firm
Gartner
, for example, recently reported that just 16% of server workloads are virtualized, although this is expected to grow dramatically.
Small and medium-sized businesses will be at the forefront of the virtual revolution, according to Tom Bittman, Gartner vice president. "By year-end 2010, enterprises with 100 to 999 employees will have a higher penetration of virtual machines deployed than the Global 500," he wrote in a recent statement.
-- Reported by James Rogers in New York