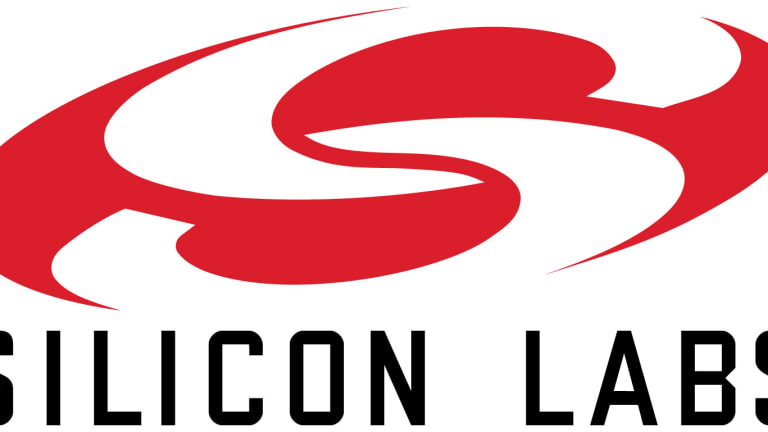 Silicon Labs' CEO Talks to TheStreet About IoT, 5G and Data Center Opportunities
Following an earnings report featuring strong sales guidance, CEO Tyson Tuttle highlights Silicon Labs' design win momentum within end-markets such as IoT devices, wireless base stations and electric cars.
As Silicon Labs (SLAB)  trades near its 52-week high following a better-than-expected earnings report, its CEO asserts the company's growth opportunities put it on relatively sound footing as the chip industry deals with an ongoing downturn.
Among other things, Silicon Labs supplies microcontrollers (MCUs), wireless connectivity chips, sensors, and signal timing and isolation chips for end-markets such as IoT devices, industrial equipment, telecom equipment and cars. Unlike many of its rivals, the company relies on a fabless business model, outsourcing all chip manufacturing to foundries such as Taiwan Semiconductor  (TSM) and TowerJazz (TSEM) .
Silicon Labs' shares rose on April 25 over 17% after the company beat Q1 EPS estimates, reported roughly in-line revenue and (importantly) issued better-than-expected Q2 sales guidance. The company also disclosed seeing a "sharp rebound" in its bookings during Q1, and (in contrast with the remarks of some peers) said it thinks Q1 will represent its sales bottom during the current downturn. On average, analysts polled by FactSet expect Silicon Labs' annual revenue decline to narrow to 5% in Q2 from 8% in Q1, and for the company to return to revenue growth in Q4.
I recently talked with Tyson Tuttle, who has been Silicon Labs' CEO since 2012. Here's a look at some of the notable remarks that Tuttle made during the talk:
Near-Term Chip Demand
Tuttle admits that when it comes to industrial, automotive and Chinese chip demand, Silicon Labs is dealing with issues similar to what peers such as Texas Instruments (TXN) , STMicroelectronics (STM) and Cypress Semiconductor (CY) are contending with. "From a macro standpoint, I would say that we're still maybe 10% behind where we thought we would be six months ago," he said.
However, Tuttle argued that (relative to the broader industry) his firm is faring relatively well thanks to the healthy demand it's seeing for products such as wireless system-on-chips (SoCs) for IoT devices -- a large U.K. smart meter project was highlighted -- and timing chips for 5G base stations. In addition, on his company's Q1 earnings call, Tuttle observed that Silicon Labs gets less than 25% of its revenue from China-based clients.
Silicon Labs' Wireless IoT Business
Of the roughly 55% of revenue that Silicon Labs gets from markets classified as being in the IoT space, Tuttle estimates that about three-fourths of it comes from wireless products, with the remainder coming from power solutions and other offerings. Previously, on Silicon Labs' Q1 earnings call, he noted that of the $11.4 billion worth of potential deals in his company's pipeline, about $8 billion were IoT-related, with "the vast majority" of these opportunities involving wireless products.
When asked about what he views as the biggest competitive strengths of Silicon Labs' wireless IoT offerings relative to those of rivals such as Qorvo (QRVO)  and Cypress, Tuttle argued support for an extensive array of communications protocols was a key selling point. Whereas Cypress, for example, has strong traction for its Wi-Fi and Bluetooth IoT solutions, Silicon Labs' lineup also includes products supporting the Zigbee, Thread and Z-Wave protocols, as well as solutions able to support proprietary, sub-1GHz protocols used by industrial clients. The company is two weeks removed from unveiling second-gen products for its Wireless Gecko IoT chip family.
Data Center and 5G Opportunities
Tuttle noted the largest contributor to Silicon Labs' Infrastructure reporting segment, which now accounts for close to a quarter of its revenue and grew about 30% last year, remains the sale of timing chips for high-speed optical networks. This is followed by the data-center market, where Silicon Labs is a major supplier of signal isolation chips for power supplies. Nine of the top 10 providers of high-performance power supplies for data centers are said to be Silicon Labs clients. Tuttle observed the ongoing push for higher data center power densities -- and with it, the need for more efficient power supplies -- remains a growth driver for the business.
Though it's a relatively small part of Silicon Labs' Infrastructure segment for now, the company's sales of timing chips for mobile base stations have been growing rapidly, and are expected to continue doing so in the coming years as 5G network rollouts gain steam. Tuttle estimates Silicon Labs' entry into the wireless infrastructure space doubled the addressable market for its timing products to about $1.2 billion. Wireless infrastructure-related sales are said to have only produced revenue in the "high-single-digit millions" last year -- for comparison, Silicon Labs had total revenue of $868 million -- but are forecast to more than double this year.
Tuttle says Silicon Labs has design wins with 4 of the world's 5 biggest base station makers, and is "hoping to win" the other one over. As is the case in the market for optical timing solutions, Texas Instruments and Analog Devices  (ADI) are said to be Silicon Labs' biggest rivals in the market for base station timing products.
Automotive Design Wins
Silicon Labs still only gets about 7% of its revenue from automotive products. However, Tuttle is upbeat about the company's design win momentum for radio solutions used within infotainment systems, as well as for battery management and charging systems within electric cars. The company has landed radio design wins within cars from the likes of Volkswagen, BMW and Dodge -- NXP Semiconductors (NXPI) is its top rival in this space -- and Tuttle says unnamed "additional large wins" will ramp in 2020 and 2021. Tesla (TSLA)  and China's BYD are among the firms using Silicon Labs' offerings for electric cars.
Thoughts on M&A
13 months after
Sigma Designs' Z-Wave chip business for $240 million, Tuttle says Silicon Labs is open to making new acquisitions. "M&A has been key to our growth story," he said, while noting Silicon Labs has done 8 IoT-related acquisitions over the last 8 years and has $650 million in cash that it can deploy. The company is open to doing both IoT and infrastructure-related deals if it views them as good strategic and cultural fits.