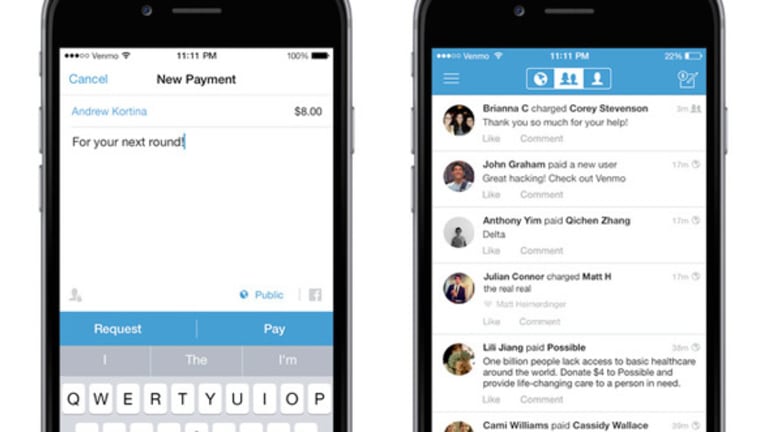 Should You Venmo Your Wedding Gift?
In an age where technology is altering our way of lives like no period before in history, age old traditions are being upended everyday. But how far is too far?
We live in an age where technology -- and specifically, social media -- dominates nearly every facet of our lives, whether you're 8 or 80. How often should I post food pictures or gym selfies on Instagram? Did I post enough thought-provoking links or tweets to Twitter today? Did my Facebook post get enough likes? Are my snaps light-hearted and fun enough to show that I'm having a good time when I'm really at home in my pajamas watching Big Bang Theory re-runs?
It can be exhilarating and exhausting at the same time. And yet it shows no signs of slowing down, upending nearly every tradition we as a society have long held near and dear to our hearts.
Last month, I went to the wedding of one of my best friends, Steve, and his lovely wife, Barrie. I was lucky enough to be asked to be in the wedding party and all that comes with it -- attending the bachelor party, getting a coordinated suit, taking pictures and more.
As I'm in an age bracket where the smartphone is an extension of my body, it was no surprise to me that technology played a large factor in the wedding. I ordered my suit from an online retailer, eschewing going to a men's clothier and get fitted. Of course, I booked the hotel Expedia's app and handled many of the bachelor party travel arrangements the same way. We took an Uber from the hotel to the venue. You get the drift.
But given the pervasive and often obtrusive nature of technology, the question begs to be asked -- how much is too much when it comes to upending tradition?
Is it O.K. to Venmo the bride and groom their wedding gift?
It depends upon whom you ask, but the trend of mobile payment transfers is clearly growing and not stopping anytime soon.
The amount of money being sent person-to-person is expected to cross $200 billion by 2020, according to Let's Talk Payments, a financial technology services research site.
This is due to the prevalence and ease of use of services such as Venmo, which is owned by payment services giant PayPal (PYPL) - Get Report . "Just Venmo me" has become a phrase entered into the lexicon in the past few years, thanks in part to the rise of the service. On the company's last earnings call, PayPal President and CEO Dan Schulman said Venmo processed $6.8 billion in payments, a figure that was more than double from a year ago.
The mobile payments space has become white hot in recent years, as others have entered the space, including Square (SQ) - Get Report with its Square Cash service and Snapchat-owned Snap (SNAP) - Get Report , which offers a similar service known as Snapcash, utilizing technology from Square.
Venmo could not be reached for comment for this story.
Others have dabbled in the mobile payments transfer space, including tech giants such as Facebook (FB) - Get Report , Alphabet's Google (GOOGL) - Get Report and Apple (AAPL) - Get Report , which recently added person-to-person functionality to its Apple Pay service as part of an update to its iOS 11 operating system. 
In an admittedly informal poll, the overwhelming majority of my Twitter followers did not see any harm to getting an electronic transfer for their wedding gift.
Conversely, those I asked on Facebook were more inclined to receive money the old-fashioned way, either via check or cash. The majority of respondents on Facebook did make note of the need for a card, so that a wedding gift is still giving something physical with a personal, heartfelt note attached.
The results also skewed the way you would think -- younger respondents (aged 35 and younger) seem inclined to be receptive to it, to some degree. Those who are older (in this case, 40 and over), were vehemently opposed to the idea.
Despite the fact that those in favor of the trend seem to skew younger, there are differences among Millennials, the age group most closely associated with technology and burying their nose in their phones. Older Millennials (the group is defined as those between 27 and 34) seem to see it as "tacky" or in bad taste.
"Venmo makes it look like you forgot," said digital media producer Kim Messina, who is in her early 30s. "I send cards for everything and I save cards that people send me, so it's important."
Conversely, 28-year-old Stephanie Stadig, who works in financial services, said in an interview she didn't see a problem with it.
On the whole, men seem to care less about the form of payment, as long as there is something there. In speaking to over 30 people for this story, I had only three men express any type of concern about it. Women, on the other hand, tend to prefer the tradition and thought that a card and a physical form of payment shows. However, some did express interest in getting a mobile transfer, as long as it was accompanied by a card.
From a ease of use and safety standpoint, mobile transfers win hands down. With a card box, there is that added stress that a card could be left behind or worse, someone could take the card out of the box, particularly if it's made payable to cash. If the check is made out to the couple, it could be a hassle for them to cash it, particularly if they haven't set up a joint bank account yet. And if it's made out to the person you know best, that could still be an awkward conversation down the line.
Though giving a card shows a personal touch to giving it, many mobile payment transfer services will allow you to write whatever you want. Venmo, for instance, doesn't allow you to send a transfer unless you indicate what it's for. (If you don't enter a note, you get a notification asking for one with the example "Kale salad with beans, onions, mushrooms, berries, and seeds" clearly indicating its focus on the Millennial age group).
This plays into the trend of turning weddings digital, e.g. sending e-vites, ordering tuxedos and dresses from the internet or going so far as to have Amazon help you with your wedding preparation.
As seemingly every tradition becomes upended in one shape or another by technology, it's likely that the act of giving a wedding gift will eventually change as well. Research firm eMarketer predicts that the size of the peer-to-peer payments market will eventually top that of "U.S. mobile commerce retail sales made via smartphones and total U.S. mobile travel sales."
Putting a card in a box with a check or cash just seems so antiquated, a tradition from a time steeped in its steadfast ways. But now, we're at a point where every wedding needs a hashtag, making it increasingly likely that every area of the wedding will be upended in one way or another.
You make laugh and scoff at this idea of the future, and judging by the reaction to the question, that sentiment isn't going away anytime soon. But there will come a day, be it in three years, five years or ten, that the notion of giving someone a physical monetary gift will seem silly. 
It's too late to escape the future, so you might as well embrace it.