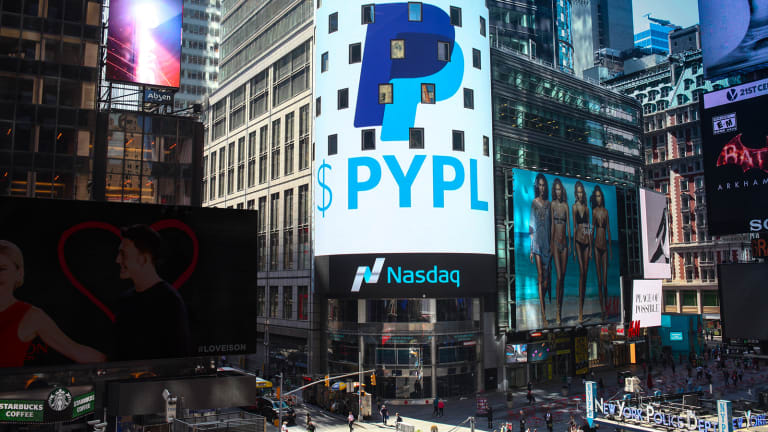 Should You Buy PayPal When It Splits From eBay?
PayPal's spinoff is approaching, so it's time to decide whether or not the company is a buy.
NEW YORK (TheStreet) -- PayPal is set to be spun off from its parent company eBay (EBAY) - Get eBay Inc. Report next week, so it's time to decide -- should you buy PayPal?
On the "when-issued" market, PayPal is trading around $36 a share, which values the company at about $44 billion. This pricing is a reasonable entry point according to Wedbush analyst Gil Luria, who expects PayPal to trade more like Visa (V) - Get Visa Inc. Class A Report and MasterCard (MA) - Get Mastercard Incorporated Class A Report rather than other technology companies.
"PayPal is in a better position than most technology companies," Luria said. "PayPal is very unique in its growth profile."
Goldman Sachs analyst Heath Terry also finds the pricing reasonable, initiating coverage of PayPal with a buy rating and a price target of $48.
"We believe PayPal's two-way flow of payments across its trusted network of 165 million users, 203 countries and 100 currencies makes it a unique asset in the fast growing and rapidly changing market for internet-enabled payments," Terry wrote in a research note Tuesday. "While investor focus is on competitive uncertainties, near-term margin pressures from mix shift, and needed investment, we believe PayPal's value is best proven by other, primarily larger, companies' numerous failed attempts at replicating it."
Terry estimates the payments market is a $34 trillion market, with PayPal only controlling 1% of that currently. So there is plenty of room for growth.
Nonetheless, competition in the market is also growing, causing some analysts to be a bit more hesitant before jumping in.
"Right now if you take a snapshot of the payments world, [PayPal's] certainly the leader, but the world is changing really rapidly and I don't know that they're really in the best position to win over the longer term," ITG analyst Steven Weinstein said.
Apple (AAPL) - Get Apple Inc. Report and Google (GOOG) - Get Alphabet Inc. Class C Report are poking around in the payments industry now, plus there are some innovative startups like Stripe and Square. "That doesn't mean PayPal can't participate in [that growth], but that would mean that their revenue growth would be impacted," Weinstein said. "If you look over the last few years, their revenue growth has been slower than the [growth in the] total volume of payments. All this competition is likely to keep that [up] for a while, which doesn't mean they can't be a bigger business, but the rate of growth could be under challenge and the margins under pressure."
That's not to say PayPal isn't ripe and healthy at the moment. In the most recent quarter, PayPal's revenue exceeded eBay's Marketplaces revenue for the first time ever, with PayPal bringing in $2.11 billion and Marketplaces bringing in $2.07 billion.
Weinstein is just of the opinion that "there's a lot of optimism already baked into the company's outlook," encouraging him to "wait and see" how things play out.