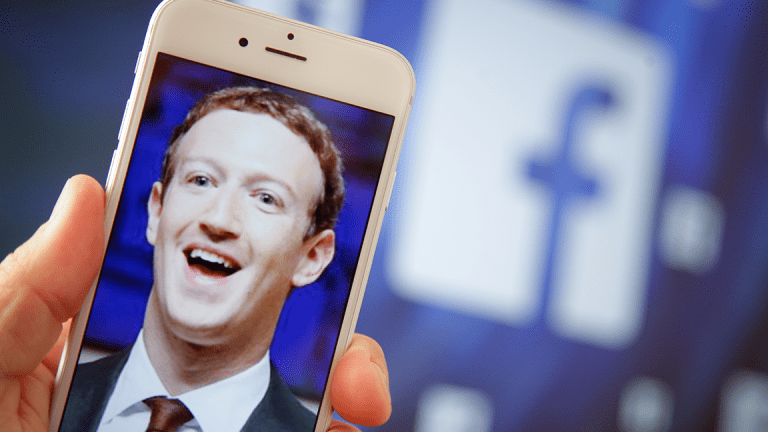 Should Facebook Get Rid of Mark Zuckerberg Now? Good Luck With That
The company's shares have been tanking amid widespread calls for Zuckerberg to break his silence on the news that as many as 50 million Facebook users might have had their data used improperly by a political research organization.
Facebook (FB) - Get Facebook, Inc. Class A Report CEO Mark Zuckerberg has drawn plenty of fire for being conspicuously silent since the news came out this week that as many as 50 million Facebook users might have had their data gathered and used improperly by a political research organization. But any calls to admonish or even replace the 33-year-old chief executive would be extremely difficult, analysts and experts say.
That's because of Facebook's controversial dual-class stock structure that gives Zuckerberg a majority voting power of the stock. According to The Economist, Zuckerberg owns just about 16% of Facebook's stock, but controls 60% of the voting rights since the class B shares he owns convey 10 times the votes as the class A shares. 
On Tuesday, Facebook's stock fell nearly 3% after falling almost 7% on Monday, and pressure has been growing on Zuckerberg and other top executives to publicly address the issue. The Federal Trade Commission is reportedly investigating whether Facebook mishandled user data, and British and American lawmakers have called on Zuckerberg and other executives at Facebook to answer questions about what happened. Meanwhile, The Verge reported that Facebook planned to hold an  emergency internal meeting on Tuesday morning to discuss the situation with employees. 
Like fellow tech companies Alphabet Inc. (GOOGL) - Get Alphabet Inc. Class A Report and Snap Inc. (SNAP) - Get Snap, Inc. Class A Report , Facebook has a dual-class stock structure that vests a disproportionate amount of voting power in their respective companies' founder-CEOs, holding them much less beholden to their boards than would otherwise be the case.
"On one extreme, a company's board holds management accountable; on the other extreme, it advises management on issues," said A.T. Kearney lead partner of retail practice Greg Portell. "What's unique about Facebook's board is that management is the primary shareholder... advising and oversight being one and the same." 
At the same time, however, Portell noted that Facebook's board is not simply a rubber stamp organization composed of friends and family.
"These are heavy hitters who know how to work with powerful executives," Portell said. Among other notables, Facebook's board includes Netflix CEO Reed Hastings, former American Express CEO Kenneth Chenault and former Morgan Stanley lead director Erskine Bowles.
However, Charles Elson, director of the John L. Weinberg Center for Corporate Governance at the University of Delaware, was much more skeptical of the Facebook board's ability to effectively oversee Zuckerberg.
This imbalance of power creates a board that is "reactive and responsive to you because [the person] with the super voting power can vote them out," said Elson. "If they decided to terminate Mr. Zuckerberg, he would turn around and terminate the board -- that's the bottom line." 
Portell said, though, that trying to replace Zuckerberg now because of the recent problems would be an overreaction.
"When a company start to hit rocky roads, naturally [people consider] replacing the CEO," Portell said. "But in the case of Facebook, can anyone think of a better person to lead Facebook right now than Zuckerberg?"
For now, it will take sustained and intense public pressure and/or some kind of legal action to get Zuckerberg to testify before Congress or lawmakers abroad, Creative Strategies analyst Tim Bajarin said. But Zuckerberg is in a tough situation whatever he chooses to do.
"Whatever he says, he'll be criticized, which could impact his stock," Bajarin said. "It's damned if he does, damned if he doesn't," Bajarin said.
Facebook and Alphabet are holdings in Jim Cramer'sAction Alerts PLUS Charitable Trust Portfolio. Want to be alerted before Cramer buys or sells FBor GOOGL? Learn more now.