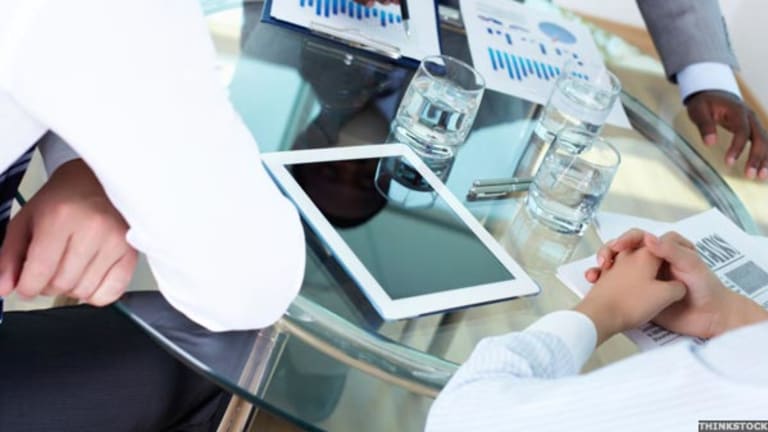 Should Apple Buy SanDisk?
While it may just amount to interesting speculation, an Apple-SanDisk tie-up could make sense for both firms.
While it may just amount to interesting speculation, an Apple-SanDisk tie-up could make sense for both firms.
NEW YORK (TheStreet) -- Apple (AAPL) - Get Report had quite a newsworthy week last week, reporting fourth-quarter earnings and then holding a press conference in which they unveiled their newest laptop, an upgrade of the super-thin MacBook Air that uses flash memory in lieu of a traditional hard disk drive.
On the company's conference call, a common question came up: What is the company planning to do with its more than $51 billion in cash and investments? Here's what CEO Steve Jobs said on the matter:
"We strongly believe that one or more very strategic opportunities may come along that we're in a unique position to take advantage of because of our strong cash position."
The question this naturally begs is: What opportunities could Apple pursue that would be meaningful to the company? One company on the Magic Formula Investing screens came to mind: flash memory vendor
SanDisk
(SNDK)
.
There are reasons why an Apple-SanDisk tie-up could make sense. It's financially feasible as SanDisk's enterprise value is about $7.7 billion -- even a 50% premium would cost only $12 billion, well within Apple's means. It is far from unheard of for an OEM to control some of their component supply. Samsung is the world's largest memory maker and one of the largest makers of mobile processors, but also has sizable market shares in televisions, Blu-Ray players, and mobile phones. Toshiba and
Sony
(SNE) - Get Report
also manufacture many of their own components.
The strategic advantages for Apple are two-fold. Apple's ground-breaking designs in mobile phones, tablet computers, and now in notebook computers makes flash memory the company's single most important component. In lowest price configurations, flash accounts for about 14% of the iPhone 4's cost, 11% of iPad materials, 33% of the new touch-screen iPod nano, 23% of the new AppleTV, and presumably a significant amount of cost for the new MacBook Air. It is just a matter of time before Apple's entire notebook line moves to flash storage (Jobs effectively hinted this at the Air's unveiling). Additionally, as storage capacity goes up, flash becomes even a larger percentage of cost (e.g. 34% of the cost of the 64GB iPad). Reports vary, but it seems possible that Apple could be responsible for as much as 10% of worldwide flash memory consumption.
SanDisk's product gross margins are generally in the 30-40% range, meaning that Apple could conceivably secure their most important component at a significantly lower cost than competitors. The company has already shown the strategy of entering new markets at aggressive prices to shut out competition. A lower cost structure for producing these evolving new computing form factors is a significant competitive advantage.
The other reason is technology leadership. SanDisk is a flash pioneer and holds most of the important patents on the technology. It is also considered one of the most advanced in the field -- first to market with their 3-bits per cell (X3) technology, far along with 4-bit X4, and a front-runner in developing "3D" flash. SanDisk invented most formats of flash removable storage (SD, microSD, etc), and is active in developing unique form factors for OEM applications -- a key need for Apple. A cost and technology lead in this hugely important area would be quite strategic for Apple.
Some may say that Apple isn't interested in manufacturing, and I would agree. However, SanDisk isn't really a manufacturer. They source nearly all of their flash through a joint venture with Toshiba, providing fab investments and guaranteed purchases in exchange for a low-cost supply. Test and assembly is sourced to third party sites in China. The joint venture would be very attractive to Apple, who has faced component shortages and higher prices in the past, due in no small part to their own robust demand.
Finally, SanDisk's long-time founder and CEO, Eli Harari, has announced his retirement at the end of 2010. Some journalists have speculated that SanDisk is setting itself up to be taken private. This could open the door to being acquired, as well.
Clearly there are some reasons to argue against a deal like this. The biggest is SanDisk's retail (cards, USB drives, Sansa MP3 players) division, which is 35% to 40% of sales. Would Apple be interested in selling these lower-margin, price-elastic, highly competitive products?
The second argument against is one of precedent. Most U.S.-based OEMs are trying to expand service businesses or online, cloud-based software offerings. Apple's lack of a very compelling cloud product makes me believe this may be the more likely area for strategic opportunities. Considering the iPhone's cloud integration is poor compared to Android
(GOOG) - Get Report
, WebOS
(HPG)
, and even the new Windows Phone 7
(MSFT) - Get Report
, I expect Apple to put serious resources here. That may not require acquiring an outside firm, however.
While it may just amount to interesting speculation, an Apple-SanDisk tie-up could make sense for both firms. As Jobs said on the earnings call: "Flash memory? We love flash memory!"
Disclosure: Steve owns SNDK
Become a fan of TheStreet on Facebook.
Steve Alexander is the founder and editor of MagicDiligence.com, a site that analyzes stocks appearing in hedge-fund investor Joel Greenblatt's Magic Formula Investing screens. Alexander is a private investor with more than a decade experience in the market.