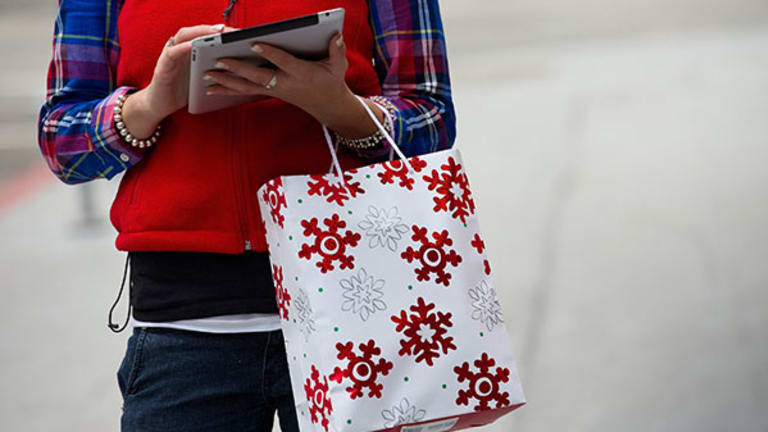 Shoppers Still Haven't Warmed to Making Mobile Purchases
Even though consumers are using their smartphones as a part of the shopping experience, retailers are failing to translate that traffic into purchases.
NEW YORK (TheStreet) -- It should come as no surprise that consumers use their phones for everything nowadays, and yet retailers are still lagging when it comes to taking advantage of mobile.
A new report from the the Local Search Association, an industry group that counts Microsoft (MSFT) - Get Free Report and Google (GOOG) - Get Free Report among its board members, surveyed 2,147 U.S. adults to get an idea of the importance of mobile in shopping.
Smartphones have surpassed desktops as the device most used to search for local information online, with 49% of consumers opting for smartphones, 40% for desktops and 11% for tablets. Additionally 90% of consumers are using their smartphone while shopping in malls, grocery stores or retail stores.
Fifty-four percent use their phones to look for deals, 51% compare prices, and 39% look up reviews. And they're using all sorts of apps during the process. Sixty-two percent use search apps like Google, 39% use stores apps like Target (TGT) - Get Free Report, 36% use social media apps like Facebook (FB) - Get Free Report, and 35% use online shopping apps like Amazon (AMZN) - Get Free Report.
This presents a huge opportunity for retailers. Here is a channel that is in consumers' hands 24/7, and they are already using it as a part of the shopping experience. The question is, are they actually using their phones to complete a purchase?
Probably not as often as they could be, says Greg Sterling, vice president of strategy & insights at Local Search Association.
"Retailers have generally not done a good job optimizing that checkout flow and making it simpler to buy things," Sterling said.
Sterling noted that Amazon has been one of the leaders when it comes to mobile thanks to its one-click checkout. That makes it convenient and quick to make a purchase on a smartphone.
Unfortunately not all retailers are quite there yet.
"These retailers are underutilizing mobile," Sterling said. "And they have to really think more holistically and really deliver value." Some of it is just the basics of making sure a website is optimized for a smaller screen, some is not leveraging a mobile app for added value like providing an in-store map. By ignoring the opportunity on mobile, retailers lose out on tons of traffic that could be turned into revenue.
Harper Reed, the former CTO of President Obama's re-election campaign and the CEO of Modest, saw a similar issue when trying to sell paraphernalia during the re-election campaign. Despite the amount of funding that went into the technology and mobile applications, consumers just weren't converting on mobile.
"You see the number of mobile users rising but the conversion rate of mobile stays slack," he said.
Part of the issue is that the screen is much smaller and the experience is just clunkier. Consumers don't want to type in their credit card number using a touch screen. That's why Reed started Modest, to help improve the e-commerce experience on mobile.
Reed points to Uber, Hotel Tonight and Postmates as examples of companies that get the mobile experience right.
"The idea here is taking the context that we're all familiar with and making it as easy as possible, especially for the repeat customer," he said.
According to Forrester Research analyst Sucharita Mulpuru, retailers are already aware of the opportunity in mobile and figuring out how to best approach the channel.
"The biggest priority area for retailers in 2015 is mobile," she wrote in a report last week. "As more consumers adopt smartphones and tablets, retailers know they need to invest time and resources into ensuring that their content is displayed effectively on these devices. Fifty-eight percent of retailers surveyed said that mobile initiatives were among their top three priorities for the year."
Forrester found that on average, sales via smartphones grew 87% in 2014 year over year and sales via tablets grew 52%. On average, 28% of total sales currently come from smartphones and tablets together.
Seeing this change, retailers are investing as much as seven figures in their smartphone efforts, and 85% of the retailers surveyed said they plan to increase their mobile budgets by at least 20% in 2015.
According to Sterling, the channel is well worth the investment.
"If you have been neglecting mobile as a retailer or you have a mediocre experience, you're not only losing potential sales, but it casts a negative reflection on your brand, so you may be actually eroding your brand by not delivering a great mobile experience," he said.