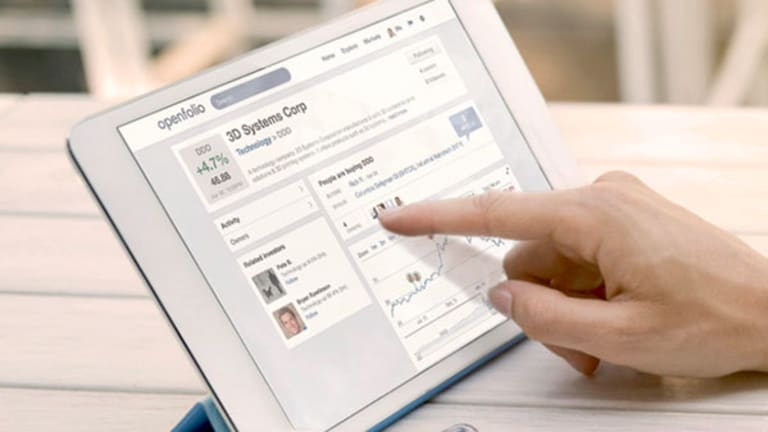 Seven Totally Cool, New-Techie Products You Need to See
A new online network for investors to a tiny WI-fi hotspot and an tablet that the whole family can watch at the same time.
NEW YORK (TheStreet.com) -- Hundreds of eager technophiles lined-up on the far West Side of Manhattan - in the shadows of the U.S.S. Intrepid - for a chance to enter the "Get Geeked NY" event.
The attendees at the confab, which began Thursday evening, were rewarded with the chance to see dozens of new technologically-advanced goods and services that will become availabel to the general public in the near future. Some items on display included a private, online network for Wall Street investors, next-generation solid-state hard drives, a new company providing cable TV over the Internet and a clever handle for your smartphone or tablet.
Click the arrows below to see the highlights:
OpenFolio
OpenFolio, which bills itself as "the first open network for investors," suggests that the service be thought of as "Yelp for Investors." Yelp must be happy about being used as a cultural reference.
OpenFolio is not a brokerage and doesn't "enable transactions." It's a free service that offers users a place to "benchmark their performance and learn from the success of others." It's the brainchild of two former Wall Street traders, Hart Lambur and Yinon Ravid. You sign-up on the Website, download an app for your iPhone and you can begin seeing what information other investors are sharing.
You can allow others in your network to see your investments and get the same access from them. Actual dollar values are not revealed - only percentages. Others can see what investments you've made - not how much you've invested.
OpenFolio says its had thousands of beta testers and are happy to now allow "anyone wanting to become a better informed, more confident investor" to apply.
Lenovo Yoga Tablet 2 Pro
Lenovo's new top-of-the-line Android tablet is pretty amazing in a number of ways. The device includes a 13.3-inch QHD touchscreen (2560 by 1440 pixels), an Intel (INTC) - Get Free Report Atom quad-core processor, 8 MP camera, 2 gigs of memory, 32 GB of storage and the stereo speakers up front along with a tiny "subwoofer" on the back.
Physically it's a big device - but there's a lot going on inside. The battery, housed in the round integral device stand, is huge - measuring 9600 mAh.
The big draw here is the built-in pico projector. That means once you flip the switch you can project anything from your tablet onto a wall or a ceiling so you, and others, can watch. Think in terms of sharing TV shows, slide shows, movies and videos with friends and family.
It's a pico projector so using it in a darkened room will probably offer the best experience. OK, this tablet will not be replacing your deluxe home theater system anytime soon. but as a portable entertainment device it's pretty clever. The Yoga Tablet 2 Pro is priced at a penny less than $500.
NimbleTV
The people behind this new service want you to know "NimbleTV lets you watch cable-TV (your existing cable package or one set up through a NimbleTV Concierge), on almost any device, anywhere in the world. With a powerful, cloud-based HD-DVR and no long-term commitments or unnecessary hardware."
NimbleTV says its basic service is free (no credit card required). You get "10+ channels including news, shopping and entertainment." Currently its being offered in the New York Metro area and Chicago. Cable subscribers can also link their cable accounts to watch those additional stations.
NimbleTV also offers high-definition DVR recording services. They call it their Pro TV Plans. You can record any of your cable channels (premium channels too). Prices start at $29.98 per month with a minimum of 20 hours of recording.
At first glance, NimbleTV sounds dangerously close to what Aereo was offering before the Supreme Court's decision on its service shut it down. The Nimble people told me the difference is that in this case you're watching your own cable subscription. Both broadcasters and cable TV companies might have something to say about that in the future.
Karma Go
Karma Go is a teeny-tiny Wi-fi hotspot. The idea is simple: you buy the device (currently available for the pre-order price of $99 and then pay only for the connectivity you use.
The 2.3 ounce, 2.6-inch square offers Internet connectivity, via Sprint's (S) - Get Free Report LTE Spark network (falling back to CDMA speeds when necessary) for as many as 8 devices at a time. The rechargeable battery is claimed to last up to 5 hours.
There's no monthly service charges or monthly fees. You purchase airtime in advance. Karma charges $14 for 1GB of data service and says the more you buy upfront the more you save.
As a back-up system or even your primary portable connection the little Go could turn out to be a good investment. But, remember to take it with you when you finish your connection. It's that small.
Escort Live
The Escort and Passport people have been trailblazers in the radar detection business. While they haven't given up on it they do realize that many drivers nowadays have a smartphone hooked-up in their cars. So why not take advantage of that?
Escort Live is the company's combination hardware/software solution to modern day detection. You still need a "window detector" but when you add a new SmartCord live power cord (still plugs into a cigarette lighter/utility power outlet) you'll be part of Escort's new "social driving network".
Download the free app for your iPhone, Android smartphone and you're set with live radar detection and GPS maps.
The Escort Live SmartCord retails for $99.95.
Samsung 850 Pro
The is the latest in non-hard-drive hard drives.
Samsung's (SSNLF) new 850 Pro is claimed to be the world's first consumer, 3D VNAND, SATA III, solid state drive (SSD).
Without going into a long, highly technical discussion of what's going on inside, Samsung says this 2.5-inch drive uses a new process to deliver "twice the speed, density and endurance of conventional flash drives." The device is also claimed to enhance reliability and improve power management. That last part means you should expect longer battery life per charge from your laptop or notebook computer.
Prices for the new 850 Pros SSD range from $130 for the 128 GB model to $660 for a 1 TB device.
Fly Grip Gravity
This is a simply elegant solution for people with slippery fingers.
Fly Grip's Gravity is a small, stick-on handle for smartphones, tablets and book reading devices. I guess you could also stick one on the back of a printed book if you really wanted to. The product is basically brand agnostic, that is, it works with all manufacturer devices.
Once installed, this little fold-out handle is made to fit between your middle and ring fingers and offers a surprisingly steady method for holding onto your electronic device. Gravity comes two ways - the little stick-on device sells for $20 and there are one-piece phone covers with the grip already installed ($30). The products are available in all sorts of styles and colors and patterns.
--Written by Gary Krakow in New York
Gary Krakow is TheStreet's senior technology correspondent.