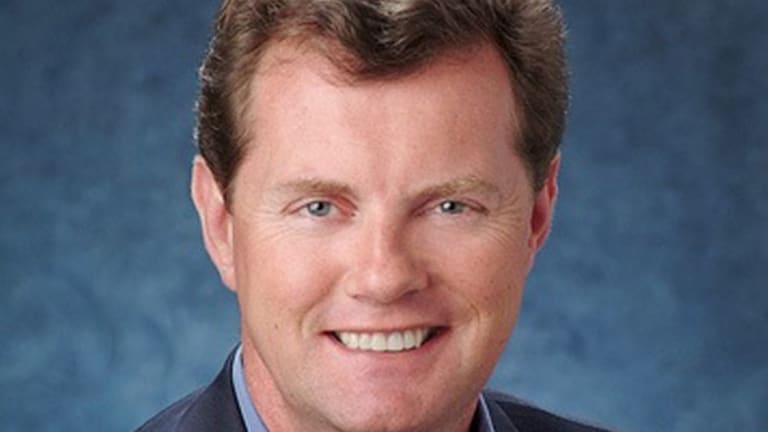 ServiceNow CEO: 'We Have No Real Competitors'
ServiceNow CEO Frank Slootman explains why ServiceNow is the only bona fide cloud company of its kind in this very "crowded" space.
NEW YORK (
) --
ServiceNow
(NOW) - Get ServiceNow, Inc. Report
continues to sparkle in the eyes of Wall Street analysts and retains its reputation as a premier growth stock after the enterprise IT cloud company reported yet another quarter of revenue outperformance this week. This comes even as the company continues to deliberately operate at a loss.
The stock on average is garnering an "outperform" rating on the Street in a tally of more than a dozen analysts covering ServiceNow. Following its latest earnings report, ServiceNow shares continued to stay on an upward trend, rising 6.47% to settle at $46.40 on more than three times its average daily volume Thursday, above both its 50-day and 200-day moving averages of $41.91 and $36.85, respectively.
On Wednesday, ServiceNow reported that its second-quarter revenue rose 80% to $102.2 million from a year ago after adding 138 new customers to bring its customer count to 1,778 globally and achieving a customer renewal rate of 94.2%. The company posted a net loss of 6 cents a share, the same as last year. Wall Street was looking for a loss of 5 cents a share on revenue of $95.18 million.
For fiscal 2013, the company expects revenue to fall in the range of $406 million to $410 million, representing year-over-year growth of between 67% and 68%.
"Our currency is not servers, routers and systems," CEO Frank Slootman said after the earnings call in an interview with
TheStreet.
"Our currency is work incidences, problems, changes, progress, task, request. That's our currency. We manage the work of IT, not the infrastructure of IT."
In the interview highlight that follows, Slootman explains why some of the largest industry participants can't seem to catch a break when it comes to challenging the specialized product, customer and asset acquisition strategies that ServiceNow has been employing since its inception into the New York Stock Exchange last year.
"Our customers are actually frustrated because it's tough to negotiate with a vendor who doesn't have much competition, you know," said Slootman.
Andrea Tse:
ServiceNow is now entering its second year as a public company and you've been demonstrating red-hot revenue expansion. How much longer do you think you can sustain this trajectory?
Frank Slootman:
We only sort of guide the capital markets to next quarter and the full year, that's how we give guidance so we're not speculating on what future years are going to be like. But this is a company that has more than doubled in size every year since its inception. Even at the scale that we're already at, there is just this extraordinarily high growth. The second thing I will tell you is that our penetration levels in the marketplace are still very low in a first innings kind of ball game. So that's what the industry is looking at. They're like 'My God, how much run width do you have to be able to sustain a high growth trajectory?' That's sort of where the analyst may already have sort of come up with their estimates. I agree with you that we've been defying gravity for a while, but I had a mentor many years ago who said, 'Please do not grow into the heavens.' Eventually things will slow down but I do very much believe in our business. It's very strong, very exciting, we have a very, very big refresh replacement cycle of legacy systems which is an outstanding business and then we get involved in a lot of automation projects in areas that have never been automated that have always been run through email and Excel, sort of the 1990s style of technology. IT organizations are discovering what's possible and very inspired by what's going on in the world of consumers, the stuff that
Amazon
(AMZN) - Get Amazon.com, Inc. Report
does,
Google
(GOOG) - Get Alphabet Inc. Class C Report
and
Expedia
(EXPE) - Get Expedia Group, Inc. Report
and all the online banking providers -- they know that all those concepts are dribbling into the enterprise and we're enabling platform for really delivering best ... service experience.
Tse:
Your company has been a very disruptive force in the IT market but there's a sense that the large incumbent software companies are catching on to the benefits of offering cloud-based IT management solutions to their customers. How is their aggressive push into the cloud impacting your customer acquisition strategies and renewal rates?
Slootman:
That hasn't been working at all as you can see from our growth numbers. They've been doing this for years and years and years, and it's not slowing us down. There's a reason for that: you can deliver legacy software through a hosted environment but that doesn't make it cloud. Cloud software has to be built for the cloud. You can't take ... software that was built 20 years ago, deliver it hosted and say 'okay we're in the cloud now.' That's been tried for years and years and years and that's never worked, that doesn't work ... These systems are purpose-built for the cloud services delivery model and you cannot just deliver stuff online and call it a day. It's just a very, very strange user experience that results from having -- of course customers have long lined up to that scenario.
Tse:
Can you talk about the outlook on your product suite and what kind of innovative value-added products you have developing in the pipeline?
Slootman:
There's a whole bunch of things that we're sort of developing and have two different levels, sort of a stack. The bottom level revolves around our cloud infrastructure. It's really the automation on how we deliver software through our customers. And the thing about cloud is customers are no longer running the software. We do, and we literally run their systems. All we're doing is we're providing access ... and that's a highly sophisticated, highly automated structure -- to be able to do that. It has to have an extremely high, resilient, cloud infrastructure and that's really meaning that if any hiccup happens we can very, very quickly change people over to other environments. If you've got the hurricane coming up in the East Coast, we have the ability to push people out of the way, all those kinds of things. That's one level of development. The second level of development is one level higher. It's in the core platform. The core platform is really the underlying software ... that allows our customers to build software applications that have to do with scale, that have to do with user experience; it has to do with mobile support, everything that helps customers build very, very attractive, very, very compelling applications in an extremely high-scaled environment. It's like tens of thousands of people are on the systems at the same time. So it's sort of a stack if you will; you start at the bottom and you work your way up. It's a big house. At the top is our applications portfolio. And these are really standard apps that's sort of like a car. You stick the key in and then drive. It's a pre-built. And they really represent best practices and specific processes, and of course the best known applications that we provide are incident management, software asset management, change management, configuration management, project portfolio, request management, I mean all these kinds of things sort of make up what we call the ERP for IT. It's really a combined set of capabilities that lets IT manage their entire work environment. One of the things that's so interesting about our business is IT organizations are repurposing the IT service model to other areas in the enterprise, most notably you see our service model show up in human resources because it's completely analogous to what's going on in IT. Now HR has never had a service model. It's pretty much email. You know you had an issue with HR, you show them an email. With IT, people don't do that. There's a structured service experience associated with that. We see it at facilities. We see it in legal, we see it in procurement, we see it in member management. So the service models are being implemented in many areas of enterprise for the very, very first time. They sort of lived in the realm of email, tax, invoices and so on, and for the first time these processes are now standardized and run through real ... systems and what's great about that is just A): restructure the process that's repeatable, let them have the ability to aggregate the data so we can do dash-boarding and analytics, seeing what people are working on, seeing how well they're doing it and that sort of thing. So we're really managing service relationships as opposed to just actually getting them. So those are some of things that drive our business and make ServiceNow an interesting company.
Tse:
Do you think you're now poised to completely replace entire suites of IT operations management software provided by the existing incumbents?
Slootman:
I'd say no. I'd say that would really be reaching on my part. We do not so much manage infrastructure which is really where IT operations management is focused. We manage work. Managing work is very different from managing infrastructure, which are device-sive systems. Our currency is not servers, routers and systems. Our currency is work incidences, problems, changes, progress, task, request. That's our currency. We manage the work of IT, not the infrastructure of IT. That's the way to think about it. Now there are tangents where these things touch each other, there's no doubt about that. So we have fairly strong touch points into the infrastructure but fundamentally we manage the work of IT, not the infrastructure of IT and the big part of the reason that ... I'm not going to be managing infrastructure so much longer either right
is ... because infrastructure is moving into the cloud -- so there are going to be other companies that are going to be doing infrastructure and the IT organizations that remain in the enterprise are going to be really focused on the service relationships I just talked about. That's why we're focused on that.
Tse:
In terms of the competitive landscape, which companies are you constantly seeing day-in and day-out when you're out there acquiring new customers and contracts?
Slootman:
It's almost an anomaly I think. I look at some other cloud software categories like marketing and human resources. They're extremely crowded. There's a lot of people playing in those categories. You know
Salesforce.com
(CRM) - Get salesforce.com, inc. Report
just made an acquisition in that area and a new company just went public --
Marketo
(MKTO)
-- very busy, very active group of companies and ... there's probably six or seven companies that are trying to put HR management systems into the cloud. Also very busy. You look in our world, there's just ServiceNow, and if there was a company going on two and half years, I continue to scratch my head. Where are the people that are going to challenge us other than the legacy companies? They really have nothing to challenge us with; they're just sitting on 20-year-old software. We really don't have a lot of competition there. Our customers are actually frustrated because it's tough to negotiate with a vendor who doesn't have much competition, you know.
Tse:
You recently announced your first acquisition as a public company with the acquisition of Mirror42. Do you see acquisitions becoming a regular part of your business strategy? How much in investments have you set aside for acquisitions?
Slootman:
Our acquisition strategy is as follows. We want to buy talent and technology. The 'two Ts.' Talent and Technology. We do not like to buy businesses. There's a revenue associated, customers associated. I'd rather have enough to speak to the validity of the offering but not enough for you know to end up with a legacy and a responsibility to carry that forward. So I really like to buy technology. I like to re-implement them on our platform, make the user experience completely native and seamless to the platform and really walk people through the door and let them become ServiceNow people and they really become completely organic and integral to our organization. That's really what we like to do. It's very unlikely that you'll ever see any acquisitions like Salesforce just had with ExactTarget. In the stage of evolution that we're in, there's just no need for us to resort to those kind of draconian M&A deals. We really like to buy things that you know we think we can easily tuck in and really implement the right way and really make our user experience that much more compelling and therefore we can fit that model perfectly.
Tse:
What are the next milestones that you expect to reach over the next year? And what should investors be expecting from you and your company?
Slootman:
We're very early innings and in terms of ... opportunities, so we can expect us to continue to march down the field and take as much business down as we know how. We will continue to lean in very hard -- the arrival rate of resources will be ferocious. As you can see from our results, we're running the company in the loss position -- you know we're still a net consumer of cash and we're doing that on purpose. It's not like we can't be profitable. But we're really choosing to invest resources as fast as we can intelligently stretch because we have such a great opportunity. We're going after it as hard as we know how and can do it in a productive and intelligent way. That's for sure what you can expect from us. But the other thing, I mentioned this earlier, we're out to establish really a macro category around managing service relationships in the enterprise. And CRM -- customer relationship management -- this is sort of an analog which we call service relationship management, this is a category that's uniquely ours. It's really not that well understood yet in the marketplace but enterprises are beginning to wise up to the fact that they're implementing ERP systems, they're implementing CRM systems, and now they're like, 'Now wait a second, managing those relationships is something that we only do sort of by happenstance, you know, we really don't have a concerted software strategy or discipline around that.' That's really what we are going to bring to the world, to the marketplace, in the years to come.
Written by Andrea Tse in New York
>To contact the writer of this article, click here:
Andrea Tse
.>