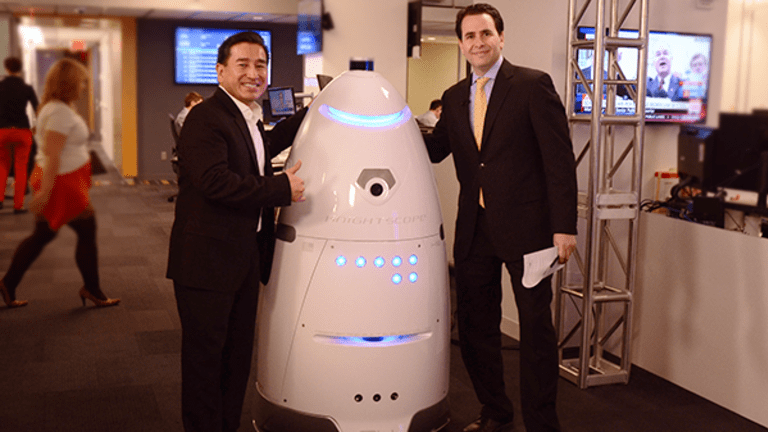 The mall cop is going to have some company.
Silicon Valley start-up Knightscope is rolling out security robots that can help take a bite out of the crime that costs the American economy $1 trillion every year. Knightscope CEO William Santana Li says his robots are already on duty in several key California locations including the Sacramento Kings arena, the Microsoft campus and Westfield Valley Fair in San Jose.
Knightscope's customers do not buy the machines (pictured above). Instead Knightscope utilizes a service model where clients get the machine, data transfer, storage and maintenance in a bundle for $7 per hour.
And to be clear, Knightscope's robots do not zap pocket-pickers with lasers or electric currents.
"The robots are designed to detect and report anomalies, which help existing human security personnel perform better and stay safer," said Li, adding that Knightscope's long-term mission is to "predict and prevent crime" in a geo-fenced area.
Knightscope was founded in response to horrific events such as the mass shooting at Sandy Hook and the Boston Marathon bombing. Knightscope's team has more than 30 employees in Silicon Valley where the machines are made. The company plans to develop weapon-detection technology for both visible and concealed use cases.
The autonomous security robot maker has just announced its Reg A+ "mini-IPO" campaign, a new way for companies to raise capital, thanks to the JOBS Act. Knightscope has already raised $14 million to date through Seed and Series A and B funding. Key strategic investors include NTT DOCOMO, Konica Minolta, Flextronics and NetPosa. Potential investors can view opportunities on the company's website.
As to the future of robotic security, Li says the coming versions of Knightscope's robots will give law enforcement "more capabilities than they have ever had before."