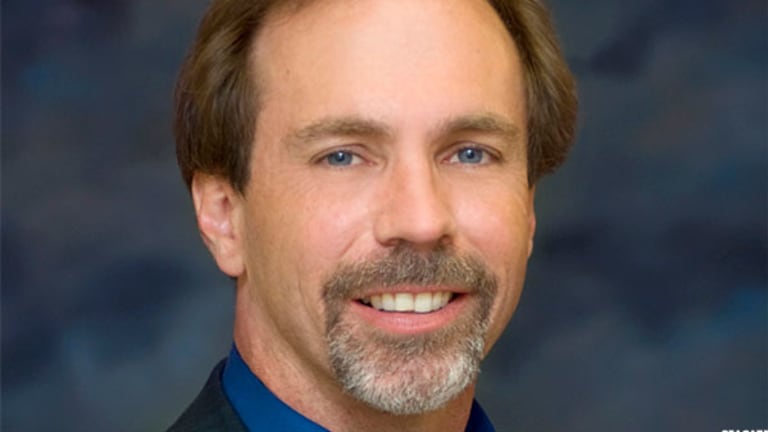 Seagate Looks Beyond Lumpy Clouds
Despite experiencing second-quarter softness in enterprise hard drives, Seagate remains confident of robust data growth in 2014.
NEW YORK (TheStreet) -- Despite experiencing some second-quarter softness in enterprise hard drives, Seagate (STX) - Get Seagate Technology Holdings PLC Report remains confident of robust data growth in 2014.
Seagate missed Wall Street's top and bottom-line estimates in its fiscal second-quarter results, released after market close on Monday, sending its shares slumping.
"It may be lumpy, but we're still convinced that for the full fiscal year and even calendar year 14 we're going to have the growth rates that are going mirror what we have seen in the last several quarters, that have been close to 30% year over year," said Seagate CFO Pat O'Malley, in an interview with TheStreet. "We're going to get these little bumps - we view them as bumps, not as major constructional flaws in our business model."
The finance chief explained that any short-term demand weakness should be viewed within the context of massive service provider deployments of cloud infrastructure, which run over a relatively long time period.
"This isn't a race to the finish line every 90 days," he said. "Some of these rollouts take six to nine months, so if they miss by a month or two months, that's within their planning cycle."
Cloud hardware rollouts are a major growth driver for Seagate, which touts a number of drives for enterprise data centers. This includes high-performance drives for cloud computing such as the Enterprise Performance 15K and storage drives such as the Enterprise Capacity 3.5.
"Our biggest growth engine has longer cycles than these quarter-to-quarter cycles that the PC guys have been very accustomed to," added O'Malley. "These are big, big [cloud] infrastructure events that these folks are taking and they are long projects."
The company shipped a total of 56.6 million drives in the quarter, up slightly from 55.7 million drives during the prior quarter.
The hard drive maker posted revenue of $3.53 billion, down from $3.67 billion in the prior year's quarter. Wall Street was expecting sales of $3.56 billion. Excluding items, Seagate earned $1.32 a share on net income of $455 million, down from $1.38 a share and net income of $523 million in the same period last year. Analysts surveyed by Thomson Reuters were looking for earnings of $1.38 a share.
"[Seagate] missed earnings estimates on higher opex," wrote Pacific Crest Securities analyst Monika Garg, in a note released on Tuesday, lowering her Seagate earnings estimates.
Seagate's second-quarter operating expenses were $3.08 billion, down slightly from $3.1 billion in the same period last year, but up from $3.01 billion in the company's fiscal first quarter.
Garg added that enterprise unit sales have been flat to slightly lower for the past couple of quarters for both Seagate and its rival Western Digital (WDC) - Get Western Digital Corporation Report. Nonetheless, Pacific Crest maintained its 'buy' rating on Seagate, citing opportunities for the company to provide cloud infrastructure.
During the second quarter, Seagate's gross margin was 28% and the company generated approximately $856 million in operating cash flow. The Cupertino, Calif.-based firm paid cash dividends of $142 million and repurchased 33 million ordinary shares for approximately $1.5 billion during the quarter.
"We continue to deliver the results that we promised in our business model," said O'Malley. "It's now nine quarters in a row that we have stayed within our target margin range - we continue to return cash flow, either through dividends or a buyback to investors."
Seagate shares gained 4.13% to close at $53.65 during Wednesday trading.
--Written by James Rogers in New York.
>Contact by Email.