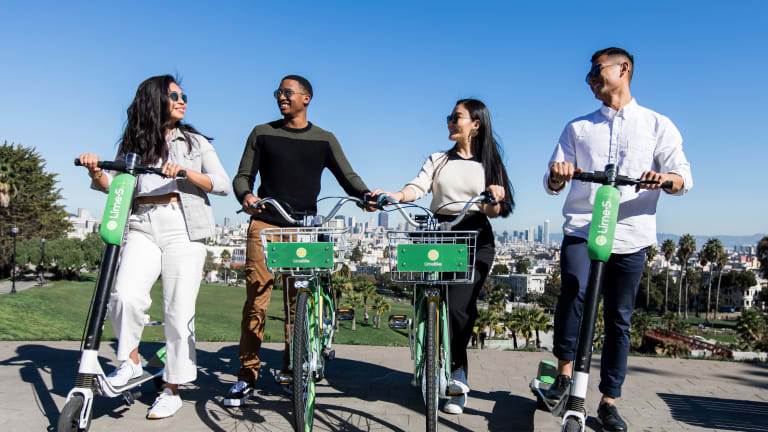 Why Big Tech Firms Like Google and Uber Are Pouring Money Into E-Scooters
Electric scooters and bikes are the latest startup category to draw billion-dollar valuations and 9-figure deals. Here's what's driving two-wheeler mania, and why it's just getting started.
The future of transportation is riding on two wheels, not four.
That's obvious to anyone in San Francisco and a handful of other U.S. cities, where e-scooters have taken streets (and sidewalks) by storm this year. 
If you haven't used one yet, here's how the scooters work: Unlock it through an app, agree to pay around 15 cents per minute, and fly away. (Though speaking from experience, make sure you're wearing sensible footwear or risk winding up with two scraped knees.)
They're much more than just toys. E-scooters and their dockless cousin, e-bikes, are the latest startup category to draw nine-figure deals and eye-popping valuations. Bird, an e-scooter company founded by a former Uber exec, is reportedly eyeing a fresh $300 million round of funding that would value the company at $2 billion. Lime, which offers both scooters and bikes, has raised $382 million from marquee investors like GV, the venture arm of Alphabet Inc.  (GOOGL) .
For cities clogged by cars, scooters and bikes are hailed by many as a convenient and cost-effective transportation alternative.
"Dockless bikesharing, and scooter sharing, remove major infrastructure costs and user friction points -- e.g. having to be near a docking station for pick-up and drop-off-- traditionally associated with dock-based bikesharing," says Navigant analyst Ryan Citron.
The category still has a few stumbling blocks to overcome. Reports of low batteries and scooters left askew and damaged make it clear that the system needs some logistical tweaks. And much like Uber and Lyft before them, e-scooter startups like Bird and Lime must navigate critics and policymakers who say they're a sidewalk-cluttering nuisance. In San Francisco for example, the e-scooter invasion irritated enough people that the city banned them until each operator gets a permit.
Cheap, pervasive and slightly annoying? "These all seem like weaknesses, but in fact they're strengths," explained Andrew Chen of Andreessen Horowitz, one of Lime's investors. "Because scooters are cheap, short-range, and ubiquitous, it means consumers are adopting them as an alternative to walking. Combine those factors -- millions of consumers, high frequency, and strong intent -- and all of a sudden it's obvious why this is a big deal."
It's a sizable opportunity for investors, with the global market for electronic two-wheelers estimated to exceed $22 billion by 2025.
For those who haven't been following, here are a few recent highlights and rumors from the fast-evolving space:
In March, Bird raised $100 million in venture capital, followed by another $150 million in May.
In April, Uber acquired JUMP bike, a dockless bike startup, for a reported $200 million.
Ford Motor Co.  (F)  introduced an electric version of its bike-sharing service, Ford GoBikes, in the Bay Area.
In June, Lime raised a reported $250 million round led by GV.
Lyft is reportedly nearing a deal to buy Motivate, a large bike-share operator that runs Ford GoBike, CitiBike and other U.S. programs. Uber is also reportedly considering an offer for the same company. 
Smaller rivals, Skip and Spin, have raised $31 million and $8 million respectively.
A total of 12 companies are applying for permits to operate e-scooter and e-bike programs In San Francisco. Those include Uber and Lyft, signaling that both are serious about integrating two-wheelers into their ride-hailing businesses.
Two-wheeler mania is just getting started, Citron adds. Expect to see more heavy hitters in the mix soon, where it's through investments, partnerships or internal development. That could soon include not just tech companies, but legacy automakers as well.
"I do see more automakers getting more involved in the two-wheeled trend, as they continue to pursue other business models in the mobility industry," Citron adds. "Some, such as BMW and Mahindra, are particularly involved -- both are manufacturing e-scooters and e-bikes for example."
Jim Cramer and the AAP team hold a position in Alphabet for their Action Alerts PLUS Charitable Trust Portfolio. Want to be alerted before Cramer buys or sells GOOGL? Learn more now.