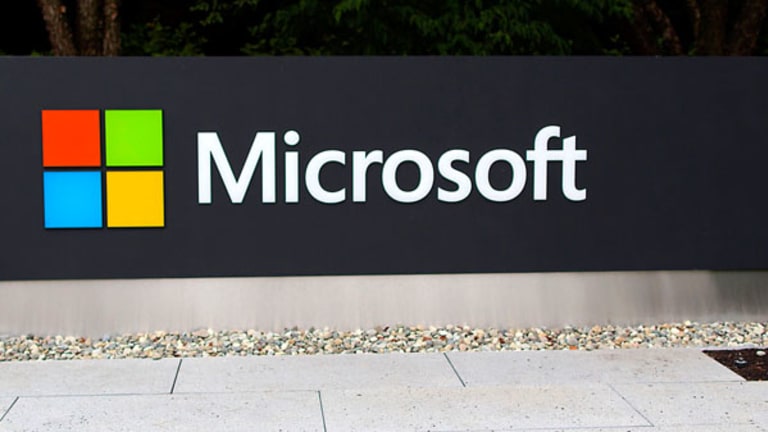 Satya Nadella: Microsoft's Chief Believability Officer
Microsoft has a new Chief Believability Officer. That may be the big takeaway from the software giant's first earnings report under recently appointed CEO Satya Nadella.
NEW YORK (TheStreet) - Microsoft (MSFT) has a new Chief Believability Officer. That may be the big takeaway from the software giant's first earnings report under recently appointed CEO Satya Nadella.
As Microsoft continues to invest in a mobile and cloud first transformation of its software products, Nadella said on Thursday he will ask hard questions about the believability of the company's projects and investments.
"[We] are all the time reviewing, and one of the things that I feel as a leadership team we have really picked up the pace on asking the hard questions, what is the believability of any one of our plans?" Nadella said on the company's earnings call. "[At the end of the day, to me, I want to be very accountable to you all, to our customers, to our partners as a team by executing on our plans very well... that's what matters," he added.
Those comments came in direct response to an analysts' inquiry into any ongoing strategic review at Microsoft since Nadella took the company's helm earlier in 2014. Microsoft's products now span traditional PC software, a new mobile operating system, cloud software-as-a-service (SaaS) products, gaming consoles and a sprawling mobile hardware division acquired from Nokia (NOK) .

WATCH:More market update videos on TheStreet TV ' More videos from Kori Hale
Nadella's comments, while vague, give insight into a critical issue for Microsoft investors. After a decade of mostly failed consumer hardware launches, will Microsoft continue to chase after the likes of Apple (AAPL) , Google (GOOG) and Samsung?
Those companies have have built an impressive array of smartphone and tablet offerings, both in hardware and software, and have results to show to their shareholders. In contrast, Microsoft has a fewer than 5% share of the tablet market after a few years of effort on the Surface and billions of dollars spent.
Microsoft has communicated no plans to close the spigot and the acquisition of Nokia's struggling handset business indicates spending on consumer devices is likely to rise significantly. But subtly, Nadella may be laying the foundation for a more focused operation.
If former CEO Steve Ballmer repeatedly failed to launch smartphones and tablets and, according to media reports, laid the foundation of his exit by demanding the company's board approve a deal for Nokia's handset operations, Nadella may move in a different direction.
Microsoft is likely to only invest long-term in consumer hardware if Nadella believes a return on such investments is "believable." As Nokia begins to become a part of Microsoft's financial picture, Nadella will have to defend future quarters' earnings results.
Google's previous acquisition of Motorola Mobility shows a deteriorating hardware unit can burden even the best businesses in the tech sector. As Microsoft consolidates Nokia, Google will be divesting Motorola Mobility.
Transition, Transition, Transition, Transition
"I think the key word to take away is transition," Sterne Agee analyst Robert Breza said of Nadella's remarks on Microsoft's earnings call.
"I sum up this quarter in two words: execution and transition," Nadella said in prepared remarks. He used the word 'transition' four times on Thursday.
Microsoft is finally seeing the results of a big investment in its Office 365 software, which integrates much of the company's best software with mobile devices. Azure, its SaaS cloud platform, is also showing strong growth. Office 365 revenue grew over 100% versus year-ago levels and Azure revenue grew over 150%, Microsoft said on Thursday.
Devices and consumer revenue grew 12% to $8.30 billion, while commercial revenue at Microsoft grew 7% to $12.23 billion. Overall, Microsoft's GAAP revenue fell slightly year-over-year to $20.4 billion, indicating that falling consumer demand for PC-based licenses continues to hamper growth at the company.
Breza expressed confidence that Microsoft will successfully navigate a move of its Windows, Office and IT businesses from PCs and onto mobile devices. He, however, believes that strategy may take more time than investors and analysts expect.
"The good news is we know Microsoft will be able to transition. The question is how much time and how much pain we have to endure," Breza said in a telephone interview. Sterne Agee currently rates Microsoft "neutral," given Breza's belief that consensus estimates are too high.
Nokia may soon drive estimates down. Microsoft provided fourth-quarter and full-year earnings guidance on Thursday; however, those forecasts critically excluded the financial impact of Nokia's operations. "The fact that they wouldn't talk about Nokia was an obvious indication that numbers are coming down," Breza said.
CFO Amy Hood said on Thursday that Microsoft didn't provide Nokia-related financial guidance because accounts at the company still need to be converted to GAAP accounting once the deal closes. Conveniently, the acquisition closed on Friday.
A Lot For ValueAct To Like
Nadella made it a priority to speak about Microsoft's strategy to offer its newer SaaS and mobile software products on a subscription model. Traditionally, software bundles like Windows XP were sold on a license basis.
"[We] are well on our way to making that transition in terms of moving from pure licenses to long-term contracts and as well as subscription business model," Nadella said. He also indicated that monetization will be determined based on usage, with well-received service increases leading to subscription price increases.
That is exactly how hedge fund ValueAct Capital Management envisions Microsoft's earnings growth in coming years.
When asked about Microsoft's turnaround strategy, ValueAct's Jeffrey Ubben told TheStreet it is similar to a revitalization orchestrated at Adobe (ADBE) under CEO Shantanu Narayen. Ubben said that like Adobe, Microsoft's in the direction of a SaaS model will eventually drive pricing power and rising profitability at the company.
ValueAct, which owns a stake in Microsoft, may have a very patient view of the company's turnaround. The fund first disclose a 5% stake in Adobe in 2011 and Ubben said ValueAct recently re-underwrote the investment given its belief that earnings growth at the company is just beginning.
Ubben, who spoke to TheStreet at the IMN Active-Passive Investor Conference on Tuesday, said Microsoft, having already launched Office 365 and Azure with a SaaS pricing model, is further along than Adobe was when the hedge fund first invested in a turnaround. He also pointed to Microsoft's recent introduction of Word, Excel and PowerPoint to iPad tablets as another positive recent development for the company.
In late 2013, Microsoft signed a cooperation agreement with ValueAct, letting ValueAct Capital President Mason Morfit meet with selected Microsoft directors and company management "to discuss a range of significant business issues." Morfit also joined the Microsoft board in Nov. 2013.
Earnings Results, Partial Guidance
Microsoft posted net income of $5.66 billion, or 68 cents a share, vs. $6.055 billion, or 72 cents a year earlier. Revenue was $20.403 billion versus $20.489 billion the prior year. Microsoft was expected to earn 63 cents a share on revenue of $20.4 billion, according to Bloomberg data.
CFO Amy Hood said Microsoft expects to report Devices and Consumer Licensing revenue of $4.1 billion to $4.3 billion; Devices and Consumer Hardware revenue of $1.3 billion to $1.5 billion; and Devices and Consumer Other revenue of $1.9 billion. Commercial revenues are expected to be at $13.1 billion to $13.3 billion, and within this, Commercial Other is forecast to be at $2.1 billion.
That guidance excluded any impact from the Nokia acquisition, which will be included in Microsoft's fourth-quarter earnings report. Hood confirmed Microsoft's previous operational expense guidance and said the company is expecting a higher tax rate for the fourth-quarter, reaching 18% to 20% for the full year.
-- Written by Antoine Gara, with Andrea Tse in New York.