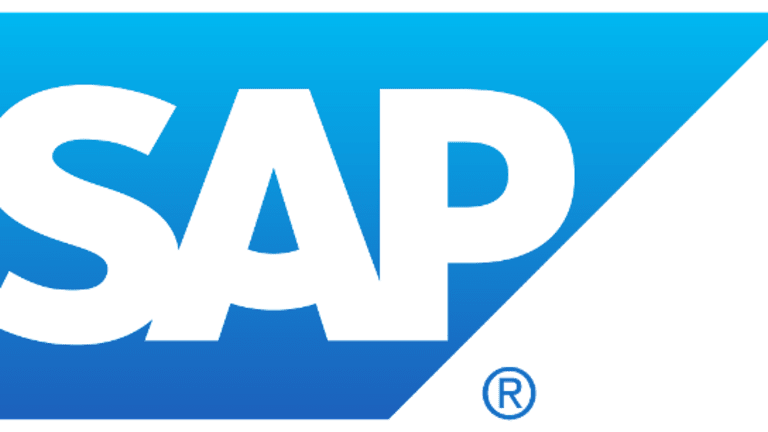 SAP Raises Full Year Revenue Targets But Shares Slip on Rising Costs
SAP "never been better positioned" to reap cloud benefits - CEO
SAP SE  (SAPGF) increased its annual revenue target after second quarter sales beat analyst expectations by about 9% Thursday, but the software group's shares edged lower in early trading as operating profit narrowly missed forecasts due to rising costs.
SAP said it expects full year revenues to be between €23.3 billion ($26.8 billion) and €23.7 billion, up from an earlier forecast €23.2 to €23.6 billion, boosted by a 6.5% to 8.5% growth in its cloud and software sales, up from an earlier forecast of 6% to 8% growth.
Shares in the Waldorf, Germany-based group dipped 0.15% in early Thursday trading, falling to €91.10 each, as investors chose to focus on the worse-than-expected core profit figure, which rose 3% in constant currency terms to €1.57 billion, missing average analyst expectations by about 2%,
"While we expect the weaker than expected margins to weigh initially on the stock price, we believe that strong topline momentum will be viewed positively," wrote Goldman Sachs analysts. The broker said it expected analyst full year forecasts for SAP to remain largely unchanged.
SAP's operating profit was hit by a 19% increase in research and development costs, after the company decided to front load the expenses, setting it up for stronger profit growth in the coming quarters.
"We expect continuing momentum in the second half and confidently raise our guidance for the full year," SAP Chief Executive Bill McDermott said in a statement. "SAP has never been better positioned."
McDermott confidence appears to validate his strategic shift away from providing onsite services to SAP's business clients toward remote cloud-based solutions, a move that has shifted SAP's revenues streams to a subscription model at the expense of the upfront payments that it has historically relied on.
The company also said that it expected a previously announced €500 million share buyback to begin shortly and said it will take place in several tranches through to the end of 2017.
SAP shares have gained 9.5% this year and almost 20% over the past 12 months.