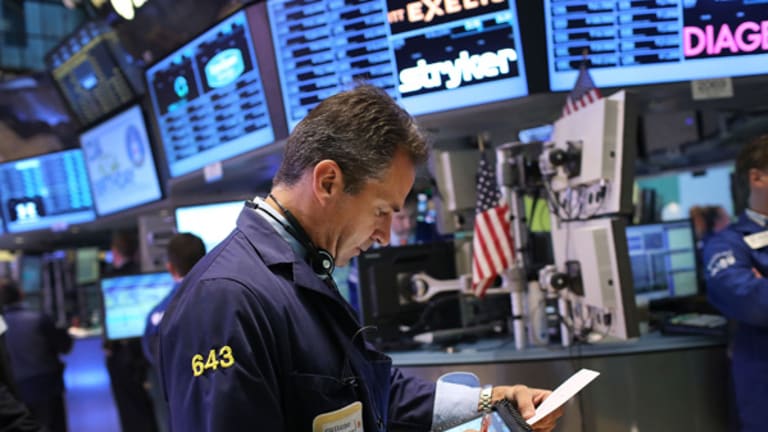 Sandy: The Last Storm of the Pre-Cloud Trading Era
The cloud is a network of data centers. Trading is moving there. This will likely be the last weather-related day off for the markets.
The cloud is a network of data centers. Trading is moving there. This will likely be the last weather-related day off for the markets.
NEW YORK (TheStreet) -- Monday's historic closing of stock markets is frustrating this tech reporter. Angry clouds have shut down Wall Street.
But it's a good day to review what we should know about cloud computing, what it is today, what it will be tomorrow and what that means for the markets.
Cloud remains misunderstood by many. It's not the IBM Service Bureau of the 1960s. It's not timesharing. It's not even Software as a Service, one of the great buzzwords of the last decade.
It's a combination of three technologies:
Virtualization, so it doesn't matter what operating system something was written on. One piece of hardware can be running many jobs, or a job can be running on many systems. Distributed computing, the parsing of bits of a job among many systems, automatically. This lets jobs scale and use as much hardware as needed to get the job done. Internet resiliency. This article lives in thousands of places, right now, because it's cached on many servers and on many clients. The cloud lets computing resources be copied the same way.
The cloud, in other words, is not a data center. It's a network of data centers.
Google
(GOOG) - Get Report
doesn't just live in Mountain View. There are copies of Google in many places, and connections are routed automatically to the nearest Google data center that can serve you. Your request may not even need a data center. It might be handled by a box at your local phone switch, or a smaller one at your office.
The same is true for
Amazon.com
(AMZN) - Get Report
. The same will be true for
Rackspace
(RAX)
, for
Dell
(DELL) - Get Report
, for
Hewlett-Packard
(HPQ) - Get Report
, for
Microsoft
(MSFT) - Get Report
, for
IBM
(IBM) - Get Report
and for every other cloud service provider. Already some of these companies offer redundancy but it costs extra. Within a few years, I predict, it will come standard.
Amazon has had repeated problems at its East Coast data center this year, and many sites have gone down for a time.
But those sites didn't have to go down. Redundant contracts and backups cost money but they can prevent problems,
as
CRN.Com
noted. By this time next year Amazon's excuses won't wash.
Technically, the New York Stock Exchange does not have to be down at all right now.
NYSE Arca, formerly known as Archipelago, has been tested to handle normal trading volumes.
The decision to close was based on brokers wanting to staff their Manhattan trading floors, and Dennis Gartman told
Business Insider
that opening without floor traders could have been
"a huge disaster." That won't be the case much longer.
In talking about Monday's market closing on
CNBC
,
NYSE Euronext
(NYX)
CEO Duncan Niederauer emphasized the importance of re-opening by Wednesday to deal with expiring options. For poker players that is a tell. Traders have homes, homes have broadband and PCs. It may not be optimal, but it may just become necessary. (Full disclosure -- that's how
TheStreet.com
is getting this story to you. Our offices are closed, but our laptops are open.)
Now, it's true that transaction processing is complicated. It may be one of the last computing niches to move to cloud technology, and it will probably move there for redundancy rather than cost savings. But the trend is set, the moves will happen, and by 2020 even the markets will no longer be locked in any one data center.
So stay safe. Enjoy the time with your family if you can. Despite global warming this is probably the last time. The next time a hurricane hits New York, trading will continue. Given the 24-7 nature of the global Internet, it's likely the markets will have never shut down at all.
At the time of publication, the author had a position in IBM, MSFT and GOOG.
This article is commentary by an independent contributor, separate from TheStreet's regular news coverage.