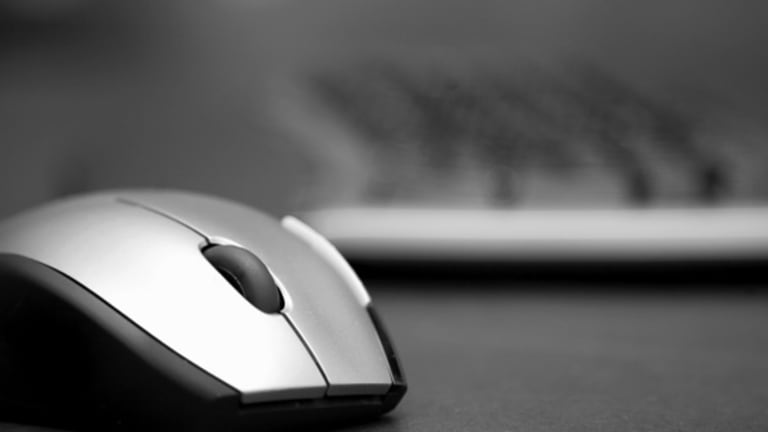 SanDisk Preps Secret-Weapon Chip
The company's three-dimensional technology may become a real game-changer.
(Editor's note: Come see Alexei Oreskovic at the Money Show in San Francisco. Alexei will be speaking to attendees on Friday, Aug. 8 at 6 p.m. His seminar is titled: "Chip Shots: How to Play With Volatile Semiconductor Stocks.")
SAN FRANCISCO -- It's been two-and-a-half years since
SanDisk
(SNDK)
made a $250 million bet on a novel and unproven memory technology.
Now the company wants its payoff.
In a regulatory filing last month, SanDisk revealed that it was licensing its technology for so-called three-dimensional memory to Japan's
Toshiba
-- and teaming up with Toshiba to further develop the technology.
The deal marks the first major milestone in SanDisk's behind-the-scenes quest to develop rewriteable 3D memory chips, a technology that could change the rules of the game in the $14 billion market for NAND flash memory.
It's still unclear whether the collaboration with Toshiba represents an admission that SanDisk is having trouble perfecting the technology on its own, or rather, that SanDisk has achieved sufficient advances to justify moving the project to the next stage.
A SanDisk spokesperson acknowledged that the company's 3D memory technology is still not ready for prime time, but said the partnership was intended to "accelerate" development. He declined to provide specific details or timelines, citing the deal's confidentiality and the highly competitive market.
Gregory Wong, a memory analyst at market research and consulting firm Forward Insights, says the deal suggests SanDisk has made progress.
Toshiba is SanDisk's longtime partner for manufacturing -- the two companies
own and operate several chip fabrication facilities together
. So bringing Toshiba into the fold makes sense if a technology is nearing the point where it can be commercially manufactured.
"For SanDisk to move in this direction seems to imply that they're at a level where they can start developing this for production in three or four years," says Wong.
That's not around the corner, but it could be just in time for SanDisk.
Flash memory makers like SanDisk have built giant businesses by winning a prime role in popular consumer gadgets like smartphones and
Apple
(AAPL) - Get Apple Inc. Report
iPods. Smaller and more energy-efficient than mechanical hard disk drives, flash memory chips provide an ideal technology to store the digital photos and music cherished by consumers.
Since 2002, SanDisk's annual revenue has surged from $541 million to $3.9 billion in its most recently ended year, while headcount has grown more than five-fold to more than 3,300.
But SanDisk's stock has plunged more than 40% this year, as
an oversupply of flash chips has depressed prices and eaten into its profit margin
-- a fate suffered by virtually all players in the volatile flash market including
Micron
(MU) - Get Micron Technology, Inc. Report
,
Intel
(INTC) - Get Intel Corporation Report
and
Samsung
.
SanDisk shares closed Thursday at $18.43.
More worrisome to SanDisk and other flash chip firms in the long run, however, is the potential that flash chips -- which typically increase storage capacity by shrinking the size of a memory cell -- are nearing the physical limits of miniaturization. By 2011 or 2012, many engineers believe that NAND flash will reach a scale at which today's semiconductor materials can no longer be further reduced -- a technological dead end.
Thus the race for alternatives: Toshiba, Samsung,
IBM
(IBM) - Get International Business Machines Corporation Report
and
Macronix International
are all developing their own versions of 3D memory.
SanDisk got its 3D start from
Matrix Semiconductor
, a small, Santa Clara, Calif., company that SanDisk acquired for roughly $250 million in January 2006.
Matrix was the first company to commercially produce 3D memory chips, in which memory cells are stacked atop each other, like floors on a skyscraper, in addition to the traditional side-by-side layout. Each additional layer means extra storage capacity.
But the chips Matrix sold were not reprogrammable -- data could only be stored on them a single time, relegating them to niche markets like cartridges for video game consoles. SanDisk does not break out sales of its One Time Programmable, or OTP, 3D memory business, and analysts consider it too insignificant to warrant its own financial model.
The real allure for SanDisk were the re-writeable 3D chips that Matrix had in the lab. And SanDisk has spent the last couple of years toiling to get the technology into the market.
While SanDisk inherited about 100 patents when it acquired Matrix, SanDisk spokesperson Mike Langberg says the company now has 200 patents related to 3D memory.
And while SanDisk has aggressively cut costs across the company to offset the plummeting flash memory prices,
laying off 10% of its workforce last year
, the Matrix team of about 100 engineers has been largely untouched, says one insider.
In February, SanDisk CFO Judy Bruner told Wall Street analysts that the company would spend a total of $600 million in 2009 and 2010 on equipment for manufacturing 3D memory technology. At the time, Bruner indicated that the equipment was to support the existing OTP business.
But Wong, the Forward Insights analyst, notes that the equipment could also be used to produce rewriteable 3D chips, since both technologies share similar production processes. In fact, Wong says it wouldn't be surprising if SanDisk were making the investment to set up a small, research-dedicated manufacturing line with Toshiba, giving the firms some hands-on experience producing re-writeable 3D chips.
"If you really want to accelerate the development, you really need an R&D line to accelerate the learning," says Wong.
Another reason to step up 3D efforts is SanDisk's intellectual property business, which generates between 11% and 15% of SanDisk's quarterly revenue from licenses and royalty payments.
The 3D deal calls for Toshiba to pay SanDisk unspecified license fees, the first known monetization of SanDisk's re-writeable 3D technology.
The deal that matters most to investors, however, is the contract with Samsung, the largest licensee of SanDisk intellectual property. That agreement's August 2009 expiration date has weighed on SanDisk shares, as investors fret that SanDisk could lose an important source of high-margin revenue if the contract is not renewed.
"There's a big discount to the Samsung IP royalty stream," says American Technology Research analyst Doug Freedman.
Freedman believes SanDisk is better-positioned to renegotiate a deal with Samsung than Wall Street expects. But it's clear that anything that can strengthen SanDisk's negotiating hand is welcome. And bringing rewriteable 3D memory technology to the table would give SanDisk some valuable bargaining leverage.
"It's very possible that that could be what their strategy is; to try to get as much IP built up as possible," Freedman says, although he notes that SanDisk might also prefer to give itself an advantage in the market by keeping the 3D technology to itself.
Of course, the scope of the 3D memory opportunity is far from certain, particularly given that today's existing NAND flash technology could extend its life span through innovation in semiconductor materials, negating the underlying purpose of 3D memory.
SanDisk's 3D technology remains a bet on the future, but the odds are looking better.