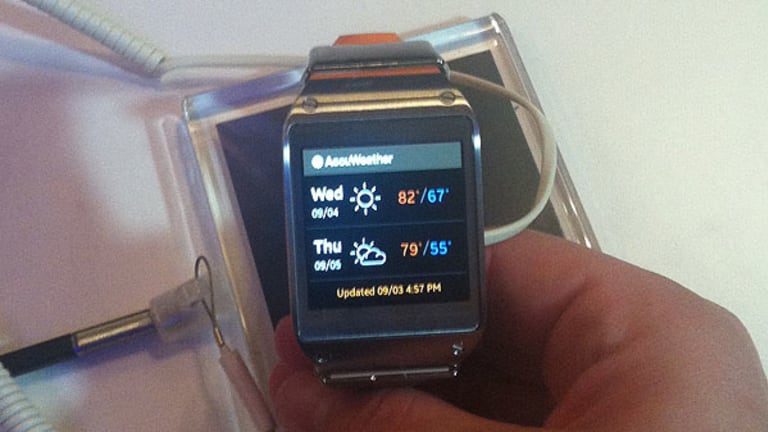 Samsung's Largest Smartphones and That Watch: A Review
Samsung's physically largest smartphones are okay, but the 'smartwatch' is not so smart.
NEW YORK (TheStreet) -- Samsung pioneered large smartphones for the U.S. operator market. By "large" I mean larger than 5.2 inches for the screen. I qualify the U.S. operator market as opposed to the all-cash SIM-unlocked contract-free market.
This is a review of Samsung's most significant offerings in this market -- the Galaxy Note 3 and the Galaxy Mega. I will also add my comment on the Galaxy Gear "smartwatch" that works together with the Note 3. All of my review units came from Sprint (S) - Get SentinelOne, Inc. Class A ReportS.
Of these two smartphones, one is more higher-end (expensive) and one is larger than the other. The Note 3 is the one with the higher-end specs all around and with a stylus as the outright differentiator. The Mega is larger but with lower specs and no stylus.
Let's start with the Samsung Galaxy Note 3's hardware. The screen is 5.7 inches and it has got an awesome 1080x1920 display. The battery is 3,200 mAh, which makes it the second-largest battery in any relevant phone that comes to mind (Motorola Maxx on Verizon (VZ) - Get Verizon Communications Inc. ReportVZ only).
Most benchmark tests put the Note 3 at the top of CPU/GPU hardware comparisons, thanks to the Qualcomm (QCOM) - Get Qualcomm Inc ReportQCOM 800 chip residing in such a physically large phone. I find that the Note 3 is very slippery and is simply uncomfortable to hold in one hand -- even for a person with large hands. You really want to have the Note 3 with a case, and Samsung will sell you one for $80 that's got a very elegant and practical flip-front cover.
In contrast, the Mega is even bigger at 6.3 inches. Yet, despite this enormous size, two things stand out: First, it feels less slippery in the hand. This is because of how the sides are rounded, and of the material the sides and the back are made. Still, to make it even less slippery you have the option to use it with a case similar to the one available for the Note 3.
The Mega's display, while larger than the Note 3, has a lower resolution at 720x1280. The CPU/GPU is also slower than the Note 3s flagship Qualcomm Snapdragon 800 unit.
So what does this mean from a performance perspective? In my estimation, most people will notice the superior pixel density of the Note 3's screen -- but only barely. As far as the CPU/GPU performance, not everyone will even notice the difference for most basic tasks.

Price-wise, the Note 3 on Sprint is $350 on contract and $700 without contract. Unlike at AT&T (T) - Get AT&T Inc. ReportT and especially on T-Mobile (TMUS) - Get T-Mobile US, Inc. ReportTMUS, Sprint doesn't give you a discount if you buy off-contract, so you have essentially a negative incentive to pay full price up-front. AT&T's price is $250 on contract and $725 off contract.
The Mega is $200 on contract and $470 without on Sprint. AT&T charges $150 on contract and $480 without. Viewed from a two-year perspective with monthly fees typically at $80 on Sprint and a little more on AT&T, these upfront price differences are marginal.
Also, $80 per month for 24 months is $1,920 -- and that doesn't include multiple levels of taxes. AT&Ts $15 per-month discount for paying full price up front is worth $180 per year, or $360 for two years -- approximately reflecting the contract discount, surprise surprise.
In this context, the fact that the Note 3 will cost anywhere from $100 to $150 more on AT&T and Sprint on contract compared to the Mega is basically peanuts. We are now talking around $5 per month for two years. A fancy cup of coffee per month. You're already paying $2,000 for the two-year subscription!
In the end, this pricing illustration exposes why I generally don't recommend either of these kinds of operator-specific phones. I only buy contract-free, SIM-unlocked Android smartphones, as exemplified by the Nexus and "Google Play Edition" devices sold from Google's (GOOG) - Get Alphabet Inc. Class C ReportGOOG own Web site. The Motorola X and G also qualify.
If you buy those kinds of unlocked carrier-neutral devices, you can take advantage of T-Mobile's lower rates, including unlimited international data roaming. You can switch SIM cards any time, as well as not have to wait for a contract to expire.
Among those larger devices, the Sony Z Ultra just became available for $650 unlocked. With that device, you get clean pure Google software, quick software updates, and the ability to save money every month by using T-Mobile. It is clearly a much better buy than the Samsung Galaxy Mega locked to any operator.
In this perspective, the Samsung Galaxy Note 3 does have one differentiator that is unavailable on any of the "pure Google" devices, and that's the stylus. You either want this stylus or not. If you do, the Note 3 is the best game in town, by far. If you don't, I recommend either the Sony Z Ultra for the huge 6.4 inch screen, or the LG Nexus 5 if a regular five-inch screen is large enough for your compromise.

Bottom line: If you need a stylus, I recommend the Samsung Galaxy Note 3. If you don't need a stylus, either get the Sony (SNE) - Get Sony Corp. ReportSNE Z Ultra (6.4 inches) or LG Nexus 5 (five inches) instead of either of these two smartphones. Those devices are better and the two-year all-in cost will be lower, especially on T-Mobile.
Now for one of the sorriest subjects in all my years as a gadget reviewer: The $300 Samsung Galaxy Gear "smartwatch." I cannot recommend this product to anybody.
For starters, I do not take lightly to products that aren't easy to set up and use. This product is almost impossible to set up and use without some form of help from a manual or a person. This alone is likely to make the return rates on this product astronomical, in my opinion.
Secondly, the design is questionable. The device does not have a charging port. Instead, it has a clamp which you must remember to bring, and then plug the MicroUSB charger into it: 2006 is calling, and it wants something back!
The battery life is barely more than 24 hours but you won't care: You will have given up on trying to get it up-and-running well before then.
In terms of what the watch does and how it does it, I will spare you the detail -- because in all likelihood many people aren't going to get that far. Figuring out how this watch works and what it does seemed almost impossible for me. I can't remember the last time I encountered such a poorly designed software and user interface.
In fact, I found the Samsung Galaxy Gear so poor that it has put huge doubts in my mind as to the viability of the entire smartwatch market, where people have huge hopes for the industry, and Apple (AAPL) - Get Apple Inc. ReportAAPL in particular, in 2014 and beyond. At least Apple won't have any problem being a lot better than this Samsung smartwatch, but that's the lowest bar I have seen in years.
In comparison, if you really need a smartwatch today, privately held Pebble is the one to get, and with the best user reviews. It's not necessarily a great product either -- from the perspective that perhaps no smartwatch is -- but few would argue that it's not the best one on the market right now. And it's half the price compared to the Samsung.
At the time of publication the author was long GOOG.
This article represents the opinion of a contributor and not necessarily that of The Street or its editorial staff.