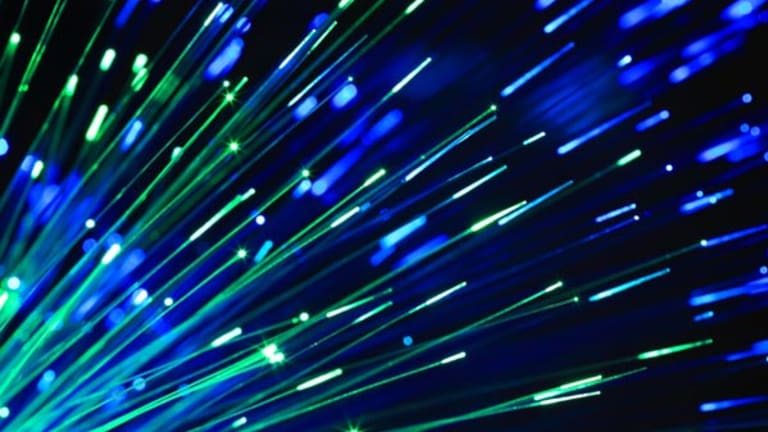 Samsung Hits the Vending Machine for Profit
Manufacturing giant Samsung sets its sights on new markets for its LCD technology -- including touchscreen snack machines.
Manufacturing giant Samsung sets its sights on new markets for its LCD technology -- including touchscreen snack machines.
Korean electronics manufacturer
Samsung
is taking a big bite out of the retail sector as it seeks unusual new markets for its LCD panel technology.
Samsung has teamed up with U.S. food giant
Kraft
( KFT) to build a new breed of 21st-century vending machines. The snack machines use a specially built 46-inch LCD panel, which functions as a giant touchscreen, bringing up a host of nutritional information on the food inside.
For Kraft, the Internet-connected machines can also be used to sell additional products to hungry customers.
"It has been 30 years since anything technological has happened within the snack vending world," said Michael Miller, senior category business director at Kraft Foods. "We can deliver interactive video advertising, we can deliver promotions
that we can tailor to the time of day."
var config = new Array(); config<BRACKET>"videoId"</BRACKET> = 27978545001; config<BRACKET>"playerTag"</BRACKET> = "TSCM Embedded Video Player"; config<BRACKET>"autoStart"</BRACKET> = false; config<BRACKET>"preloadBackColor"</BRACKET> = "#FFFFFF"; config<BRACKET>"useOverlayMenu"</BRACKET> = "false"; config<BRACKET>"width"</BRACKET> = 265; config<BRACKET>"height"</BRACKET> = 255; config<BRACKET>"playerId"</BRACKET> = 1243645856; createExperience(config, 8);
Miller told
TheStreet.com
that Kraft is subsidizing the cost of the devices for vending machine operators in return for control of the media that appears on it.
"It's almost the sky's the limit as we explore this," he told
TheStreet.com
, explaining that 10 prototypes are currently being tested. "We expect to be in a test market somewhere in the northeast in the second half of this year
and if everything goes as we have planned, we're hoping to roll out by mid-2010."
For Samsung, the vending machine is part of a long-term strategy to boost its LCD business, which generated 14% of the firm's 28.67 trillion Won ($21.4 billion) first-quarter revenue. Despite registering an operating loss of 310 billion Won ($230 million), Samsung said that its LCD division outperformed the broader market thanks to increased sales of large-size panels.
LCDs are already found in
, notebook computers and cell phones, and are now making their way onto the walls of buildings, according to Scott Birnbaum, vice president of Samsung's LCD wing.
"One of the things that you're seeing now is digital advertising -- you go inside of airports or train stations, and where you saw a poster in the past, now you're seeing digital advertising," he told
TheStreet.com
, . "It gives you the opportunity to take a message that couldn't change and change the messaging in real-time."
Birnbaum explained that media companies can now put multiple advertisers on an advertising space previously occupied by just one. Transit authorities can also use network-connected LCD panels for emergency messaging, he added.
Signs displaying video advertisements have become much more common in the last few years, although the Samsung executive says that most of these are LED-based, and lack the high-definition picture quality of LCDs.
"We haven't scratched the surface of where the potential is for this," said Birnbaum. "How many hundreds of millions of paper posters are out there today, or walls or sides of buildings
that could use this LCD technology?"
Samsung has good reasons for seeking out new revenue streams, particularly in an unforgiving economy. The electronics giant saw its first-quarter profit
plunge
72% earlier this year, amid slumping demand for
memory chips
.
The LCD market is also growing rapidly, according to technology analyst firm
iSuppli
, which estimates that 4.1 million panels will be sold this year, compared to 2.2 million in 2008. This figure, however, is expected to reach 29 million units by 2013.
"I think it's a significant market for electronic signage," said Sweta Dash, senior director at iSuppli. "More and more panel suppliers are getting into this."
Although the market for specialist LCD devices such as vending machines and billboards is much lower volume than the market for LCD TVs, it's much less price-sensitive, according to the analyst.
"People are more open to better features and functionality, whereas the TV market is more price, price, price," she said.
Samsung, however, is not the only company attempting to make waves in the LCD panel market, where it competes with
LG Display
(LPL) - Get Report
and
Sharp
.
Dash nonetheless feels that Samsung was the first mover into specialist applications. "Samsung started this trend," she said. "They have looked at the signage market as a market with specific requirements and they have built panels designed for that purpose."