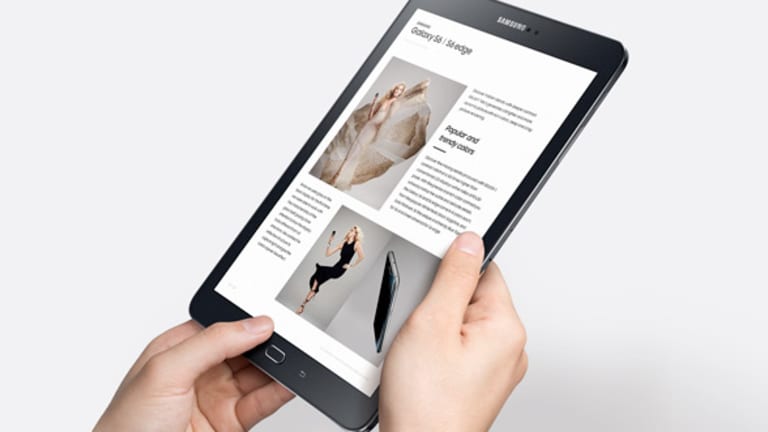 Samsung Galaxy Tab S2 Review -- Great, for a Tablet
It's one of the best Android tablets ever. But can that translate to higher sales?
NEW YORK (TheStreet) -- The latest Samsung (SSNLF) tablets, known as Galaxy Tab S2, are good, but not great, something that's concerning as smartphones become more and more powerful.
This is a crucial time for tablets as sales are down industry-wide. Amazon's (AMZN) - Get Free Report reaction is to offer a new line of devices including a $50 model with a 7-inch screen, while Apple (AAPL) - Get Free Report heads in the other direction, with its iPad Pro.
The Galaxy Tab S2 comes in two sizes -- an 8-inch and a 9.7-inch version. Our review unit was the 8-inch, Wi-Fi version.
The first thing you notice about the S2 is the overall size. It's super-thin and lightweight at 9.4 ounces and it comes with a great-looking, high-definition touchscreen.
By the numbers, the 8-inch Super AMOLED touchscreen has a 4:3 aspect ratio and comes with 320 pixels per inch. And, overall tablet dimensions of 7.82 by 5.31 by 0.22 inches means that display takes up a very large portion of device's front.
Inside, there's are home-grown Samsung 1.9 GHz, quad-core and 1.3 GHz quad-core Exynos processors, 3 GB of RAM, 32 GB of built-in flash memory plus a microSD slot for an additional 128 GB of storage, cameras of 8 and 2.1 megapixels.
The Tab S2, which runs Android Lollipop, reminded us a lot of Samsung's current smartphones when it comes to performance and quality. As with its phones, Samsung must be commended for keeping "bloatware" to a perceived minimum. The S2 is fast and easy to use; the screen is terrific to look at and use. The rear camera makes great photos and videos and we appreciate Samsung's split-screen, "Multi Window" mode allowing us to run two apps at the same time. 
Without question, the S2 a great tablet. But, it's not the best time for tablet sales.
Because of a constant stream of incremental improvements, tablet prices have remained fairly steady over the past few years. The Galaxy Tab S2 8-inch starts at $400 for the Wi-Fi model. The larger, 9.7-inch version retails for $100 more. That's high for what consumers now consider an "additional" product, after needing a new smartphone and possibly an updated laptop.
As good as these Galaxy Tab S2 models are, they're nowhere near as portable as modern smartphones including Samsung's own Galaxy edge and Note5 models. As for performance, the differences between smartphones and tablets (aside from screen size) are pretty much non-existent. In many cases, modern-day phones are even better performers. With little to differentiate the two types of portables tablets will continue to be a hard sell.
Overall Score: 8.5/10

This article is commentary by an independent contributor. At the time of publication, the author held no positions in the stocks mentioned.